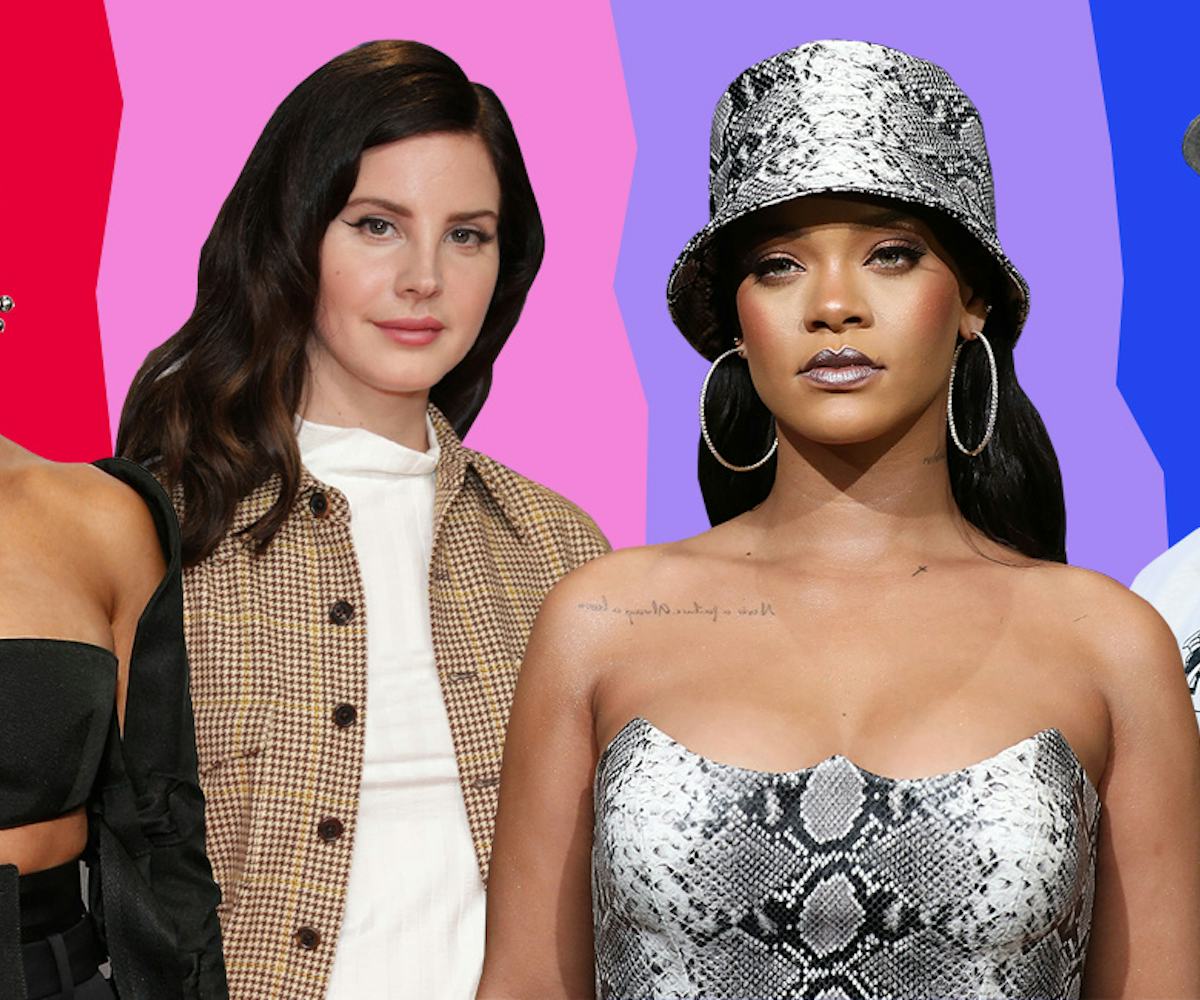 Photos by Brian Ach, Miikka Skaffari, Caroline McCredie, Kevin Winter/Getty Images
The Biggest Music Releases To Get Excited About In 2019
While very few artists have confirmed concrete plans for releases next year, the musical projects most buzzed about online are enough to spark hope in even the most jaded cynic's heart. While Rihanna has been busy taking over pretty much every industry other than music, she's also rumored to have been finishing up R9, and even assured an impatient fan that music would be coming oh so soon.
If you need more than Rihanna to be convinced that 2019 is going to be a stacked year of releases—first of all, how dare you—the new year promises a handful of long-awaited returns, including the likes of now-elusive pop darling Sky Ferreira, as well as Vampire Weekend. Plus, we have new work set to come from the likes of Carly Rae Jepsen, Dua Lipa, Avril Lavigne, and so many others.
Peep through the list below to get yourself amped for the year to come.
Rihanna
It's been a hot minute since we've had new Rihanna music (three years next month!) so R9 couldn't come soon enough. Back in September the singer slash beauty and lingerie mogul teased that new music is on its way.
Sky Ferreira
Winter is coming, and so is new music from Ferreira. This album has made lists of most-anticipated forthcoming releases for *checks watch* quite some time now, so we aren't holding our breath (but, please be this year).
Marina
She's just going by Marina now, and the recent slew of singles with Clean Bandit has us dying for more.
Lana Del Rey
Norman Fucking Rockwellis already shaping up to be the most on-brand move we could ever expect from Lana Del Rey. Did we mention there's a song about Sylvia Plath?
Chance The Rapper
All that time in the studio should definitely come to fruition with a new release in 2019 (even though we've been ready for it since he started teasing back in July).
Solange
Fall came and went with no music from Solange, but the singer ensures that it will be coming soon and is bound to "make your trunk rattle." Sign me up.
Vampire Weekend
Ezra Koenig may be busy being a new dad, but that doesn't mean he isn't also preparing to put out a new album for the first time in six years.
The 1975
Notes on a Conditional Form, part two of the Music For Cars era (following A Brief Inquiry Into Online Relationships) is already scheduled to be in your earbuds at the end of next May. Till then, you can check out our interview with frontman Matty Healy, here.