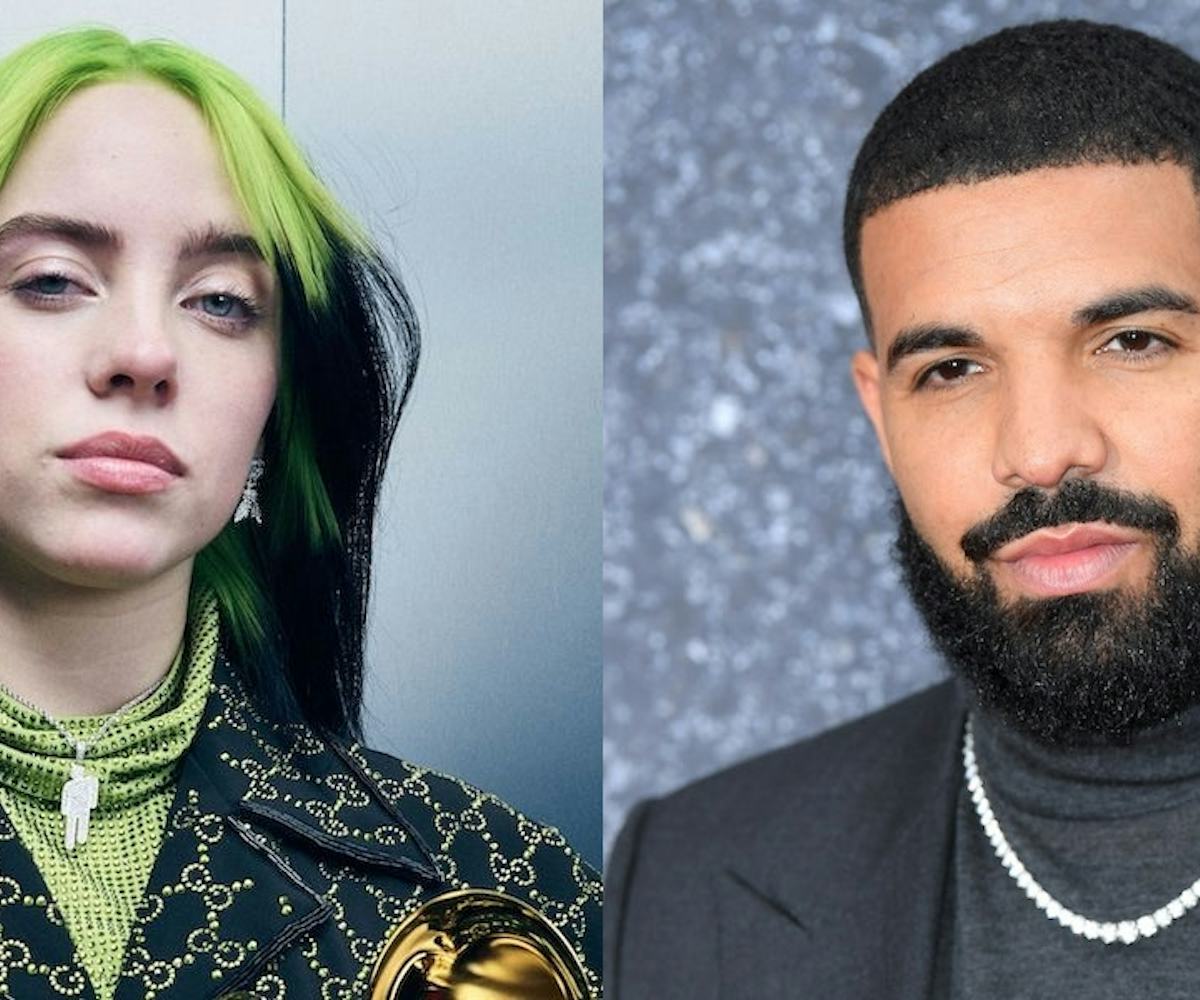 Photos by Robby Klein/Contour by Getty Images for The Recording Academy, Karwai Tang/WireImage
Billie Eilish Thinks There Are Bigger Things To Be "Worried About" Than Drake Texting Her
"The internet is such a stupid-*ss mess right now"
If you are still wondering what goes down in the DMs between Billie Eilish and Drake, the "bad guy" singer is rolling her eyes at your intrigue. What's there to worry about when a famous 33-year-old sad boi starts texting a pop star on-the-rise before she's even turned 18? Nothing, according to Eilish. In a new interview with Vogue, Eilish defended the communication between her and Drake, saying there are way worse people to be "worried about" than him.
It was only a few weeks short of Eilish's 18th birthday in November 2019 when news first broke that Drake was texting her; she revealed he was the most famous person currently in her phone during a video interview with Vanity Fair. Months later, Eilish still doesn't get what all the backlash was about. "The internet is such a stupid-ass mess right now," Eilish told Vogue, adding, "Everybody's so sensitive. A grown man can't be a fan of an artist?" Well, they can, but they can also do so without opening up a direct and private conversation with underaged women. She continued, "There are so many people that the internet should be more worried about. Like, you're really going to say that Drake is creepy because he's a fan of mine, and then you're going to go vote for Trump? What the fuck is that shit?" Though it's impossible to make assumptions about all the people upset about Drake's behavior, it's probably safe to say that the majority of them aren't the same as the trolls who are voting for Trump. Think of it as a Venn diagram, with a very small section of overlap.
And yes, there are plenty of worse people to be worried about — but why can't we multitask? Back in September 2018, Millie Bobby Brown opened up about her "friendship" with Drake, noting that they quite frequently text. She was 14 at the time. Similarly to Eilish, Brown defended Drake, saying she feels "lucky" to have people "offer their wisdom and guidance" in the industry, and saying to critics, "U guys are weird... For real." At the time, Drake was rumored to be dating 18-year-old model Bella Harris, whom he met when she was only 16. In 2016, he was reported to have been dating Hailey Bieber (née Baldwin); they met when she was 14. Even if Drake is merely a fan of both young women's work, it's not hard to understand why anyone — particularly women even two or three years older than Eilish — found the relationships to be problematic.