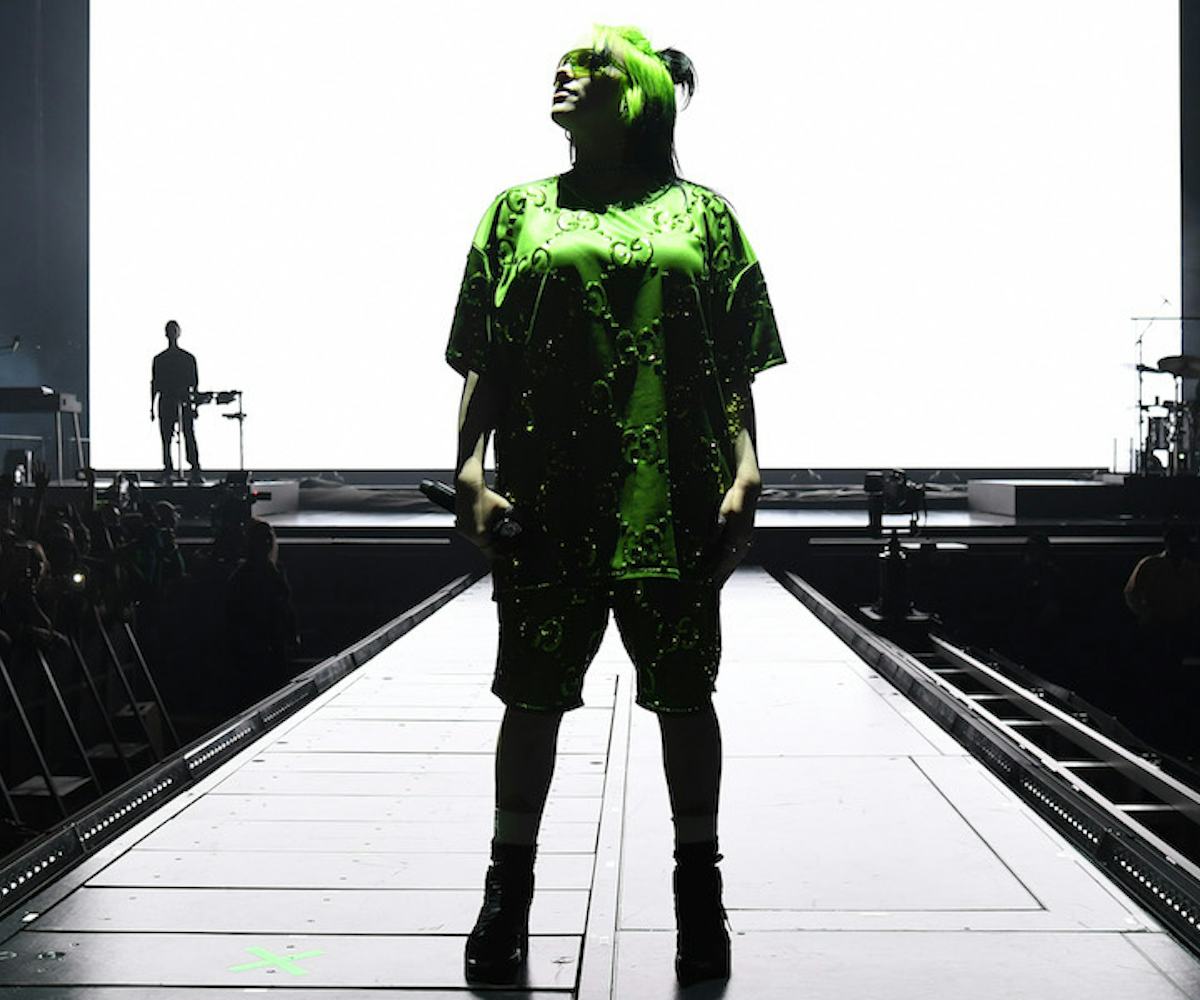 Photo by Kevin Mazur/Getty Images for Live Nation
Billie Eilish Calls Out Body Shaming By Stripping Down In New Tour Video
The interlude shows Billie challenging the cultural obsession with young women's bodies
Fresh off her landmark five Grammy wins, Billie Eilish has officially embarked on her Where Do We Go? worldwide tour, which will take the 18-year-old performer to arenas across the world through September (coronavirus concerns, permitting). The When We Fall Asleep singer's first stop was in Miami, Florida at the American Airlines Arena, and, amidst the 20-song, 90-minute set, the singer carved out some special time to debut a new interlude that found her stripping down in protest of body shaming.
Known for typically sporting extremely baggy clothes (though, alwaysdesigner), Eilish has constantly been the subject of intense body scrutiny for the large majority of her still-nascent career. As it turns out, people just can't seem to understand why a young pop ingenue would want to cover herself up in such a pointedly dramatic way — you know, instead of intentionally being sexualized à la Britney Spears and Christina Aguilera in 1999 (not that there's anything wrong with that either).
So, in a giant f-you to the haters that always have something to say, Eilish recorded herself seductively removing her token baggy clothes to show off the form-fitting garments underneath. The effect, of course, is obviously to flip the script on those people in the world that want an 18-year-old girl to sexualize herself. "Some people use it to shame me, but I feel you watching," she goads them in a voiceover, using her signature long nails to touch a body she proudly views as her own and no one else's. "If what I wear is comfortable, I am not a woman," she continues. "If I shed the layers, I am a slut."
The three-minute-long video concludes with Eilish descending into an abyss-like pool of black goo and disappearing underneath its surface. Then, against the complete darkness, Eilish rhetorically asks, "If I wear more, if I wear less, who decides what that makes me? What that means? Is my value based only on your perception? Or is your opinion of me not my responsibility?"
Naturally, the teenage girls in the immediate vicinity of the fan-recorded video went bonkers.
Check out footage of the inspirational interlude below.