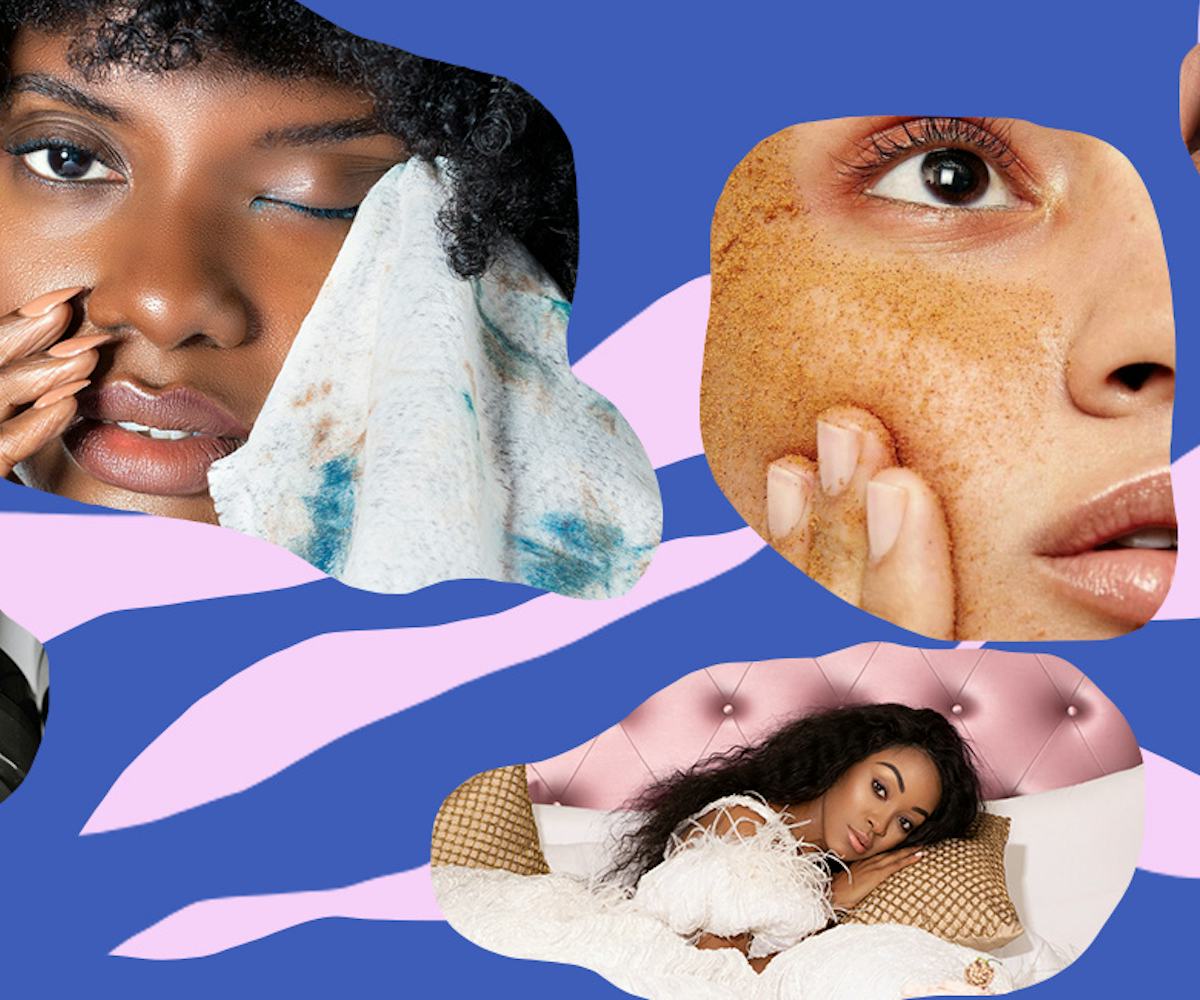 Meet 6 Black-Owned Beauty Brands Changing The Game
And how they think consumers can make the industry more inclusive
There's been a definite shift within the American beauty industry over the past decade or so—one for the better. Once fully lacking in representation and products, the beauty industry is now full of brands that have been working hard at not only putting out more inclusive and diverse campaigns but also producing products that address the needs of Black women. This has also led to the rise of Black-owned brands making their way into the spotlight.
At the same time, however, the industry still has far to go. The beauty aisle still feels divided, and there are ways to go in terms of visibility, inclusivity, and diversity.
We chatted with six indie Black-owned skin-care and cosmetics brands that are working to change the landscape of beauty for the better. Below, they share their thoughts on the work that still needs to be done, and how consumers can help kick this shift into action.
Base Butter
Base Butter is a skin-care line that caters to the specific needs of Black women. Founder She'Neil Johnson hopes not only to create innovative products that work but also to educate the community so that they can become more informed and confident when it comes to shopping for beauty products.
"After researching and speaking with our audience, we realized the frustration not only lies in lack of options but in lack of knowledge," says Johnson. "Our skin problems are more unique than our counterparts. Black women suffer from hyperpigmentation more and usually have extremely oily or dry skin. When the brand, scientist, or dermatologist behind a product does not look like you or isn't knowledgeable about your skin struggles, it's harder to build out an experience and solution that addresses your needs."
One thing the brand prides itself on is how it represents the everyday Black woman within its editorials and brand messaging. "It has always been our mission to showcase not only the 'clear-skinned' or 'model-type' Black women, but actually showcase the everyday woman who is using the product," she says. This is why you'll see models that suffer from hormonal acne or have breakout scarring, uncovered.
Johnson believes that the beauty industry has come a long way in terms of diversity and representation, as the number of brands for Black women by Black women has increased. "I think before, we as a community believed there could only be one or a few major players when it came to our beauty needs as Black women, but that is not true," she says. "When our non-Black counterparts walk into a Sephora, they are welcomed with hundreds made for them and by them—why can't we too have that experience?" Still, she wants to see the beauty aisles become less divided. "There are still ethnic sections, even though it may not be clearly spelled out, with a limited amount of options."
How can consumers help with this movement? "Audit your personal care products, and see if you are supporting at least one Black-owned beauty brand," she says. "If you are not, go out and find one to shop with! We promise you will find something you love."
Beauty Bakerie
We're longtime fans of Beauty Bakerie's magical, sweets-inspired offering of cruelty-free cosmetics, especially its entirely smudge-proof, waterproof, and seemingly indestructible liquid lipstick. Of course, it doesn't hurt that the founder, Cashmere Carillo, is a total badass.
Shortly after Carillo launched her brand in 2011, she was diagnosed with breast cancer, and from there, she knew that her products not only needed to be formulated with healthy, body-safe ingredients but also be effective and last long (because why waste time reapplying?). "When death is at your door, you really want every minute to mean something," she says. "Spending 50 minutes in the morning to do a full face, only to later have it gone by lunch, didn't sit well with me. Makeup is great, but I don't want to choose between looking great and an important moment with loved ones." Now, cancer-free, Carillo is happy to share long-lasting yet safe products with the world.
Since day one, inclusivity and diversity have been at the core of the brand. Noticing the lack thereof in the beauty space as a teen, Carillo knew that having an inclusive shade range was going to be one of her main focuses once she began her own brand. With that said, Beauty Bakerie was not only one of the firsts to have a truly inclusive range of foundation shades, but it was the first to number shades from dark to light. "That really seemed to be a catalyst for more discussions within the industry," says Carillo. "It wasn't a trend until we—those of us who have had our shade be last far too often—made it a trend."
In terms of the industry as a whole, Carillo believes that we're finally beginning to move in the right direction—though much more work needs to be done. "In recent years, I've noticed the attempt to become more diverse and inclusive, which is encouraging—it means that the conversations are moving in the right direction," she says. "At times, however, I'm still surprised this has to be a conversation."
Carillo believes that we're finally seeing what people want begin to manifest itself within the industry. Customers now hold brands accountable, and she believes that brands need to do introspective work to know what kind of mark they want to leave on the world. "If you want to cater to all, be clear about that. Own who you are, but don't mislead."
Lauren Napier Beauty
Makeup artist Lauren Napier started her namesake beauty brand after a fairly common occurrence: Her pack of makeup remover wipes had dried out, leaving her literally high and dry (she was on a plane when she discovered this). Just 18 short months later, her line, which consists of high-performance makeup removing cleansing wipes, came to be. Now, five years later, Lauren Napier Beauty is carried at retailers all over the world.
In a world of excessive beauty, from the contouring craze to the Kardashians, Napier hopes to defy beauty standards and evoke confidence in her customers. "I want my customers to feel equally as confident without makeup as they do with. To embrace their natural state, whatever it may be: wrinkled, blemished scarred, or otherwise. There is beauty in taking it off."
As the founder of a Black female-run brand, Napier is appreciative of the evolution happening within the beauty industry that she's been working in for almost two decades. However, she feels that, many times, inclusivity is solely for a brand's self-preservation, and may not always be genuine. "Social media is quick, and no brand wants to be called out for not being diverse and inclusive," she says. This is why she looks to the Black women at the forefront of beauty who are paving the way for others. "I'm thankful for Iman, Carol's Daughter, Fenty Beauty, and Pat McGrath labs who've revolutionized what beauty looks like, and not just from a product perspective. They've shined a spotlight on what it means and what it looks like to be a successful Black woman who is the face of her brand," says Napier.
But even with powerhouses like Rihanna and Pat McGrath leading the way, Napier is waiting for true changes to take place. "The real change will come when you see brands like Lauren Napier Beauty in the larger beauty spaces," she says. "Black-owned brands should not be cast to the bottom shelves at drugstores. We, women of color—especially Black women—are statistically the most educated women in the country. We are knowledgeable comrades and like fine goods. That combination is powerful, and would be a winning strategy for a progressive retail organization."
So what can we do to help propel this change? Support the smaller brands, and continuously. "When you shop a small brand, you're supporting someone's passion and someone's dream," she says. "Take pride in knowing you're investing in someone's future. Then, re-order!"
She also wants you to know that, just because a brand is Black-owned, that doesn't necessarily mean it's solely created for Black people—and therefore, should be supported by all. "Lauren Napier Beauty products are literally for anyone who wants to clean their face with a luxurious formula and plush cotton cloth," she says.
Plant Apothecary
Plant Apothecary is the organic, vegan, unisex beauty and grooming line dreamed up by two designers with a penchant for cool packaging. Holly McWhorter and her husband Bjarke launched their line back in 2012, hoping to prove that clean, green beauty doesn't have to look like it came from a health food store.
When Plant Apothecary first broke into the beauty scene, McWhorter believed that there had already been a massive shift in the beauty industry as a whole. "The beauty space, in general, had already moved away from the fairly strictly divided way it approached ethnic diversity, say, 15 or 20 years ago," she says. However, in terms of clean beauty, things were much much different. "In the clean beauty space that we're in specifically, there was hardly any diversity in marketing at all," she says. "The vast majority of clean beauty ads showed young white women, period. As if they were the only people on earth who might want—and importantly, be able to afford—clean, green beauty and skin-care products."
McWhorter believes we must support the brands going in the inclusive direction in order to see real changes within the industry. "Even if you think they're only doing it to ride trendy wave, support them anyway so they can see that they're moving in the right direction." She also believes it's up to us to call out the brands that aren't. "If you like a brand that seems to only recognize the white consumer, let them know—via social media, so everyone else can see it—that you'd like to see their branding become more inclusive."
Epara
Epara is a natural and clean skin-care brand formulated with the needs of Black women in mind. Founder Ozohu Adoh has created her 10-product line for face and body after addressing her own needs, targeting the issues that darker skin tones tend to face such as dryness and hyperpigmentation.
Adoh believes that the industry is finally beginning to change for the better—and not just because larger brands are pushing for inclusivity, but because smaller, Black-owned brands are creating the products the industry previously lacked. "There is now a recognition of nuance in the problems women of color have with their skin, and how it can differ from similar problems faced by women with lighter, oilier skin," she says. "I believe the most positive change is that the solutions are being offered by women of color themselves."
However, she believes there's still room for improvement within the beauty industry. "We need to see more formulators and scientists understanding the varying needs of women, creating products that work for them," she says. "We also need to have the industry more attuned to the importance or recognition and representation." At the same time, we, as consumers, need to show the demand for these products. "Be more demanding of what you put on your skin, and have a high standard of quality in purchase of good products," she says.
BLK + GRN
If you're looking for Black-owned beauty brands to support, look no further than BLK + GRN to get started. The all-natural retailer carries an expertly curated offering of beauty products—from hair care to feminine care to teas—all created by Black women. Currently, it carries products from over 63 Black female artisans.
Founder Kristian Henderson seeks to solve two problems with BLK + GRN: to give Black women access to high-quality, non-toxic products, and to give Black artisans access to a large retail platform. "Black women spend twice as much on personal care products, yet 75 percent of the products marketed to Black women are formulated with ingredients that are considered toxic and linked to cancer, hormone disruption, and reproductive damage," she says. "Black women are looking for higher quality black-owned products, but there isn't an easy way to purchase these green products."
Henderson aims to not only connects Black women to products created by black women but to create a safe space where women of color can normalize self-care. "Through our events, podcast, and mindful content, we're seeking to help more women make healthier beauty decisions," she says. "We want them to question the status quo while choosing wellness over convenience. We want them to experience sustainable happiness. To us, that is beauty."
But, still, as a smaller business, the struggle to stay afloat is real. Henderson believes that consumers have the power to keep smaller brands alive by knowing their values, and having shopping habits that reflect that. "I believe that change begins when you recognize and practice what you value," says Henderson. "I value Black women, small businesses, and my own happiness. But my choices didn't always reflect these values. I feel that if your choices, actions, and purchasing decisions do not reflect your values, then you haven't been intentional about that. As consumers, we have to hold each other accountable. I started by connecting to Black artisans that I believed in, and developed my team of Black women to better serve our community."