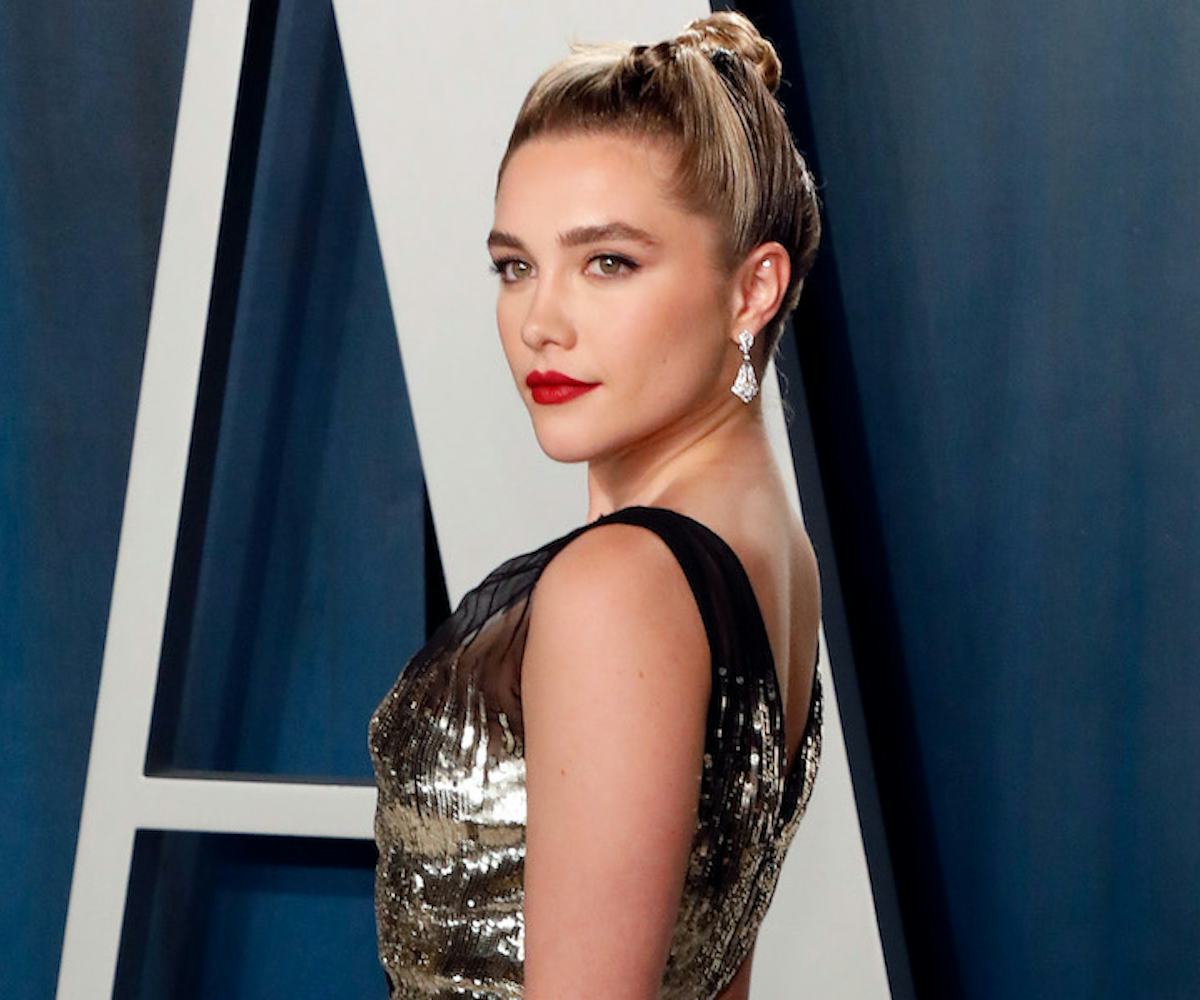 Photo via Getty
Florence Pugh Steals The Spotlight In New 'Black Widow' Trailer
Could the 'Little Women' star play a huge role in the next phase of the Marvel Cinematic Universe?
All I needed was to hear Florence Pugh tell Scarlett Johansson, "Well, your plan sucks," in a hilariously deadpan voice to be fully convinced that, yes, Black Widow will probably be one of the best action movies of 2020. After spending 2019 wrestling mean girls in Fighting With My Family, avoiding death-by-Swedish-cult in Midsommar, and securing an Oscar nomination for her heartfelt performance as Amy March in Little Women, Pugh is ready to cross over into the next echelon of movie superstardom with her role in Marvel's Black Widow. And if you had any doubt that the 24-year-old actress could hold her own in the cutthroat world of superheroes, the film's final trailer, which dropped this morning, will easily silence all those concerns.
Much has been made of the fact that Black Widow, the first solo film dedicated to Scarlett Johansson's former Russian spy character (and only the second in the Marvel Cinematic Universe to feature a female lead), is coming months aftershe supposedly died in the cataclysmic events of last year's Avengers: Endgame. Given how meticulous Kevin Feige and Co. have been in the past about precisely aligning their intersecting stories, the idea that Black Widow (Natasha Romanoff, if you're nasty) would miraculously cease to be dead seemed quite unlikely. Of course, since then, we have learned that Black Widow would be a prequel — extending back as far as pre-Avengers — but there have still been lingering questions about what good a prequel would do for a character who would no longer exist in future installments. That's why many fans have also settled into the idea that Black Widow's primary purpose could be to introduce us to a few newMarvel superheroes, including Pugh's Yelena Belova, Natasha's "sister" — who actually does take up the Black Widow title following Natasha's death in the comics.
As always, we'll have to wait for the film's release to see if this theory proves true. But judging by today's final trailer, which positions Pugh's Yelena and Johansson's Natasha as on-screen equals, there are already several signs that suggest the future of Marvel may involve a move to Florence.
Still, if the idea of Florence Pugh and Scarlett Johansson fighting side-by-side doesn't excite you — first of all, who are you — you can also look forward to appearances by The Favourite's Rachel Weisz, who plays their mother, Melina Vostokoff, and really does not like it when Natasha slouches at the dinner table, and Stranger Things' David Harbour, who plays their father, the Red Guardian, and is all about fighting as a family.
Watch Florence Pugh kick some Russian ass in the new trailer below. Black Widow hits theaters nationwide on May 1.