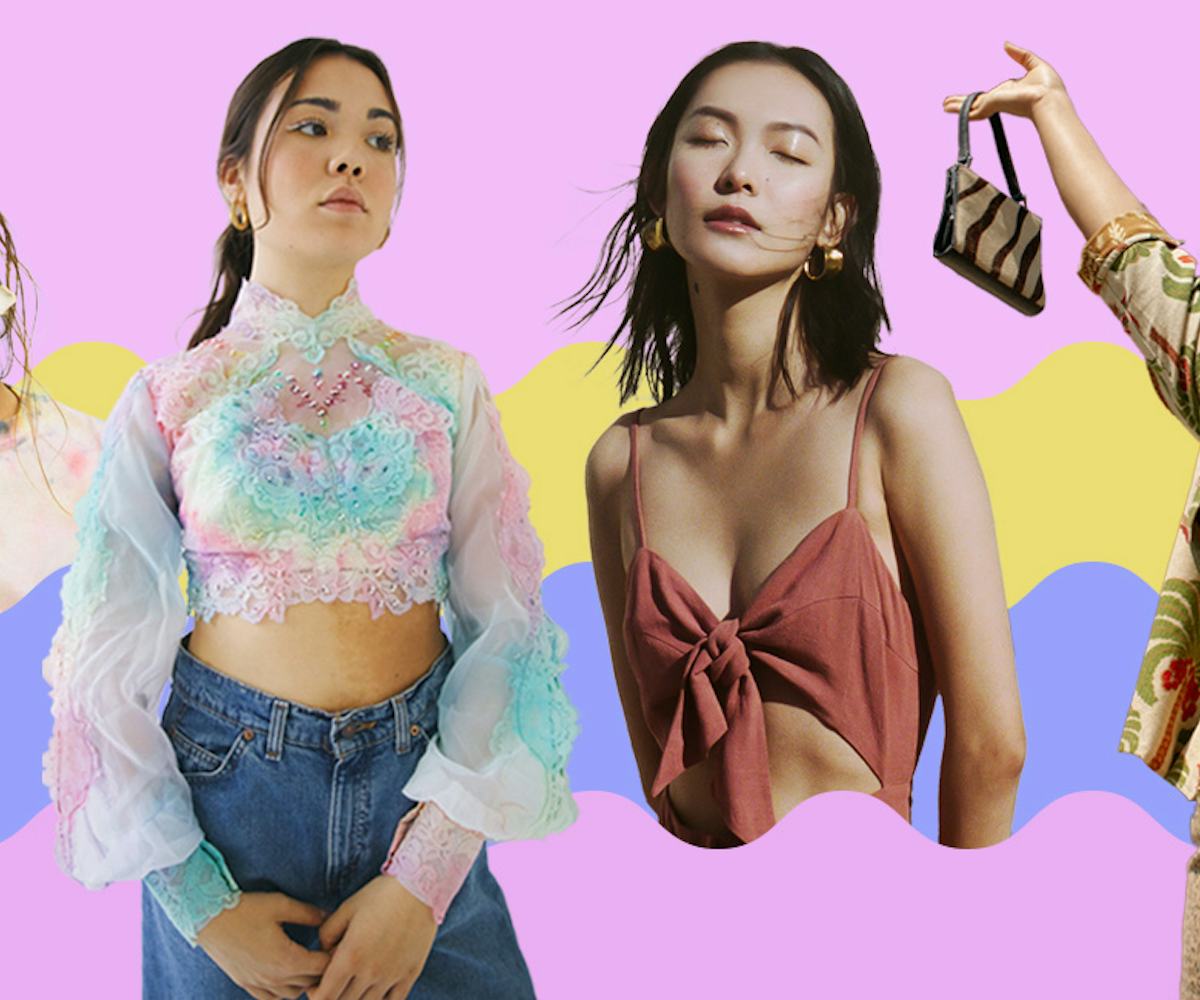 Photos courtesy of Sense of Shelf x The Series
How One Sustainable Retailer Is Working To Make Eco-Friendly Clothes More Accessible
Shop all your favorite ethical labels IRL
Making an effort to shop sustainably isn't always as easy as it sounds. Sure, seeking out eco-friendly and ethical fashion labels is easy to access by Googling or through Instagram, but when it comes to having an IRL shopping experience, few labels actually have standing stores or are carried in physical boutiques. And for that reason, in particular, reworked clothing label The Series has teamed up with online eco-friendly and ethical online retailer Sense of Shelf to bring an eco-conscious shopping experience to Williamsburg, Brooklyn.
This weekend, over a dozen sustainable and eco-friendly clothing and accessories labels will be available to shop in the Sense of Shelf x The Series pop-up, allowing a customer to fully experience the product before making a purchase. The Series founder Ella Wiznia stresses the importance of being able to shop for clothing or accessories, especially pieces built to last you, in person. "There are so many really exciting new brands creating gorgeous pieces, all with sustainability as a driving force behind their designs," she says. "Normally, because of a whole host of reasons—including affordability, convenience, etc.—we only interact with these pieces on Instagram or other online platforms. However, I feel that touching, feeling, trying on the piece is a really important part of appreciating all the time and energy that went into a garment."
Opening right after New York Fashion Week has come to a close, the founding brands hope to bring more awareness to just how unsustainable Fashion Week can be. "We wanted the event to be around the same time as New York Fashion Week to provide a reprieve from the usual ceremony and all that comes with it—international flights, private car services, over-the-top stage designs, etc.," says co-founder and CEO of Sense of Shelf, Madeline Ritaccio. "Thinking about all that goes into orchestrating and attending these 15-minute runway shows made us want to brainstorm a better way to celebrate designers and artists who are doing business in a responsible way." It also happens to fall right before the UN Climate Summit on September 23, giving even more importance to this focus on sustainable fashion.
What brands can you expect at the shop? Some of our sustainable favorites: quirky, repurposed outerwear label Dauphinette; minimalist sustainable clothing label Eye to Eye; inclusive sizing vintage shop Berriez; and sustainable resin jewelry and accessories label Machete, just to name a few.
The curation process was treated with the utmost care, the same two-pronged approach that Sense of Shelf uses to curate its brands online (brands must be sustainable and ethical), as well as ensuring it's, well, a brand that people actually want to shop. "For us, sustainability matters most, but we also look to see if the brand is fun, approachable, and offers items at an accessible price point," explains Amy Kallman, co-founder and COO of Sense of Shelf.
Wanting to prove to shoppers that sustainable fashion is more than just linen in various neutral earth tones, both brands put a focus in finding the most fun and colorful brands out there. "We want to showcase the colorful and joyful side of sustainable fashion, which is usually merchandised for and marketed to a very narrow demographic," says Kallman. And, of course, brand transparency is key. Wiznia, Ritaccio, and Kallman looked closely into each brand—what they are made of, who made them, and under what conditions—to ensure they were aligned with their mission.
Overall, the founders believe that by banding together and bringing more awareness to consumers, they can create real change within the industry. As Ritaccio explains:
The fashion industry is the perfect microscope for examining trade policy, environmental racism, labor rights, and human rights. What we choose to wear on our bodies is inherently political. When it comes to the impact that fashion has on the planet, it's important to call out that big corporations, like in other industries, are the main cause of environmental damage. We appreciate the conversation that a "sustainability" tab on a major player's homepage stirs and applaud the efforts to develop an in-house eco-friendly line, but at this point in our planet's crisis, we need systematic change. If this change isn't going to be mandated from the top, whether that be from our nation's leaders or the boards that oversee these companies, then we think it's up to a collective shift in behavior to send a message that we are fed up with the status quo.
Of course, it doesn't hurt that all the brands involved are also super freaking cute.
You can shop The Series x Sense of Shelf starting Saturday, September 14, from 11am to 9pm and Sunday, September 15, from 10am to 7pm, at 57 Conselyea Street, Brooklyn.