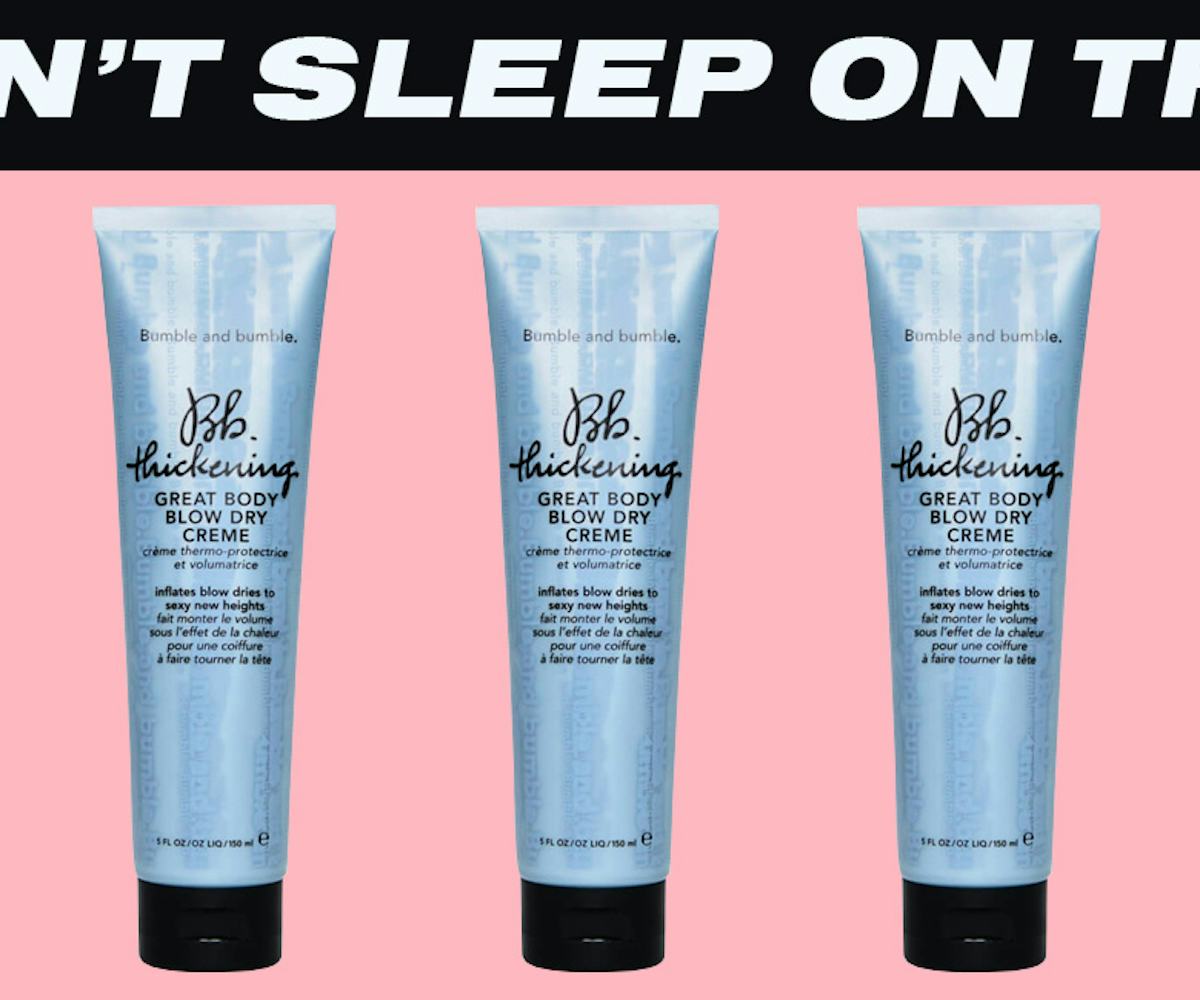 This Is The Only Product That Gives My Extremely Fine Hair Tons Of Volume
Friends don't let friends miss out on all the cool, under-the-radar things they know about, like which little-known beauty brand is low-key making the best highlighter around. And because we consider our readers to be like friends, we gather together all our best finds in our Don't Sleep On This series. Check in every week to see what things we can't wait to share with you.
For those of you with ultra-fine, ultra-processed hair, you understand as well as I do that winter weather is the least friendly to our chances of having a good hair day. Even right after a blowout, even the slightest bit of wind and some nice static cling leaves me wondering if all that time spent with a round brush was a fever dream.
I've always been hesitant with adding products to my hair pre-blow-dry, though, because, despite what countless stylists have claimed before styling my hair after a cut, whatever they'd pump into it left me feeling a little bit greasy before my head even hit the pillow on the same evening. But my feelings about styling products changed after a friend recommended I pick up Bumble and bumble's thickening blow dry creme. Since that blessed day, I've reached for it every time I wash my hair.
The first time I used it, I made sure it was on a day where I knew I'd see no one, so that, if my hair became expectedly greasy, I'd be able to hide inside and have a clean slate after the next day's shower. However, once I'd blown out my hair, the effect was magical. Suddenly, I had volume. I had thickness. You'd never guess I'm usually able to toss all my hair up into one of those thin, kid-size rubber bands. Instead of staying inside, protecting my greasy hair from the outside world, I actually ended up making plans just so that the good hair day wouldn't go to waste. My hair looked like I'd gotten a perfect blowout, and it didn't look like I'd thrown gobs of product in it in hopes of adding texture; it was soft and silky as ever, only with real, tangible volume.
The one caveat is that, as someone with bright green hair, I do have to spend a little bit of extra time between shampoos, so it's not like I can keep that volume up all week long. But, the blow dry creme does, unlike other products, not seem to add any sort of grime to my hair and has actually helped to prolong the time between first washing and giving in to the fact that a beanie just won't cover up this mess. On day one (and two, and three), I'm in my glory—and so is my hair.
Bumble and bumble, Thickening Great Body Blow Dry Creme, $32, available at Sephora.
NYLON uses affiliate links and may earn a commission if you purchase something through those links, but every product chosen is selected independently.