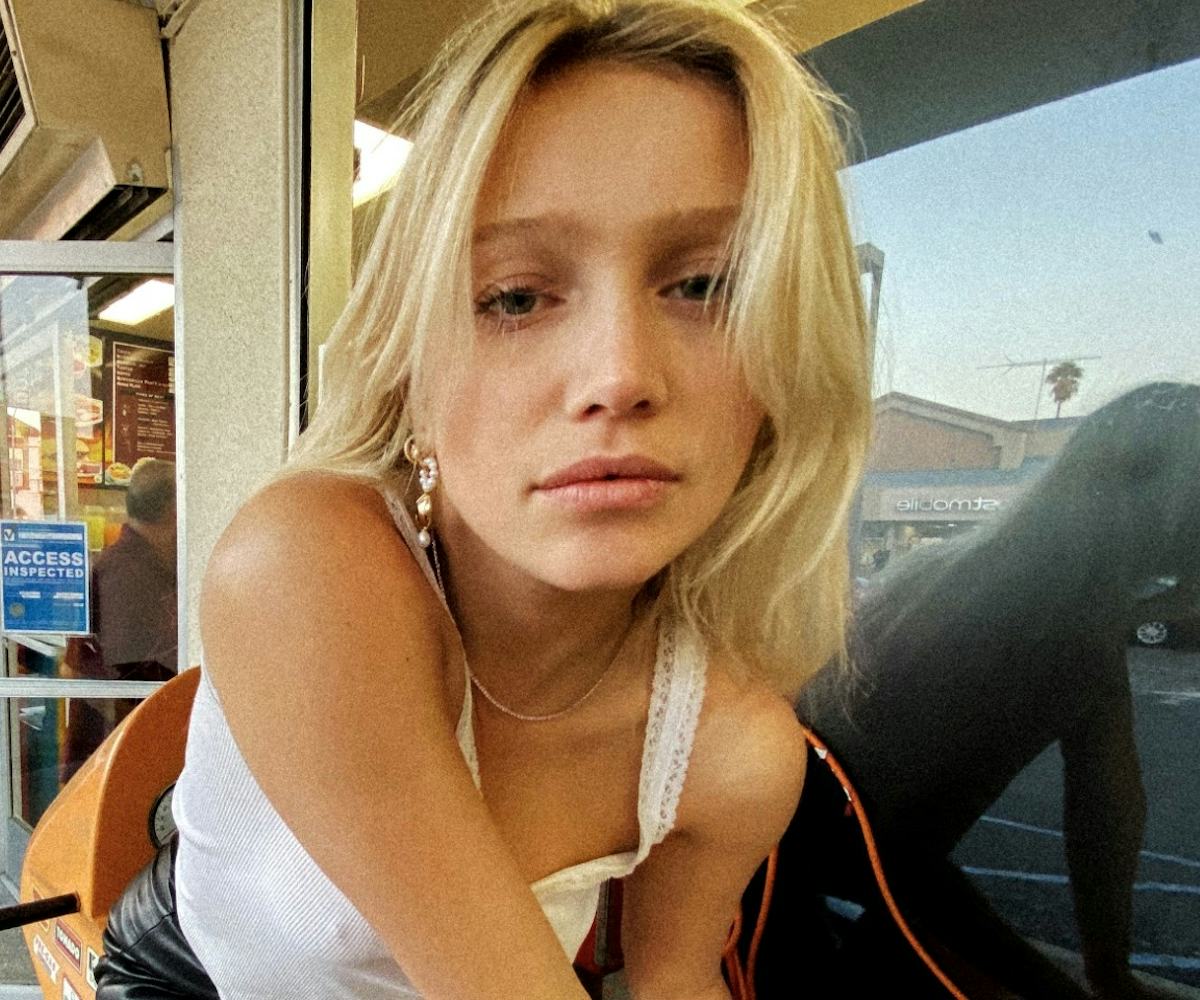 Naserin Bogado
Cailin Russo's Valentine's Day Playlist Captures The Many Shades Of Love
The Los Angeles musician's playlist calls upon the voices of Lauryn Hill, Lykke Li, The Smiths, and more
If there's one day of the year to shamelessly trot out the sappy love songs and eviscerating break-up anthems, it's Valentine's Day. Created to celebrate romantic love in all its glory, the holiday has taken on a looser meaning for many people in recent years. Love, after all, is something we all experience in several ways — between friends, family, significant others, or briefly, between strangers. There's also the musings of what's left behind in its absence. By now, with the universe's musical canon traversing hundreds of decades and countless evolutions of "love," there's surely a song out there about every shade of the emotion that exists.
Rising Los Angeles musician and model Cailin Russo carves her own generous cross-section of human desire in a new Valentine's Day playlist that NYLON is sharing ahead of the release of her sophomore EP, The Drama, on Friday. Aptly titled "Stole My Heart," Russo's eclectic selection of songs includes classics like Lauryn Hill's "Just Want You Around," Coldplay's "Yellow," and a vibrant remix of Lykke Li's devotional "I'll Follow You." It also doesn't shy away from those truly ugly yet transcendent times of desperation, represented here by The Smiths' "There's A Light That Never Goes Out." Every prickly, tangled, or electrifying neuron that's ever fired off within us is accounted for here.
"My Valentine's day playlist drifts through different stages of intensity of a relationship," Russo writes in an email about the playlist. "The underlying theme is very free, intimate, and raw. These songs can either make you dance in the kitchen drunk in love, or just chill in bed, which is definitely how I love! I've also considered a few of these to be songs that I would walk down the aisle to as well… So from me to you, here is a little map of my heart."
Stream the playlist below and read on to learn a bit more about Russo.
Is there a song in this playlist that stands out more to you than the rest?
I think every song on there is purposeful. As far as stand outs go... maybe "Movement" by Hozier because it has had the most impact on me over the past year. When all the live instruments hit at once you just want to explode and I feel the same way every time I hear it. Also maybe "Running" by No Doubt. I used to want to get married to that song (we're talking 10,11,12). And putting it on this playlist made it stand out in a very innocent nostalgic way.
What's the biggest lesson you've learned about love?
The biggest lesson I've learned about love... hmm that's a tricky one. I've learned tons about love through my past relationships and outside of romantic relationships. Romantically I think love is the ultimate heroine. Love will make you do things you didn't think possible. Unconditional abundant love outside of romance I think is all about patience and compassion.
How are you planning on spending Valentine's Day this year?
This Valentine's Day, I plan on spending it in leather underwear in front of 200 people lol. I'm playing my EP release show at The Moroccan in LA!
Are break-up songs or songs about love easier to write?
Yes! Break up songs and love songs are The EASIEST TO WRITE. Because love is unfiltered, because love is the ultimate muse. It's something that you can't NOT write about.
Your sophomore EP, The Drama, is out Valentine's Day. What do you hope people will take away from the project?
Wow sophomore EP! I hope people take whatever they need from this project. There's all different masks of love and relationships and I hope it can get people through something. That's what it did for me.