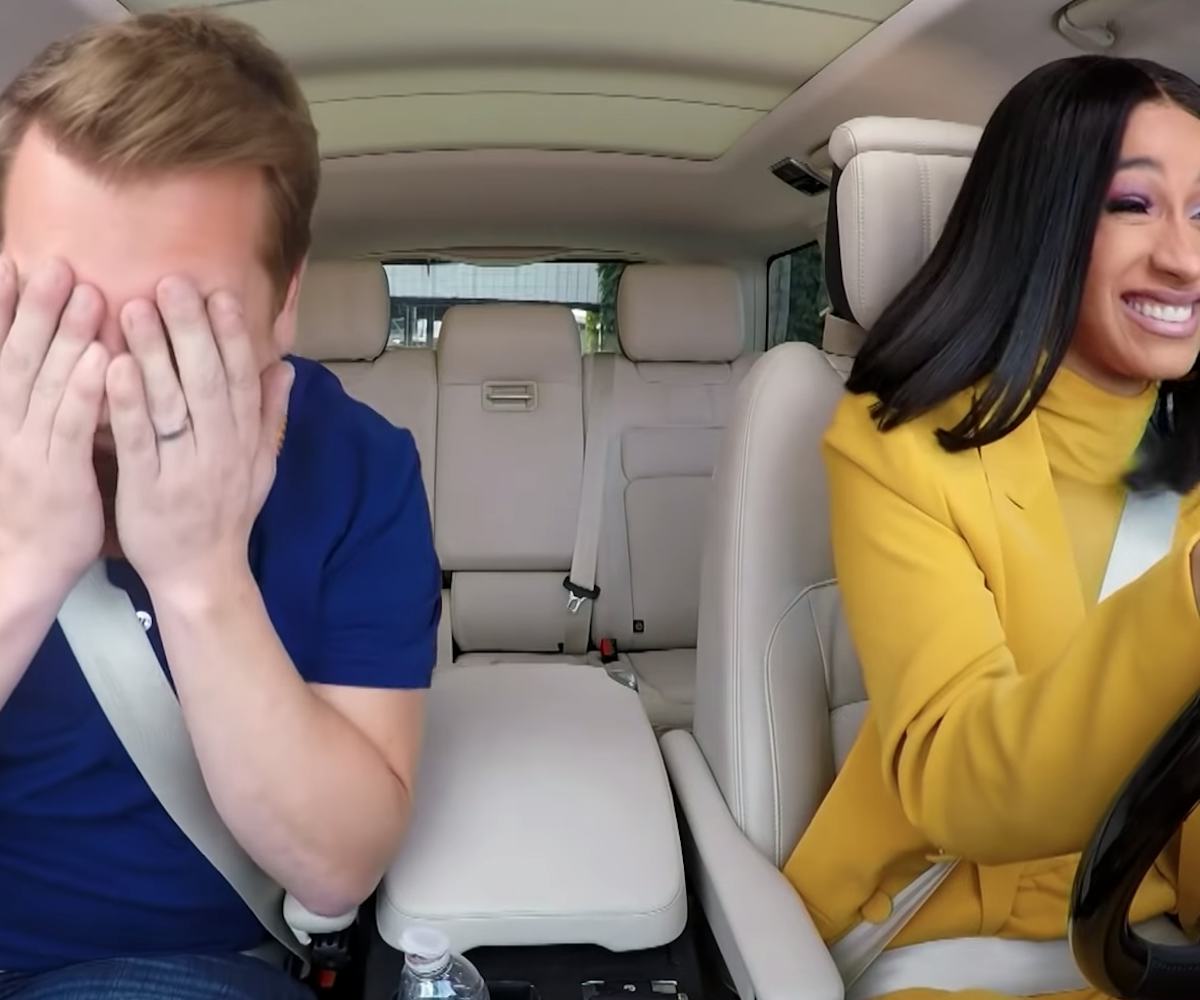 Screenshot via Youtube
James Corden Tried To Teach Cardi B How To Drive On 'Carpool Karaoke'​
Umm, it didn't go so well
James Corden is usually the one behind the wheel on Carpool Karaoke, but when he heard that Cardi B doesn't know how to drive, he insisted on giving her a driving lesson right then and there. A previous teaser suggested Cardi hit something with Corden's vehicle, but we so weren't prepared for the hilarity that ensued on the full episode.
Corden helped Cardi take off her sky-high heels before she hopped in the driver's seat, and off she went. Rather than slaloming between the flags set out for her to signify the outer border of the course, she veered over each of the cones. Corden tried to get her back on track—and, to be fair, she technically was *on* the track—but, let's just say, there's no way her skills would have passed any driving test anywhere.
Corden asked Cardi how many cars she'd collected for herself at this point, despite not having a driver license or knowledge of how to drive. "I have a Lambo, I have a Lamborghini truck, I have a Bentley truck, I have a Maybach, and I have a Suburban, so five," Cardi listed. When Corden asked why she needed them, the rapper hesitated a bit, before answering, "To take pictures with," and immediately cracked up.
Later in the episode, Corden helps Cardi perform for what might be her oldest crowd yet, taking over a dance class at a senior center. They're not exactly Cardi's target demographic—one man left to call his repairman before she even performed, because, you know, priorities. But the ladies who stayed to find out more about the rapper were definitely feeling the vibe, and I think Cardi just found a new fan base.