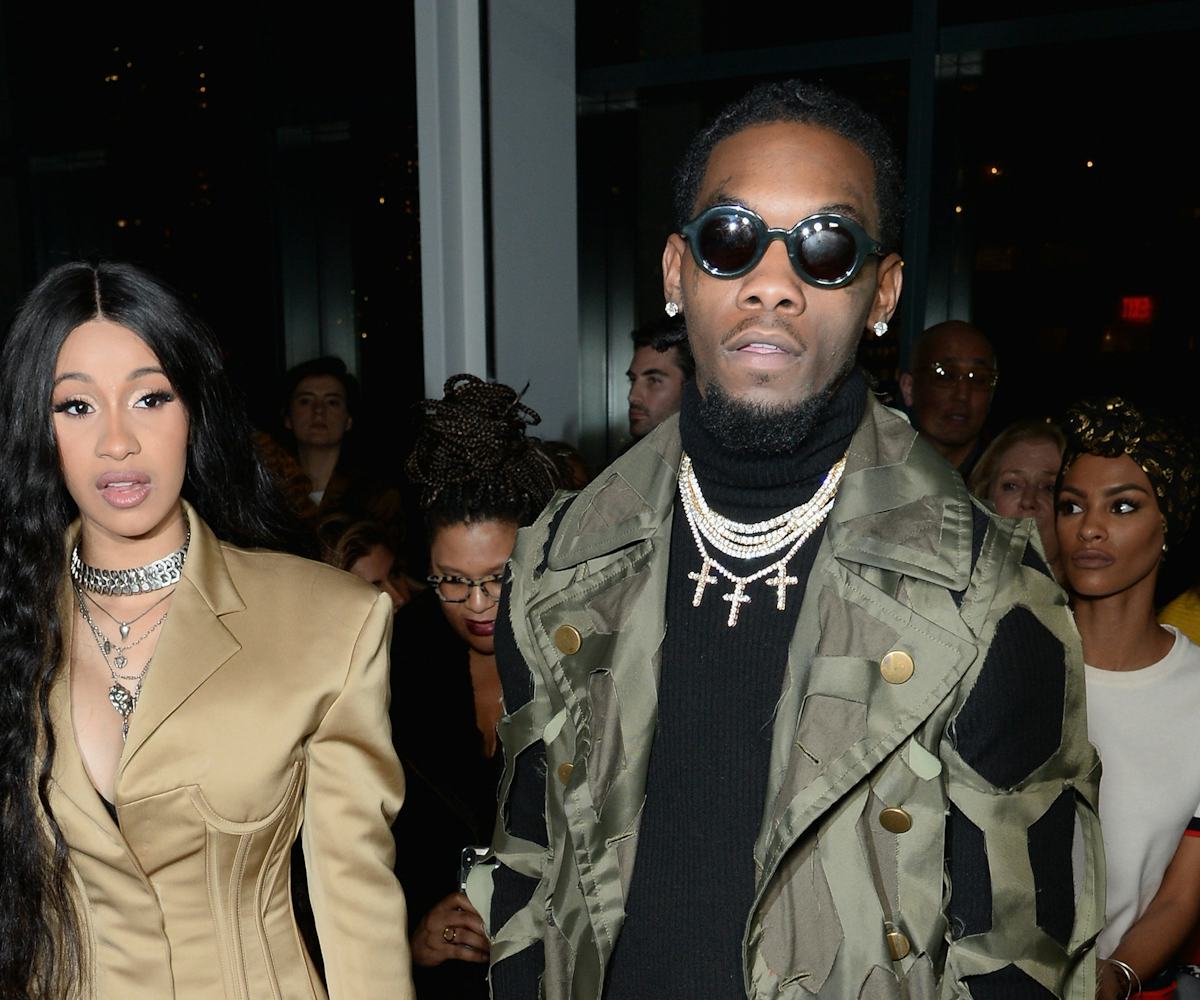 Photo by Andrew Toth/Getty Images for New York Fashion Week: The Shows.
Cardi B Had Her Historic Performance Interrupted By Offset's Apology
It wasn't sweet, it was inappropriate
This weekend, Offset continued to beg Cardi B to take him back. This time, he did it by interrupting her performance during the Rolling Loud festival.
The Migos rapper ambushed the stage during the concert and wheeled out three floral displays that read, "Take me back Cardi." "I just wanna tell you I'm sorry, bro," Offset said to a clearly annoyed Cardi. "And furthermore I love you." After exchanging some words, the flowers were taken off the stage.
There are appropriate times and places to beg for forgiveness; on a stage, in front of thousands of people, is not one of them. If she doesn't want to see you in person, maybe do it over text message or take it old-school and send her some flowers home. A public display of this kind is not only selfish but also inappropriate given the fact that he did it while she was working. We don't know what goes on between the two behind the Instagram videos, but harassing people at work is not okay and, in some other cases, can be scary.
What perhaps makes the matter even worse is that Rolling Loud was apparently aware that this was going to happen to Cardi. Before the incident, the festival's Twitter account reportedly tweeted: "Whatever happens tonight on the @audiomack stage, it's going viral. Make sure you're there tonight for Bardi."
The festival issued a statement that reads:
Headliners and their teams have full control of the stage and who is allowed on it during their set at Rolling Loud. The festival does not interfere with or influence a headliner's set list. We have never and will never do anything to change a headliner's set. We were tipped off that something was going to happen, but had nothing to do with the organization or execution of it.
Rolling Loud is proud to provide the platform for a queen like Cardi B to absolutely slay her performance. Despite the stunt, she performed hit after hit and electrified the crowd with her talent, energy, choreography, and set design. Cardi B proved herself as a top tier headliner last night, and that should be the story. We look forward to continued business with her in the future.
Cardi B was the first woman to headline the festival. What should've been a historic and honorable moment turned into a publicly embarrassing one.
Afterward, Rolling Loud tweeted out: "Y'all won," referring to Offset's response to Cardi B's divorce announcement video.