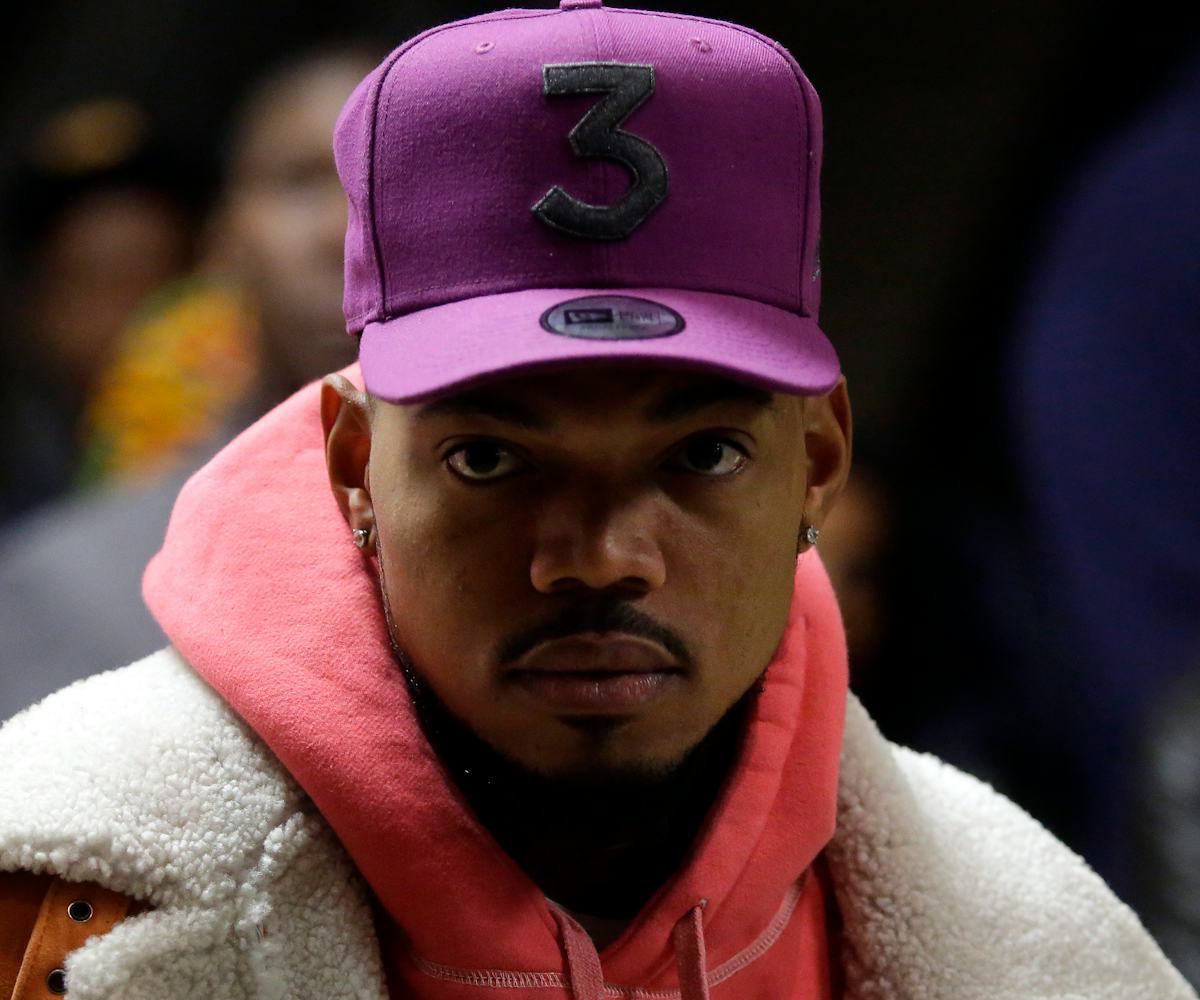 Photo by Joshua Lott/Getty Images
Chance The Rapper Calls Past Collab With R. Kelly "A Mistake"
And apologizes to all his survivors
In the final episode of Lifetime docuseriesSurviving R. Kelly, Chance The Rapper discusses his previous work with R. Kelly, referring to it as "a mistake." On camera, Chance tries to rationalize his thought process, then and now, to explain why he had worked with the alleged physical and sexual abuser in the first place.
Chance is careful with his words—not apologizing, but acknowledging that he was wrong—linking his former admiration of R. Kelly to a shared background. "At the time, it wasn't even present in my mind that people could feel any type of way about his presence on a track of mine," Chance says. "I think for a long time I was only able to understand R. Kelly's situation and presence in the world when it comes down to his trial and his accusations and his accusers as a victim. I don't know if that's because I'm from Chicago or 'cause he made great music or 'cause he is a black man."
Chance apologized via his Twitter account once the following quote was published by Rolling Stone, claiming it was taken out of context:
We're programmed to really be hypersensitive to black male oppression. But black women are exponentially [a] higher oppressed and violated group of people just in comparison to the whole world. Maybe I didn't care because I didn't value the accusers' stories because they were black women. Usually, n****s that get in trouble for shit like this on their magnitude of celebrity, it's light-skinned women or white women. That's when it's a big story. I've never really seen any pictures of R. Kelly's accusers.
In addition to his 2015 song "Somewhere in Paradise," which featured R. Kelly and Jeremih, Chance appeared in Kelly's 2015 "Backyard Party" music video and invited Kelly to join him onstage at Lollapalooza in 2014. While Chance's apology seems thoughtful and genuine, it comes at a time in which Kelly's allegations have become too public to ignore.
View Chance The Rapper's full interview with Cassius' Jamilah Lemieux from Surviving R. Kelly, below.