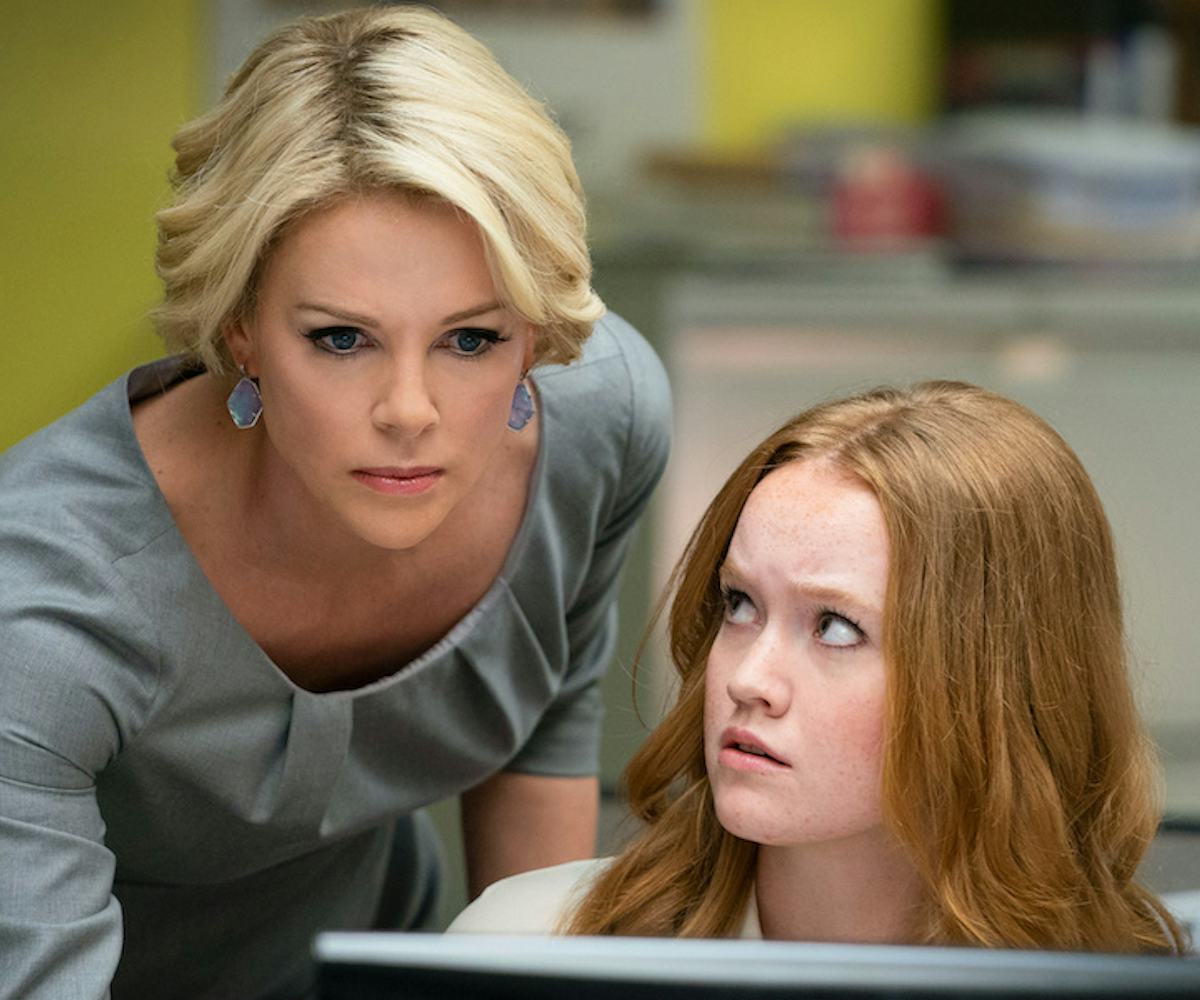 Photo by Hilary Bronwyn
Charlize Theron's Megyn Kelly Is Accused Of "Anger Menstruating" In 'Bombshel​l' Trailer
If Charlize Theron's uncanny transformation into Megyn Kelly alone didn't convince you that she could take home an Oscar with her Bombshell performance, a new trailer for the film will. Whereas the first trailer for the Jay Roach-directed movie, that offers a dramatized look at sexual harassment by Fox News' Roger Ailes, relied on only tense glances between Kelly, Gretchen Carlson (Nicole Kidman), and fictional anchor Kayla Pospisil (Margot Robbie), this latest clip sees the women at work, as well as quips from Kate McKinnon.
"You may have heard there was a dust-up involving yours truly and presidential contender Donald Trump," Kelly reads on air in the trailer. As she watches CNN later, she's taken aback when Trump responds by saying that there was "blood coming out of her eyes, blood coming out of her wherever," which is a Very Real Thing that Trump said only two years ago. It's this accusation of "anger menstruating" that seems to send Kelly straight into Ailes' (played by John Lithgow) office. As Billie Eilish's "bad guy" comes on, we see Ailes suggestively tell Robbie's character that she needs to "find a way to prove [that she's loyal]" if she wants to be on air. "You know why Roger's got that door blocking his office," a stylist tells Kelly as she's sitting in the makeup room in the next scene.
"Someone has to speak up. Someone has to get mad," Carlson says before her lawsuit against Ailes is made public in the clip. Suddenly, "Team Roger" T-shirts are being thrown about the office and the women of Fox News have to consider their positions in what Carlson declares a "war."
Watch the latest trailer for Bombshell, below.