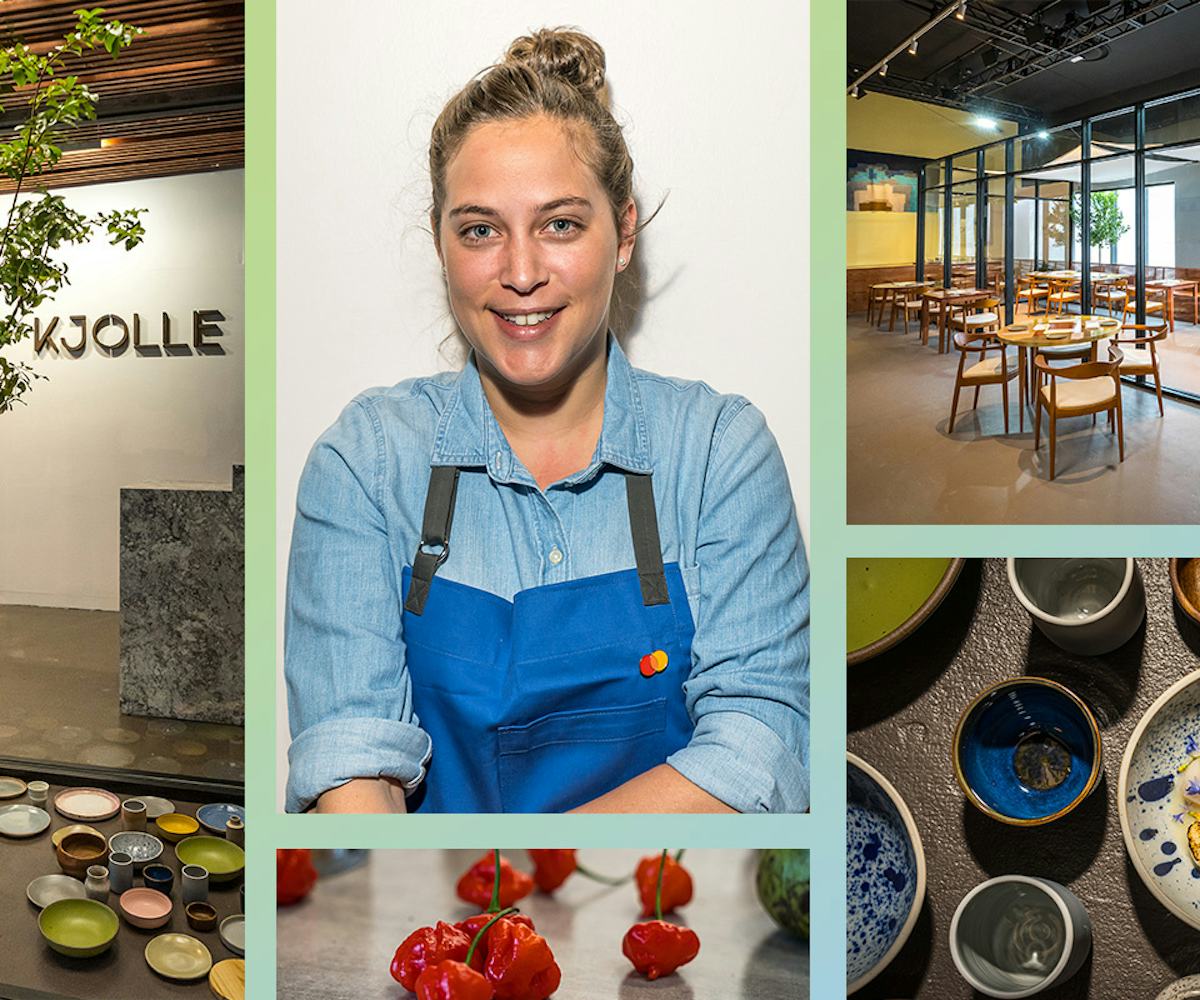 Photos by Noah Fecks.
Pia León Wants Her Food To Inspire People To Travel To Peru
We caught up with the acclaimed chef behind Kjolle during her pop-up in New York
"The only thing we didn't bring was the kjolle flower; otherwise, everything else is here from Peru," jokes the waiter who serves a passion fruit infusion prior to the five-course tasting menu served at Kjolle at PRICELESS, a replica of Chef Pia León's Lima, Peru-based restaurant, in Manhattan's Spring Studios.
Named after the yellow-orange flowers that grow high in South America's Andes mountains (which explains why it can't be transported to the pop-up), Kjolle (pronounced Koy-ay) takes inspiration from Peru's wildly diverse ingredients for its menu. After a decade of working alongside her husband and highly acclaimed chef, Virgilio Martínez, at Central, the three-time No.1 in Latin America's 50 Best Restaurants, León opened Kjolle in Lima's hip Barraco neighborhood in 2018; the same year she was named the Best Female Chef in Latin America. Now, at No. 21 on this year's list — the highest new entry award of 2019 — her restaurant lands in New York.
"We don't have limits when it comes to our cooking style at Kjolle," León tells me while in New York. "The most important thing for us is to show Peru's biodiversity around the coast, the Amazon, and the Andes; to show culture, to show history." In order to do that, the 32-year-old chef brought some of the key ingredients, like ollucos, a type of tubers from the Andes that range from a bright yellow to pink and red, that top a goat cheese quinoa tart; maca, a sweet-bitter root that León uses in the freshly baked bread served alongside the meal; and cacao whose nibs can be found in the creamy butter that you will want to, yes, smear all over the hot bread but also inhale alone by the wooden serving plate it comes in.
While León couldn't bring everything from Peru for the two-month-long setup, it also wasn't her intention to exactly replicate Kjolle's dishes in New York, but rather revise them with local ingredients. "When we travel, we want to adapt to the place. The idea is not to use 100 percent Peruvian ingredients. The idea is to share Peruvian cuisine and local ingredients," she says. "We found amazing vegetables and herbs here in New York, so we decided to use these herbs and the flowers." Those appear, in an explosion of violet and green, over melt-in-your-mouth short ribs that are served alongside a bowl of puréed burnt corn, a plate that León says is just one of the example of how she's fusing the two cultures. Another example? "I brought in one type of pumpkin that is really special for us in Peru. But here I found like thousands of types of pumpkin that were amazing for different sizes, different colors; some are sweets, some are bitter." This led to León using five types as a base for a take on the Carabineros prawn stew.
León similarly pulled from the color scheme and decor of Kjolle — that features handcrafted pieces from artists and artisans from Lima and beyond selected by the team — when decorating the space in New York. "We worked closely with the restaurant's Peru-based team to maintain the integrity of their aesthetic, while bringing in artisans from New York and the surrounding areas — talent from Rhinebeck, Hudson, and Gowanus — to create individual elements," says León. For example, the team worked with Tarrytown, New York pottery artist Connor McGinn to create the table settings and ceramic artworks based on the colors and textures that León envisioned.
At the end of the meal, whether in New York or Peru, León just wants to tell the story of her native country, of its diverse produce but also of the "people who work the land," to those who sit at her table. "For the people who visit us, the idea is that you can see products that maybe you never seen, or maybe you know them but you never imagine you can eat in that way," she says. "I want people to have this surprise from Peruvian food, to feel that they have to go to Peru now. To take this trip and to know more about Peruvian foods, its culture and people. [I want people to] have a great time... [and come out thinking,] they must visit."
Kjolle at PRICELESS will be open through November 20.