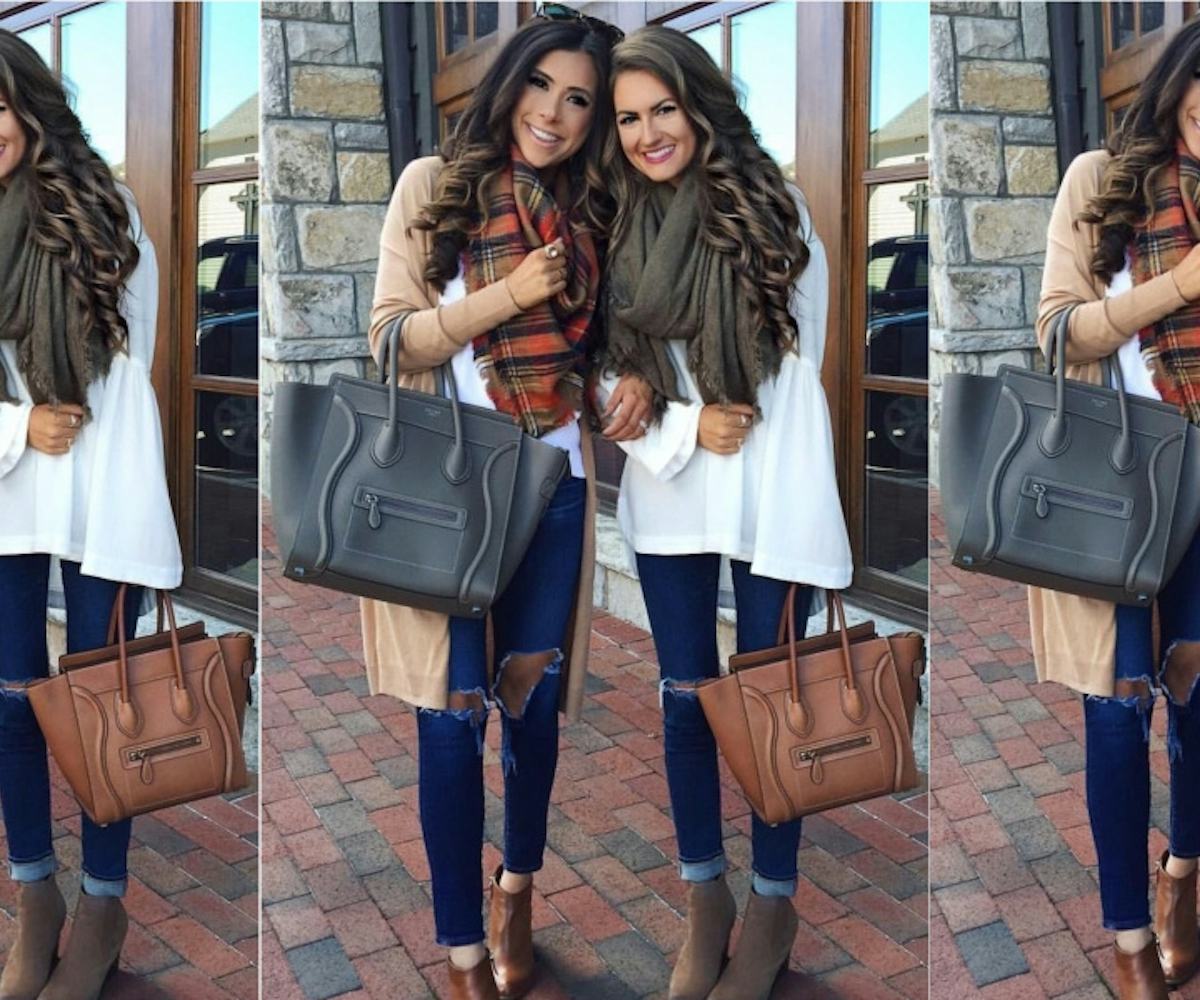 Photo via @cmcoving on Twitter
Woman From The "Christian Girl Autumn" Meme Reacted In The Best Way
There have been a lot of memes created in honor of Hot Girl Summer, and one of the funniest of the season has been "Christian Girl Autumn." The meme features two white girls in swoopy scarves with big curls and Celine handbags—and looks like the exact opposite of what Megan Thee Stallion had in mind when she coined the term. The responses to the meme—which gained the attention of tens of thousands and was not made by the women in the photo—were a riotous exchange of jokes about stereotypical American white girls in the fall. Once one of the subjects of the photo, Caitlin Covington (pictured on the right), stumbled upon the meme, she wasn't mad, and instead found the entire thing pretty funny.
"If all of Twitter is gonna make fun of my fall photos, at least pick some good ones," Covington wrote on Twitter. "For the record, I do like pumpkin spice lattes." Covington, as it turns out, isn't just a ghost of Pinterest boards past, but is a relatively popular influencer on Instagram and, indeed, had plenty of pics to choose from.
While it was super easy for Twitter to label the two women as conservative, Trump-supporting, racist, and homophobic, in addition to, well, boring, based on the image alone, Covington quickly refuted some of the claims and answered questions about her beliefs. Covington isn't a Republican, and she is "obsessed" with her LGBT fans, and is very amused with all of this memery. Per her blog Southern Curls and Pearls, she is Christian.
Covington has retweeted further memes made of her, including one that transformed her into a statue, captioned "Lady Liberty? Meet Leighdee Lybertie." Some of the other ones made fun of her turtleneck and referred to her as the human embodiment of the "Live, Laugh, Love" sign. While it can't be the best feeling to have been made the subject of a meme like this without consent, her embracing of it is quite endearing.