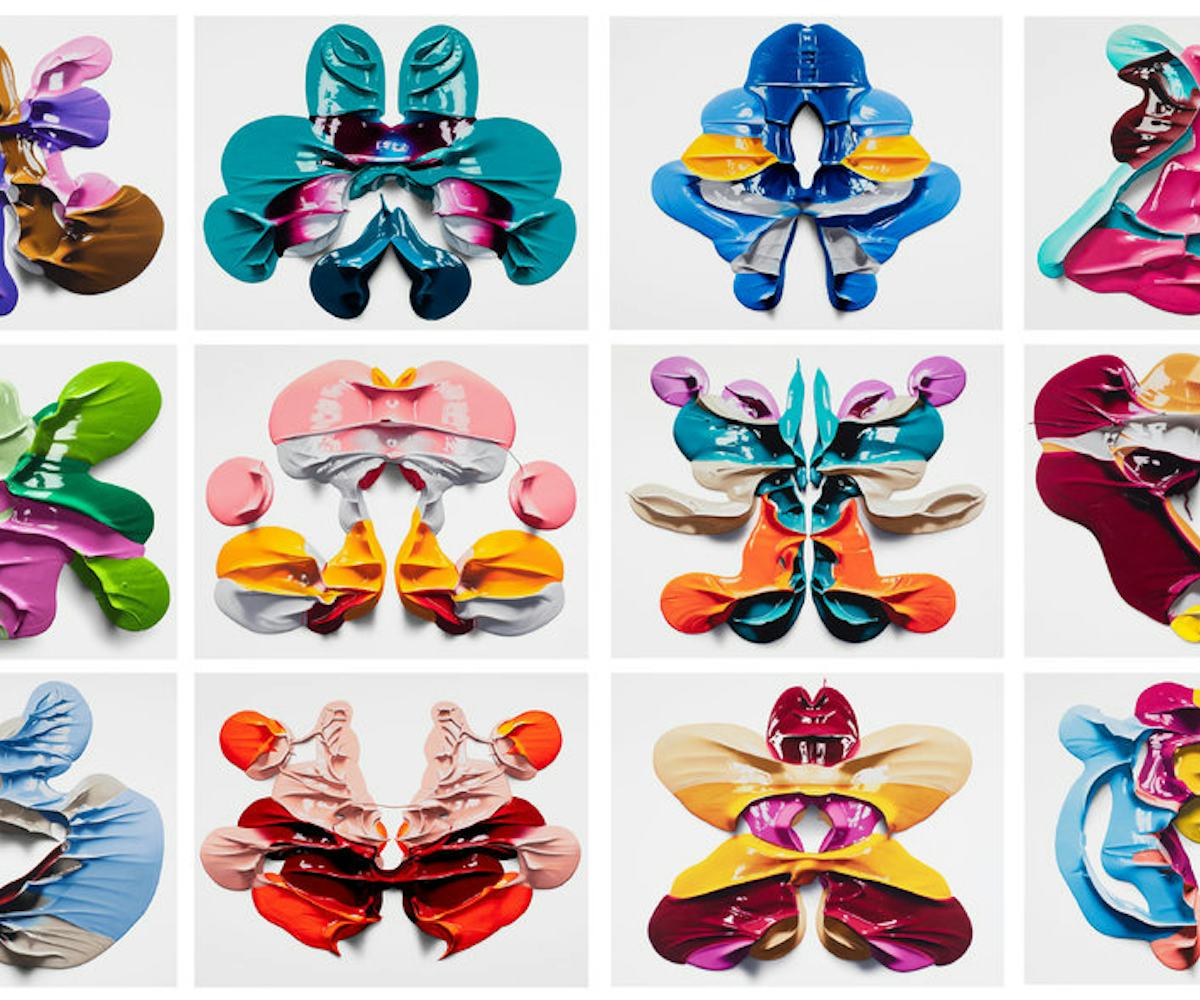 Photo courtesy of Cj Hendry Studios
Cj Hendry Uses Art To Tackle Mental Health Taboos
She's doing it with squish paintings and a bouncy house
I never would have thought that going to an art show that has visitors jump through a bouncy house-cum-psych ward to get to the works would be a sensitive dissection of mental health issues, but that is exactly what I found in artist Cj Hendry's new show, Rorschach. But maybe that shouldn't be so surprising: Hendry's last show, Monochrome, saw her create a series of colorful, Instagram-worthy rooms to go along with her drawings of Pantone swatches; and in another exhibit, in partnership with Louboutin, guests were invited to draw on white walls with crayons shaped like heels. Hendry knows the art of putting on a good show.
Hendry's hyperrealist previous work has consisted of intricate and unbelievably realistic drawings of things like Pantone swatches, crumpled designer shopping bags, and replicas of Andy Warhol Polaroids. But, until now, she has not delved into tackling social issues like mental illness, because she didn't know how to make the topic applicable to her practice. "Something that I've been wanting to do for ages is a more psychological idea, and I didn't know how to do it without being super-sinister and dark, and without drawing death and destruction," she says. But, with her latest show, she's found her way.
Only after you jump your way through the entrance do you see the drawings, which are Hendry's own imaginings of Rorschach inkblots—her way of approaching the most intense topic she's yet to take on in her work. She made squish paintings (like we've definitely all done as kids, where we put paint in the middle of a piece of paper and then fold it in half, for a symmetrical surprise) and then recreates them in hyperrealistic detail. The result, she likes to say, is a project that melds the "childlike and sinister," using a youthful practice to talk about an issue as serious as mental health.
Her angle was very intentional, Hendry tells me. Mental health, she feels, is a topic that can be taken so seriously that it becomes unapproachable. Of course, this serious approach is because mental illness detrimentally affects so many people—but, when you're one of the people being affected by it, it can be exhausting to only speak about mental health in a serious way. Though Hendry says that she hasn't been diagnosed with any mental illness, she doesn't think she's neurotypical, which is why she thinks that bringing light and humor into the conversation is vital.
"[This is] a fun way to talk about a serious topic," she says. "I think that some people might look at it as being frivolous, but it's my way of allowing people to start a discussion about mental health in a roundabout way." She's approaching the topic in the ways that she would like it to be discussed, and the only way she knows how.
Rorschach tests are no longer an accepted, or even frequently utilized, way to see if a patient has a mental disorder, but people do still know what the tests look like and what they were originally meant to do. Originally a series of 10 abstract inkblots, Rorschach tests were created and widely used in the 1960s, but have since been replaced by less interpretive tests. While it may not have been the best practice for a psychologist to derive your personality characteristics or potential mental illnesses from what you see in an inkblot, this ambiguity was exactly what Hendry was looking for; she says, "What I like with Rorschach tests is that there's no answer. What you see will be different for everyone." That's a departure from what she's usually able to capture with her hyperrealistic practice.
Hendry's super-specific style, she feels, can have its limits. She says, "Sometimes I really hate hyperrealism because it's so literal. I draw a pair of boxing gloves, and it's just a pair of boxing gloves. Like, bro! What am I supposed to do with that? It is what it is." This project gives her the opportunity to give viewers some creative freedom; with "Rorschach," she's "taking hyperrealism to an abstract space, which I've been looking for for so long."
"Mental health has no exact visual, so how do you bring something with no clear answers into a very specific way of making art?" Hendry says. "I think this is the closest I'll ever get to a really unstructured way to show mental health. Asking people, 'What do you see? How do you see it?' I've never brought it in before because I've never known how to showcase it in a drawing format."
As for what she hopes visitors take from the show itself? She doesn't want to tell you what to see. "I have put out what I've put out in the way that I see it, and people will see it in different ways," she says. "They might enjoy it, they might hate it, they might disagree with it. That's great. I'm not trying to be everything to everyone." For the first time, everyone will have their own interpretations of her work, and she wants us to give in to that.
Rorschach is on view through April 21, at 202 Plymouth Street, Brooklyn, New York.