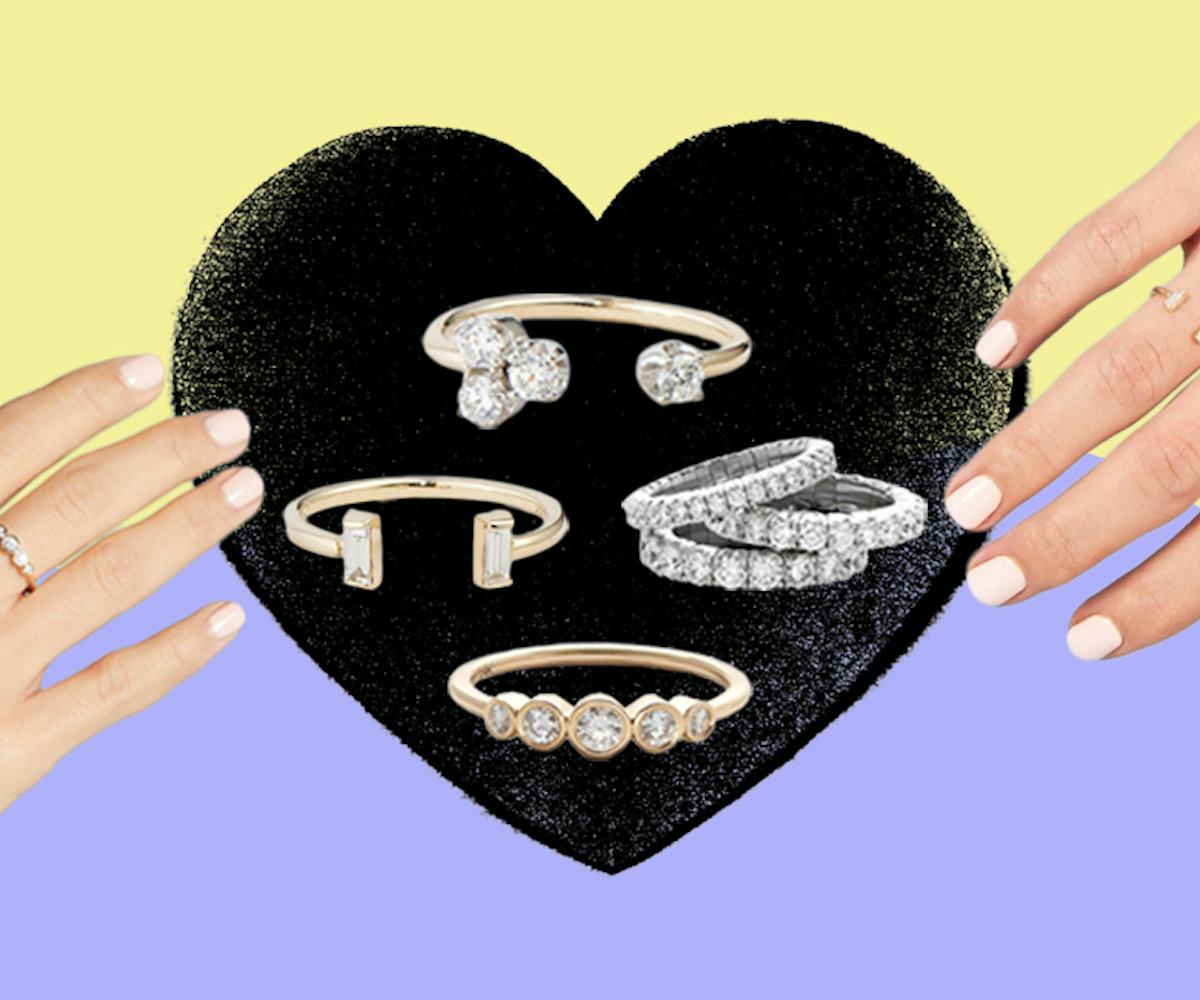 The Clear Cut Is Changing How We Shop For Engagement Rings
This brand is disrupting an opaque industry and selling diamonds through Instagram
From the outside, it might seem like Olivia Landau, the founder of jewelry brand The Clear Cut, was destined to go into the engagement ring business. Landau comes from four generations of diamond cutters and dealers on her father's side, plus there's the antique jewelry business started by her mother and father, so it seems like jewelry was the obvious career path for Landau to pursue from the start. Yet, according to her, Landau, like so many of us, didn't know what she wanted to do after college.
"There's not a lot of young people in this industry. It's dominated by older or middle aged men mostly. And it's a business that is usually kept within the family," she says. "But a lot of young people don't want to go into this business because, like my parents said, 'Oh it's a dying business. It's not the same. You can't make a good living doing this anymore.' And you can't do it the same way they were doing it, because the customer has fundamentally changed, so you need to change the experience as well."
Landau didn't initially set out to disrupt the industry, but, while attending the Gemological Institute of America, she met her now-husband and The Clear Cut co-founder Kyle Simon, who had started a fair trade diamond mining company in Sierra Leone prior to meeting her. Soon enough, her path became clear; following a stint on the sales floor at Tiffany's, where Landau fell in love with engagement rings, she found herself becoming the "unofficial private jeweler" for her and Simon's friends.
"Everyone knew that Kyle had come from a background in diamonds, so they would always ask him like, 'Oh, I'm getting engaged. Where should I go? Do you know a guy?' Because that's what everyone says, 'Do you know a guy?' And I was the guy," says Landau, who says that it's still "tough, within the industry, to be taken seriously" as a young woman. "I started making rings for his friends and a bunch of my friends that were getting engaged. I'd help educate them, help them pick out their diamonds, and design their rings. Through that, I realized that most people didn't know the first thing about buying a diamond." Following this realization, she launched The Clear Cut as an educational blog.
It's when she started posting her friends' designs on Instagram, though, that she and Simon saw the need for the business. "Random people started following the account and reaching out to me and asking me if I could make their rings, and these were complete strangers from across the country that I had never met. I started showing them diamonds, and they would wire me money without ever meeting me or looking at the diamonds in-person. I'd make their rings and just FedEx them their pieces when it was done, which is crazy!" she says." Soon she found that "running to the diamond district during my lunch breaks and selling hundreds of thousands of dollars of diamonds" while working a full-time job was unsustainable. The two applied and got into the start-up accelerator Techstars and, soon after, launched The Clear Cut as it's known today.
Now, that's not to say that Landau and Simon don't sell diamonds on Instagram anymore—just two days prior to this interview, they sold a $12,000 diamond over Instagram stories within a few hours of posting—though now it's a lot more common for customers to set up a phone call or in-person appointment to get a ring designed. Still, when they ask the question "how did you hear about us" prior to every appointment, according to Simon, "99 percent are like: 'I follow you on Instagram.' 'My girlfriend follows you on Instagram.' And, 'My girlfriend's friend follows you on Instagram," or, like, 'Someone follows you on Instagram.'"
In addition to recognizing the power of social media early on—they credit the business' 100 percent growth rate quarter over quarter largely to it—The Clear Cut also was quick to catch on to the fact that millennials aren't interested in shopping for engagement rings in the same manner as their predecessors have, and recognize that the consumer base has changed. For instance, women are more involved in the engagement ring purchasing process than ever before, with 90 percent of their customers choosing a ring together.
Thanks to the internet, customers also often know exactly what they want before even stepping foot in the showroom. "It's extremely rare when a customer comes to us and is like, 'I have no idea what my partner wants. What should I get?' Which I think is like how it used to be when you walked into a retail store," says Simon. Which is why they don't dumb it down for their customer, something that the traditional industry is prone to do, in my experience, especially when it comes to younger couples. In fact, during our conversation, the word "educated" comes up a lot in describing their customer. "All of our clients pretty much know what they're looking for when they come to us," says Landau. "They're doing research far before they're even ready to make the purchase. They're super-educated, they know exactly what they want and they'll just keep their eye out, and if they see something that they know is a good value and know that that's what they want, they'll make a purchase and make a decision quickly." Simon adds, "[It's not] that people spend tens of thousand dollars on a whim on a diamond—the point is, it's not on a whim, they are very educated."
With that in mind, Landau sees the business more akin to a "concierge service that helps scan through the best quality, helps with your goals for each client, and also gives you the fairest price," noting that they always list prices upfront and never "price it in one way to one person or price it another way to another person. In the traditional industry, that's kind of how it goes, which is crazy." With an on-demand model and no inventory available, with all ring settings custom-made for the exact diamond that gets purchased, they have no diamonds or rings sitting around in a safe, making their incentives organically aligned with their customer. "Like if we send someone five diamonds, and they're like, 'I hate all of these because this one's too long, this one's too skinny, this one's too yellow.' It's like, 'Good! Now we know what you want,'" Simon says.
But, most importantly, they also filled a hole in the market. "Traditionally, I think people had only a couple options when they were looking for an engagement ring. They'd either go to a brick-and-mortar store—which is nowadays very overpriced, somewhat intimidating, kind of a difficult experience—or there was like an online marketplace which can be incredibly confusing and overwhelming, even for people like us who understand diamonds," says Simon. "We wanted to create something to sit in between the two, where you have the fair pricing of those online marketplaces but with an app and customer service and expertise to help you understand what you're getting and making sure it's of the highest value."
This transparency extends to every other aspect of the business, with education being the most important to the brand. "One of the big changes, is like 50 years ago—even back in the '70s or '80s—if you wanted to buy a diamond and you needed to learn information about how to buy a diamond, you either could go to a library, or blindly trust whoever was selling to you," Simon says. "A big part of what a lot of people used to do back in the day was kinda like hide information from the customer and try to tell them one specific way of buying things and sell whatever you were holding or whatever inventory you have."
Instead, The Clear Cut is as much a business as it's still the blog that Landau first started. Every Wednesday, Landau hosts a Q&A on Instagram stories where she answers some of the hundreds of questions that she gets from customers. The account's followers ask everything from " Is the light during a gel manicure safe for my diamond?" (yes) to "How big do you think JLo's emerald is?" ("after much inspection and investigation," according to Landau, she "has a hunch that it's just over 10 carats"). Even if you have no interest in buying an engagement ring, the videos are incredibly compelling to watch. "It's kind of a world that can be opaque, and there's a lot of, like, secrecy or not a lot of knowledge around it," says Landau explaining the engagement (pardon the pun) that she gets from each session. The questions and answers then get posted to the site, and every Friday, Landau records "Clear Cut Classrooms," longer-form videos that are dictated by things customers ask about a lot or that she can't answer in the 15-second Instagram story time limit, like a step-by-step to cleaning your engagement ring and fine jewelry at home.
And while Landau feeling like a friend—something that I personally experienced when meeting her after following the brand's Instagram for a while—is something that undoubtedly sets the jewelry brand apart, it's also how much The Clear Cut listens to its customer and still tries to "recreate that feeling where it's like you were just texting or emailing a friend who's going to hook it up for you." In fact, the fine jewelry line was inspired by the customers.
After Landau kept getting the same requests to replicate one of the rings she created for herself before the business, the fine jewelry collection was born with the Olivia ring. Not too long after, a customer wedding band made of an heirloom piece of jewelry got a very positive response on Instagram; with the permission of the customer, Landau replicated it into the collection and named it after her. "Our design process is 100 percent collaborative with our clients. So basically if we don't hear from them that they want something specifically, we're not going to put it out or design it," she says. "We're only gonna create pieces by demand."
With a brand listening to customers this closely, there is no doubt that the demand will always be there.