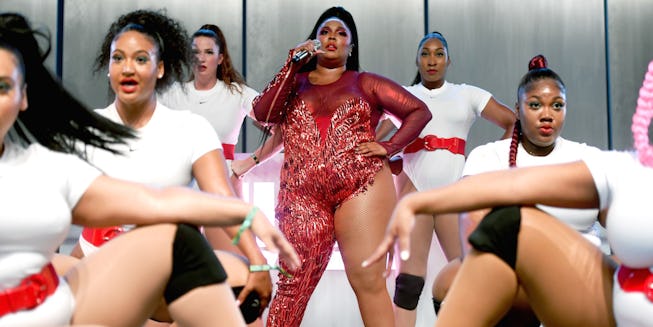 Photo by Frazer Harrison/Getty Images
Coachella Just Couldn't Keep Up With Lizzo's "Juice"
Technical issues? Doesn't matter, Lizzo still slays
You can't stop Lizzo from shining. During her performance at the second weekend of Coachella, the festival literally could not handle all the "Juice" Lizzo had to provide, and the sound cut out for her disco-tinged body positive anthem. But that's no big deal when you're a queen like Lizzo. Her flute, Sasha, was brought to the stage—and Lizzo absolutely shredded.
"If they ain't gonna get the music right, I'm gonna get the music right," Lizzo told the crowd per Variety. "That's why I got my music major." After nailing the flute solo, Lizzo fearlessly went right along with her a cappella performance, and the crowd couldn't get enough. She dedicated the knockout performance to "whoever doubted us and fucked up our sound," which was absolutely perfect.
Audio difficulties aside, Lizzo had no problem making every single moment count at Coachella. During the first weekend, Lizzo surprised another crowd by joining Janelle Monáe onstage for an epic twerk-off.
This past Friday, she also dropped her debut, Cuz I Love You, which you should definitely go turn on at full volume immediately.