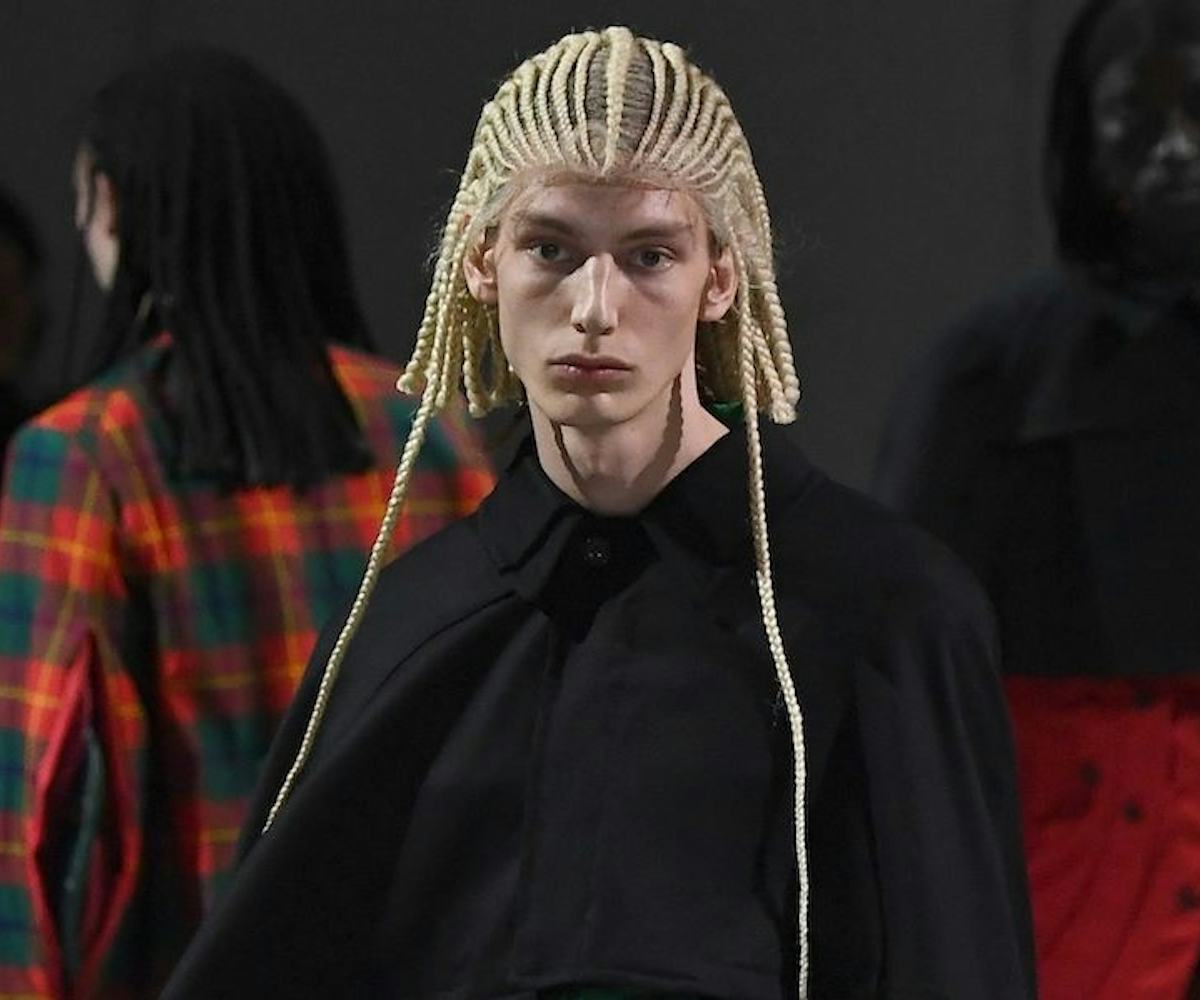 Photo by ANNE-CHRISTINE POUJOULAT/AFP via Getty Images
Comme Des Garçons Comes Under Fire After Styling White Models With Cornrows
Twitter has a lot of questions about this
During Men's Fashion Week in Paris on Friday, Comme Des Garçons sent white models wearing lace-front cornrow wigs down the runway as a part of its Fall 2020 show. As photos from the event have trickled in, Fashion Twitter has called out the brand for cultural appropriation, and has gone so far as to note the haphazard way the wigs were placed on the models.
One Twitter user wrote, "Comme des Garçons has always been a really boring brand so it's not surprising that they had to be racist to get people to talk about them," attaching photos of various white models seen in the show. Many echoed the sentiment, deeming it "not okay" and suggesting that "they want that outrage promo" in exchange for cultural appropriation. Others had plenty of jokes to spare about the wigs; @theglossier wrote, "I feel exactly how these wigs look: tired, disinterested in being here."
The numerous cornrow-wearing models appeared alongside Black models with their natural hair styled into braids and cornrows. Writer Melvin Backman commented on the strange juxtaposition of these "bad" wigs with the presence of Black models wearing the same styles, sans wig, stating, "It's weird because they demonstrate an ability to... not do this. But they chose to do it anyway!" Up until the Japanese fashion label's Fall 2018 show, it had been more than 20 years since the brand cast a recognizably Black model; the final time prior to this occurring in August 1994 when model Chrystèle Saint Louis walked for the company, per Elle.
Designers have long raised issues of cultural appropriation during fashion weeks; it's impossible to forget when Marc Jacobs sent white models down the runway with dyed dreadlocks in 2016. One year later, the designer acknowledged the issue in an interview with InStyle, offering, "What I learned from that whole thing... what caused me to pause after it died down a little bit, was that maybe I just don't have the language for this, or maybe I've been insensitive because I operate so inside my little bubble of fashion." In Spring 2019, Gucci styled models with "Indy full turbans," an accessory sold as part of the same collection as its balaclava jumper notorious for resembling blackface.
NYLON has reached out to CDG for further comment.
See the wigs from the show for yourself in the images below.