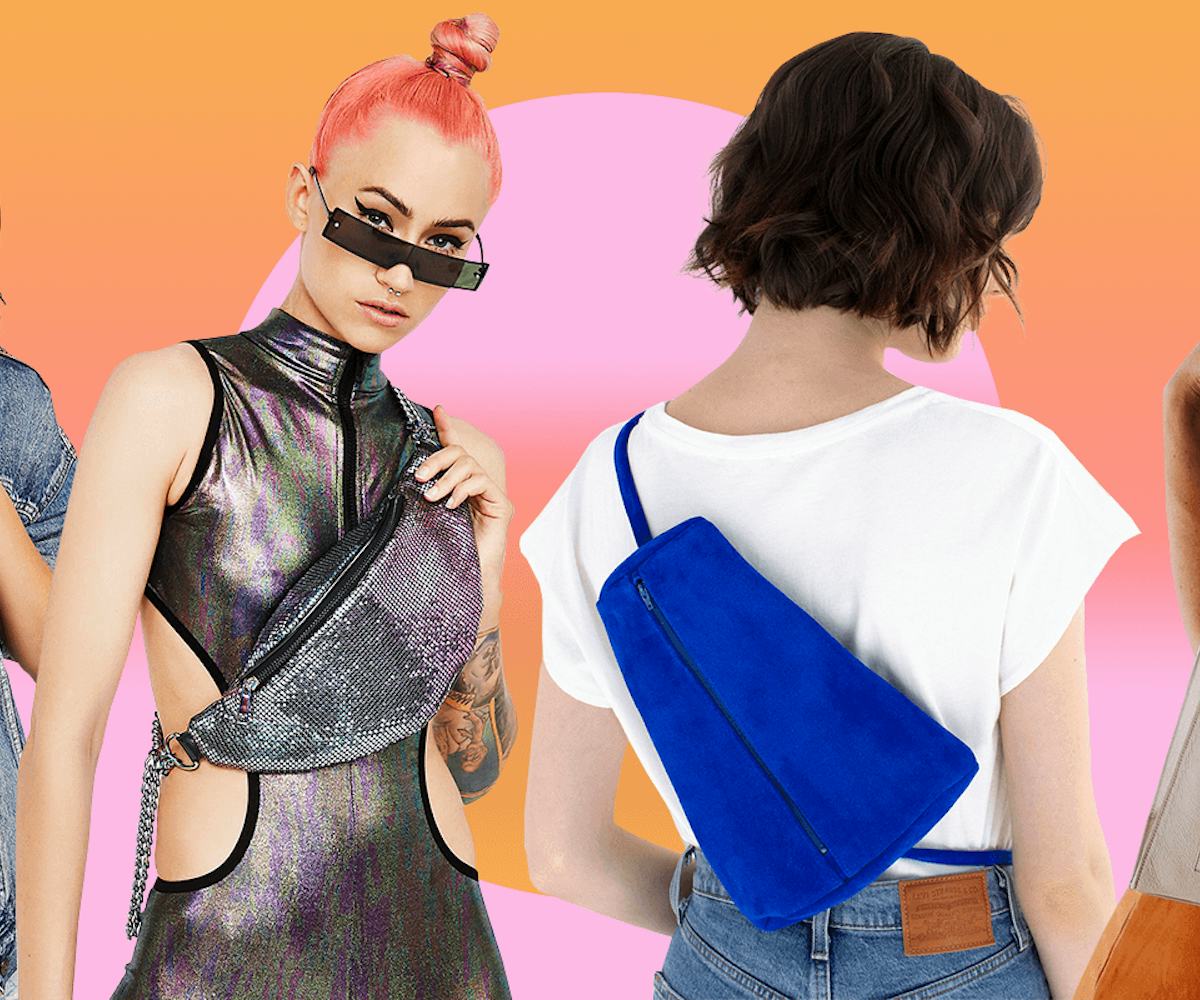 Cute Bags For Festival Season That Won't Get You Left At The Door
The only fashion "rule" to follow, probably
Festival season fashion is pretty much anything goes—that is, anything goes so long as it doesn't break the rules of what's allowed inside the venue. Music festivals have increasingly cracked down on the size and types of bags that are allowed on the grounds, which means you're probably not going to get away with throwing a massive backpack on filled with all your essential snacks and beauty products to keep you on-point throughout the day. But TBH, that'd get heavy and clunky the moment you got into the crowd, so you really are better off without it.
The thing is, you should be bopping to Ariana Grande at Coachella, not bopping the dude behind you every time you jump with your big bag, and definitely not bopping to the echoing stage noise from the parking lot because you broke a rule you didn't know existed. Like, did you know chains, including chain wallets (and that sick chain strap on your crossbody), can't be brought inside the Coachella grounds? Nope, me either until doing a little digging.
At Bonnaroo and Firefly Festival, it goes even further than that. If your bag isn't clear and small, there's no way you're getting it through the door. Unless you're about to sport a small clear clutch at every festival, there's basically no one-size-fits-all option for every music event you'll be hitting this season. With that in mind, NYLON has rounded up some of the best bags that'll be sure to help you get into whichever fest you find yourself at this summer, and look good all the while.
I know I said there was no perfect bag that'd fit all the festivals, but TBH this one is probably it. Either wear it as a crossbody or ditch the chain and don it as a belt bag. It's clear, but not boring—who can say no to iridescent?
Charles & Keith, Front Flap Transparent Belt Bag, $59, available at Charles & Keith.
Whenever I don't have to go clear with my accessories at a festival, you bet I won't. But of course, I like to play my bags close to the chest (literally), and this one keeps everything neat and secure, in the most beautiful blue hue.
Hannah Emile, Yves Prisma Sling Bag, $188, available at Of a/Kind.
Sporty, clear, and *just* the right amount of pink.
Adidas, Clear Mini Backpack in Pink, $45, available at Urban Outfitters.
Playing within the rules of the festival doesn't mean ditching the trends. Most fests that require clear bags have exceptions for tiny bags, like this one, so you're good to go with this pop of color.
Alfeya Valrina, Naomi Bag in Green Suede, $215, available at Alfeya Valrina.
The early '00s are calling, and they're saying this bag is still a solid choice. I'm all about this sunshiney yellow, whether or not the festival is forcing me to keep my belongings in sight at all times.
Nunoo, Pernille Translucent Cargo Bag, $155, available at Free People.
Okay, so this is definitely not the one for Coachella, but for every single other festival, you better believe I'll have this chainmail oil-spill cutie on my hip.
Club Exx by Dolls Kill, Liquid Aura Fanny Pack, $35, available at Dolls Kill.
A true neon dream, without breaking the bank.
Zara, Fluorescent Animal Print Crossbody Bag, $29.90, available at Zara.
The fancier option for those whose ride-or-die bag is a canvas tote bag (me). Don't be fooled—this babe is only 12 inches in diameter, with a zip closure, making it the perfect choice for anyone who has a little bit more to fit into a belt bag.
Dazey LA, Friends Circle Tote in Black, $45, available at Dazey LA.
As if your favorite belt bag and backpack had a baby. This was basically made for festival season.
Caraa, Sling Bag in Orange, $125, available at Free People.
The OG backpack brand has you covered even after grade school has long passed.
Jansport, Half Pint FX Mini Backpack in Translucent Pink, $32, available at Jansport.
Just the right size, with exactly enough room for the T-shirt you're definitely going to buy, plus the essentials you came with, and not too big that you'll be bumping into everyone around you.
Marloe, Martina Backpack in Stone, $228, available at Dazey LA.
Have your lucky penny on-hand and on display at all times. Who knows, maybe you'll wind up backstage, or maybe you'll wind up with the only shady spot in the pit.
Building Block, Barrel Bag in Clear PVC, $475, available at Building Block.
They definitely didn't say your clear bag couldn't be blinged out.
Betsey Johnson, If The Bag Fits Mini Backpack, $98, available at Betsey Johnson.
I can never resist a good structured belt bag.
Topshop, Delilah Belt Bag, $40, available at Topshop.
The perfect staple bag. Functionality meant for running around a festival, and for everyday life.
Danielle Lehavi, Amali Embossed Leather Bucket Bag, $218, available at Anthropologie.
NYLON uses affiliate links and may earn a commission if you purchase something through those links, but every product chosen is selected independently.