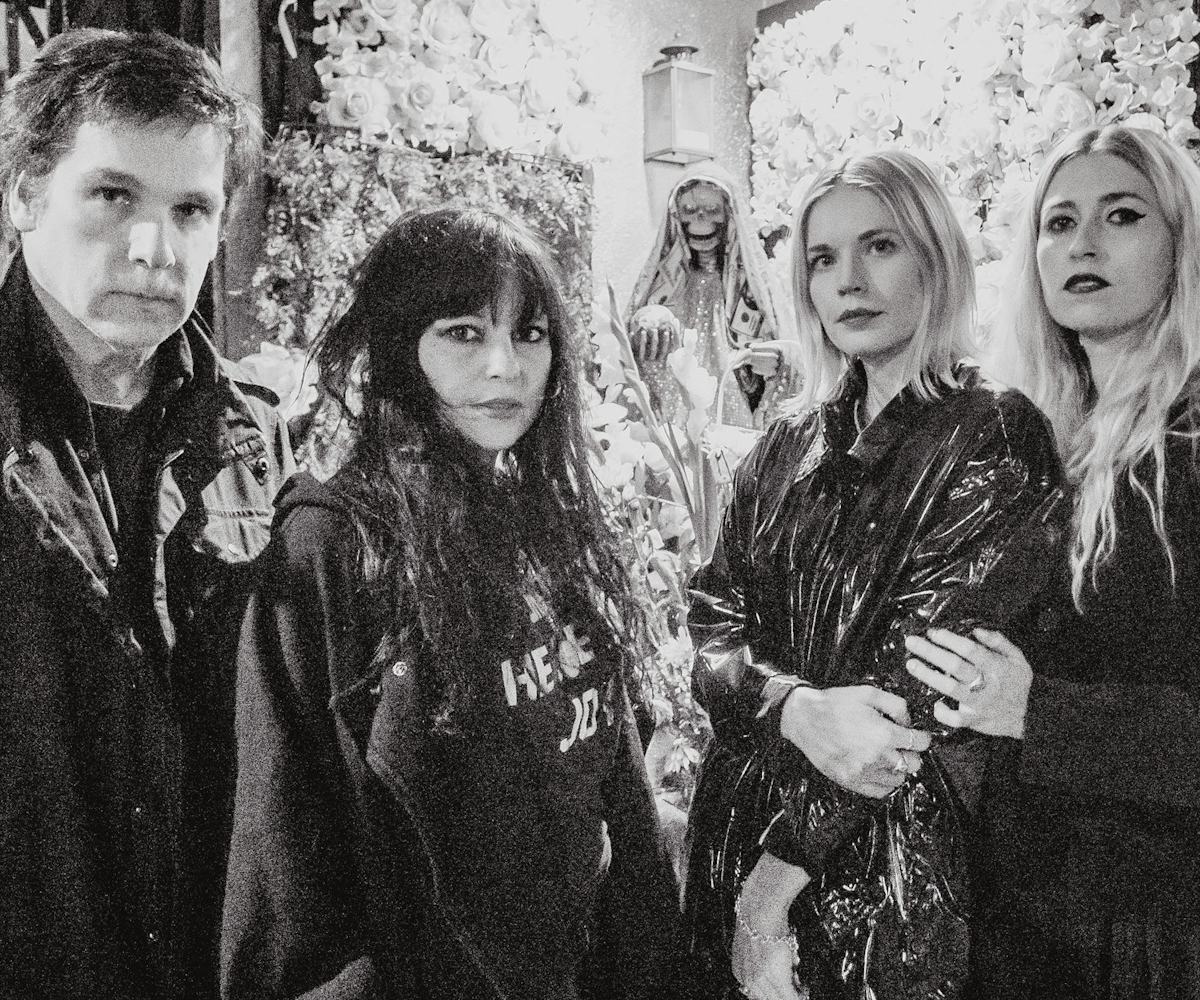 Photo by Michael Haight
Fight The Political Nightmare With "Street Justice" And Rock 'N' Roll
Death Valley Girls share a haunted new video
In their latest video, Death Valley Girls have made a literal haunted house out of the figurative one that is the U.S. government. See it today, as they reveal the visuals to their single "Street Justice," exclusively via NYLON.
Serving up true scuzzy rock 'n' roll out of Los Angeles, this band's sound and lyrics are the perfect way to get fired up and ready to take to the streets. With "Street Justice" in particular, off of their latest record Darkness Rains, it's hard to pick a favorite set of lyrics; "Nations head in the sand/ Fingers in their ears/ eyes covered by hands/ They don't wanna understand," and "Doesn't matter who you blame/ Or where they're from/ we stand taller together/ When we are one," are pretty strong contenders. There's nothing more punk than fighting against injustice.
Vocalist and multi-instrumentalist Bonnie Bloomgarden wasn't very subtle when chatting with us about the band's "Street Justice" inspiration. "This country is so messed up politically right now," Bloomgarden told NYLON. "Everyday we wake up it feels like we are stuck in a fucking haunted house. But we know, in the end, street justice always prevails."
Watch the video for "Street Justice" and check out Death Valley Girls' upcoming tour dates below.
Tour Dates:
1/30 - San Diego, CA - The Music Box
2/7 - Besançon, FR - Le P.D.Z.
2/8 - Mulhouse, FR - Le Séchoir
2/9 - Dijon, FR - Hôtel de Vogüé
2/11 - Hamburg, DE - Molotov
2/13 - Copenhagen, DAN - Loppen
2/14 - Aarhus, DAN - Atlas
2/15 - Gothenburg, SW - Musikenshus
2/16 - Stockholm, SW - Melody Box
2/18 - Munster, DE - Gleiss22
2/19 - Koln, DE - King Georges
2/20 - Berlin, DE - Monarch
2/21 - Groningen, NL - Vera Club
2/22 - Amsterdam, DE - Sugar Factory
2/23 - Diskmuid, BEL - 4AD
2/24 - Lille, FR - L'Aéronef
2/26 - Bordeaux, FR - Astroshow
2/27 - Nimes, FR - Paloma
2/28 - La Rochelle, FR - La Sirène
3/1 - Reims, FR - La Cartonnerie
3/2 - Brighton, UK - Haunt Live
3/3 - Newcastle, UK - The Cluny
3/4 - Glasgow, UK - Broadcast
3/5 - Leeds, UK - Brudenell Social Club
3/6 - London, UK - The Victoria
3/7 - Paris, FR - Olympic Café
3/8 - Saint Quentin, FR - La Manufacture
3/9 - Lorient, FR - Galion