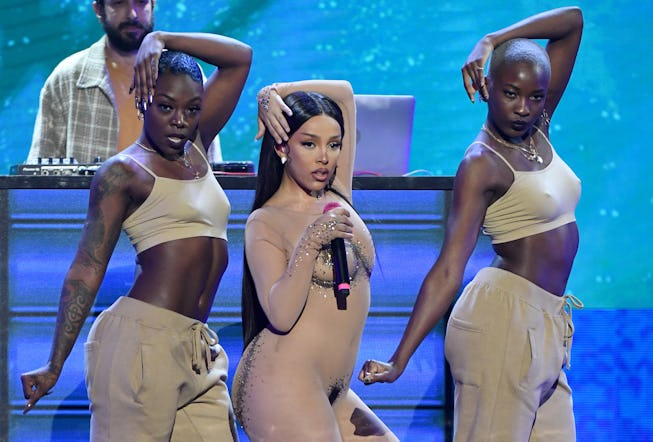 Ethan Miller/Getty Images Entertainment/Getty Images
Doja Cat's Mesh Bodysuit Is Pube-Friendly
The rapper performed at this year's AVN Awards in a fully nude look
Doja Cat could teach a master class on trolling. She came out as a strong practitioner of the art with the music video for her breakout hit "Moo!", a viral internet moment from 2018 in which she dressed up as a literal cow, and she hasn't backed down since. Doja isn't afraid to ruffle some feathers, whether it's creating a foot discourse or making fun of people who make fun of her wig. In her latest move, the rapper performed at the 2020 AVN Adult Entertainment Awards in Las Vegas on January 25 in a truly unforgettable nude mesh bodysuit, complete with rhinestone silhouettes highlighting her nipples, butt, and that most maligned of body hair — pubes.
The annual ceremony is dedicated to celebrating the world's best adult video stars, and Doja knew her outfit choice — despite being low-key perfect for the award show — would draw ire. She addressed any and all potential haters in a cheeky Instagram caption, writing, "This comment section is FULL of bitches who got extra belly button lint." Case closed!
On the AVN stage, Doja busted out tracks like "Cyber Sex" and "Juicy" off her 2019 release Hot Pink. AVN has a history of pulling high energy acts for its musical numbers; Diplo and Lil Pump performed also performed this year, and Cardi B graced the stage back in 2019.