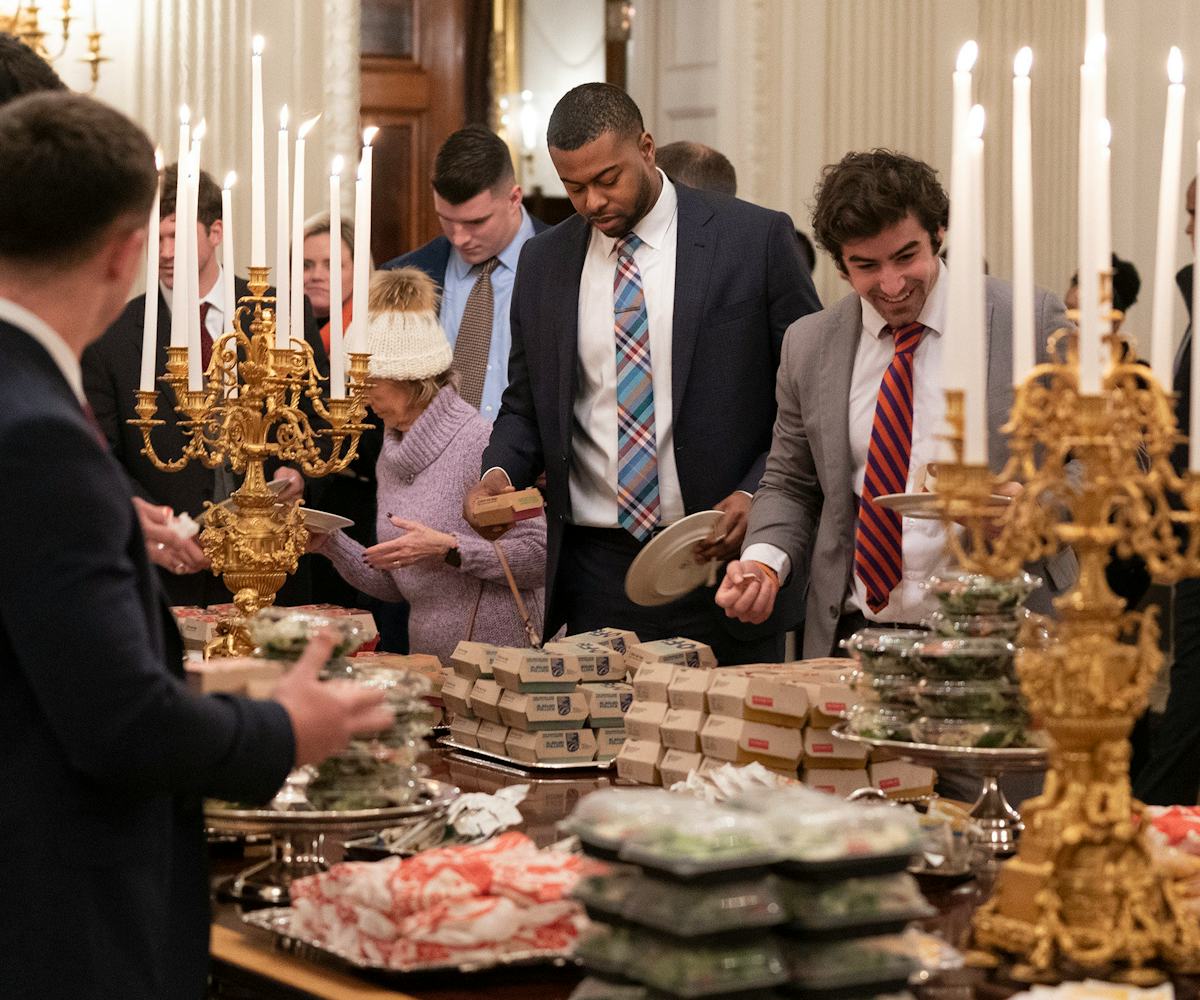 Photo by Chris Kleponis-Pool/Getty Images
Donald Trump Invited Champion Football Team Over For Happy Meals
"I think that would be their favorite food"
As per tradition, Donald Trump invited the national champion Clemson Tigers for a celebratory dinner at the White House. Only, instead of the expected fine dining, the meal was catered by Mcdonald's, Wendy's, Domino's, and Burger King.
According to Trump, per CNN, the assortment of nuggets, fries, pizza, and burgers, was chosen because "I think that would be their favorite food, so we'll see what happens." But then, also, this meal was served in lieu of something fancier because of the government shutdown and the reduced White House staff. White House Deputy Press Secretary Hogan Gidley elaborated on the real cause in a statement to CNN, "Because the Democrats refuse to negotiate on border security"—aka won't pay for a racist wall—"much of the residence staff at the White House is furloughed—so the President is personally paying for the event to be catered with some of everyone's favorite fast foods."
Although POTUS bragged on Twitter about having paid for the feast, saying, in a since-deleted tweet, that he ordered "over 1000 hamberders [sic] etc," he had previously stated to reporter Hunter Walker that he had only ordered "300 hamburgers," as well as "many, many french fries." As far as his lies go, that's a relatively minor one, but still worth noting if only because it proves he'll lie about anything. Though it's unclear if Trump also indulged in this fast food, he did tell Walker that this was his kind of meal: "If it's American, I like it. It's all American stuff." It sure is.