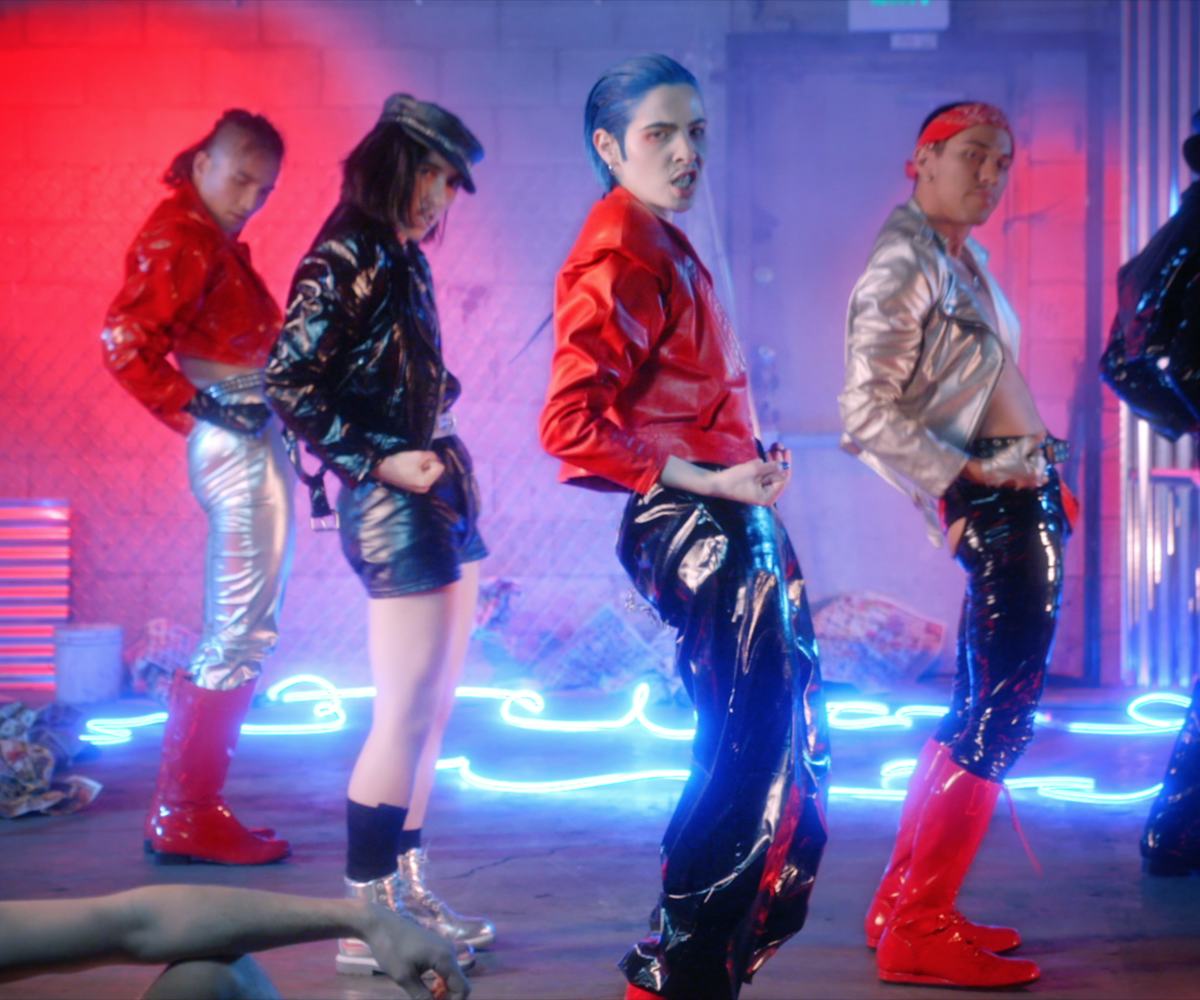 Photo by Taylor Russ
Dorian Electra's "Man To Man" Is About "Redefining Masculinity"
"Equal parts satirical critique and sincere celebration"
Dorian Electra is taking on toxic masculinity in their new single and video, "Man To Man." It's all in Electra's hands, literally—they co-directed, produced, and styled it (25 looks for Electra alone!)—ensuring that their creative vision came to life without a hitch. Today, the elaborate and meaningful project premieres exclusively via NYLON.
Electra wants masculinity to take on a new meaning—"being courageous enough to be honest, tender, straightforward, intimate, sensitive, and kind"—rather than the traditional notions that still live on. "In a society that constantly tells people to 'man up,' men are forced to reject anything deemed 'feminine'—emotion, vulnerability, and openness—which leads to a broken approach to conflict resolution," Electra tells us. "This sort of misdirected aggression also mirrors a rise in unproductive, online discourse that only seeks to attack and punish, rather than rehabilitate and discuss. In both instances, we viciously critique others thanks to the masks provided to us by the facade of masculinity and the anonymity of the internet."
Electra adds that they had some apprehension over how certain visuals would be interpreted, explaining, "I wanted to create a world where it was very clear that I was 'a man' kissing another 'man' and carrying with it all the connotations and impact that has. But at one point, I was worried for a second before we shot the video, like, 'Wait, are some people going to interpret this as a woman kissing a man? Like a cis-het straight-up cliche "music video kissing scene"?'" Electra's video is explicitly queer, and to draw anything else from it would be a mistake.
It's no secret that "female-presenting" nipples are subject to a high amount of scrutiny across social media platforms, and, in working on this project, Electra had to keep this in mind without jeopardizing the authentic message of their work. They explained that they were "worried about covering my breasts and drawing on the smaller nipples. Still wondering if it will get flagged and also, even if it doesn't, thinking that that would also be messed-up that my 'nipples' wouldn't get flagged just because they were now 'male nipples'?"
For the visuals, Electra has created an entirely new world for "Man To Man" to live in, blending together fashion and aesthetics of various time periods, as they put it, "to help convey a sense of historicity but also a weird alternate/future reality." But at the root of it all, Electra really just wanted to have fun with this project (and all of the dressing up they got to do), and wound up with a release that is "equal parts satirical critique and sincere celebration."
Catch "Man To Man," below.