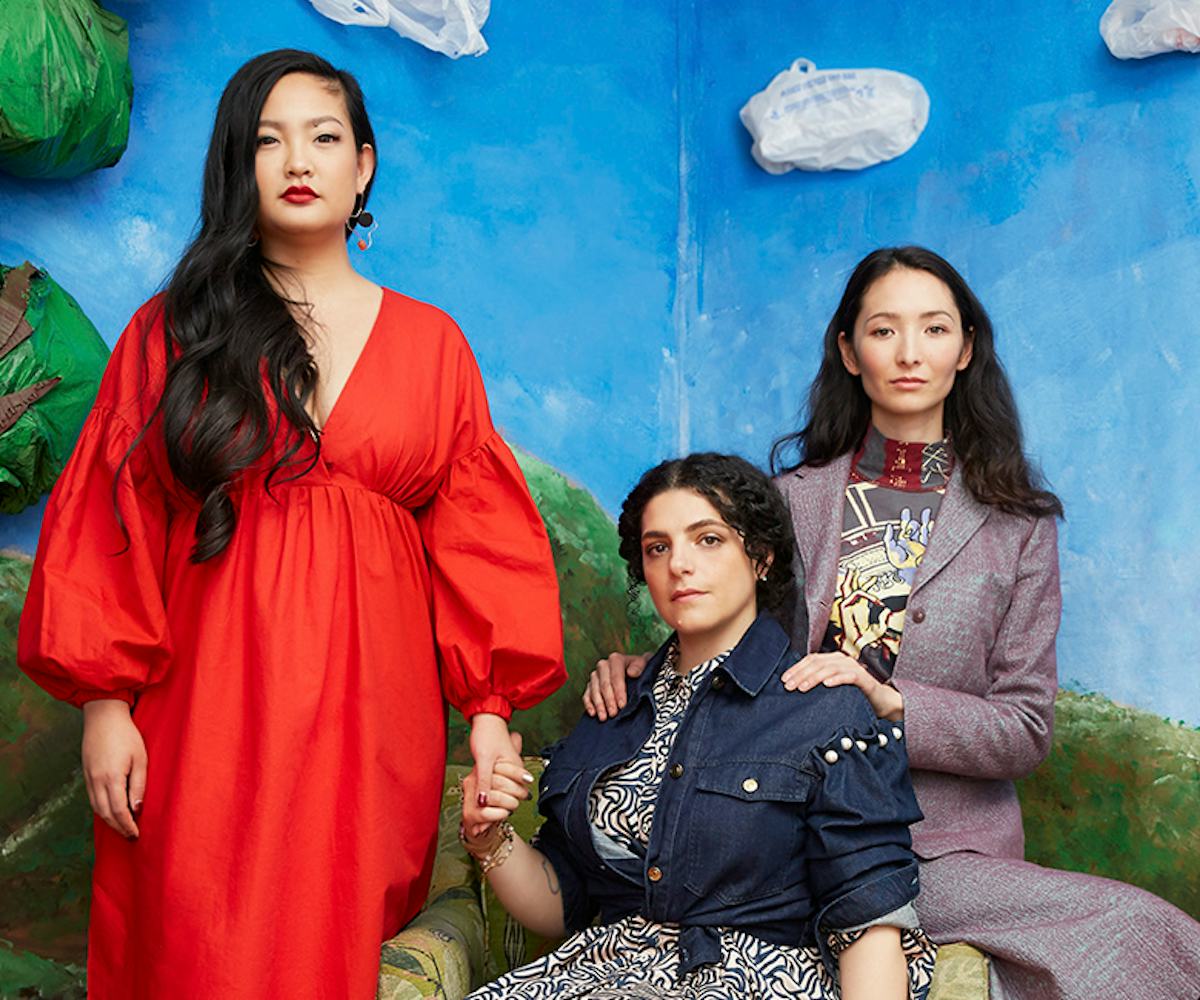 Photo by Andrew T. White
9 Sustainable Fashion Activists Have One Message For Us All
Decked out in the best eco-fashion has to offer, the industry's biggest advocates for sustainability give us their thoughts on how we can all make a positive impact within fashion, and beyond
There are changes brewing within the fashion industry: Ethical and sustainable brands are popping up left and right while existing ones are starting to shift toward a more mindful existence. Fashion's most prominent figures are beginning to bring to light and speak out against the industry's unethical practices. Innovative textiles are being introduced, such an eco-friendly and animal-free leathers derived from fruits. This year has even seen the very first Vegan Fashion Week, where numerous sustainable, ethical, and cruelty-free brands were given the spotlight before Fashion Month kicked off Stateside.
Yet, fast fashion retailers continue to thrive, the world continues to over-consume, and billions of pounds of textile waste ends up in landfills, every year.
The fashion industry is the second-most polluting on the planet next to big oil—a widely known fact that still hasn't affected much change. And while you might be sitting and reading this and thinking, How can I, just one person, make a difference? know that it's not as impossible as it seems.
There are countless ways that someone can be more sustainable in the way they consume fashion—it's all about making changes, some more impactful than others, and making sure the purchase decisions we do make are mindful. The point is to not be discouraged. Every step we take, especially collectively, counts.
The world of sustainable fashion is a broad one—and can be almost overwhelming to understand fully. There are the brands creating collections using solely eco-friendly materials, whether organic textiles or sustainably produced alternatives. Others are employing and educating—not exploiting—local artisans to create beautiful, Earth-friendly pieces.
Some focus on reducing the impact their production has on the planet, whether by creating locally to reduce transportation pollution or instill philanthropic efforts into their brand DNA to offset their carbon footprint. Many are fighting to ensure that their factory employees have safe work conditions and are paid fair wages.
There are the brands that produce styles in small runs, or, better yet, are made-to-order, to reduce waste. There are the brands or retailers using upcycled or deadstock fabric, breathing new life into already existing textiles that would otherwise end up in landfills. And, of course, there are always the shops and organizations touting vintage gems of all levels and price points.
It's still not that simple, though. We all have a lot of questions, too. Like, is it better to shop vintage or buy garments made from upcycled—yet unsustainable—materials like polyester, or should we be buying new pieces made from sustainable materials? Are all of the major retailers boasting eco-friendly collections green-washing us, or are they actually making an impact? Is donating our unwanted clothing actually keeping it out of landfills? And the list goes on.
The world of sustainable fashion isn't easy to navigate. There isn't always one straight answer. But today, there is a huge movement at-hand, with activists doing all they can to raise awareness on all levels—from passing legislation to youth influencing other youth. And that can't be a bad thing.
What it comes down to is that no one brand, and no one person, is perfect. Transparency is key. Collectively, we all need to do a little better, and try a little harder, and keep evolving and innovating—and we can't be discouraged by the amount of work that needs to be done. Because if we don't take action, Mother Earth will continue to suffer, and by proxy, so will we.
Below, we talked to activists at all levels and from all walks of life, from Nobel Peace Prize nominees passing legislation to models-turned-activists, to get a better idea of how the fashion industry is looking to affect environmental change today.
Each of the people we spoke with is photographed below, and dressed in fully sustainable looks from some of today's top eco-designers—whether made using advancements in fabrication or from fully upcycled or deadstock fabric—in addition to a selection of vintage and secondhand pieces. Each has been made up using some of today's most eco- and animal-friendly beauty brands.
And when we asked them about the various actions they take to make a positive impact across all aspects of sustainability in fashion, and how we can make a difference ourselves, the answer was simple and resonant: buy less.
They all emphasized that we need to learn to curb our consumption, but that we can and should be creative and inspired while doing so. And when we are going to make purchases, they should be researched, well-informed, and ethical.
Read more about what each of them has to say, below.
Céline Semaan is a sustainability strategist and designer, advocate for climate change and human rights, and CEO of Slow Factory, a design innovation lab that focuses on sustainable practices and making a positive impact on the planet and people.
While sustainability and ethical practices within the fashion industry are on the rise, they still aren't part of the norm. How can we, as consumers, help initiate true change? What's the first thing we can do to help?
Make your voices heard! Brands are increasingly interested in what their "consumer base" thinks/wants/demands. Use your voice. Demand better from brands you either love or buy because they are affordable.
Make a point in buying a lot less, and fill your life with experiences such as organizing a swap with your peers, repairing your favorite items (and if you can't, try to repurpose them), and refill your home detergents in refilling stations if your community provides those.
Say no to plastic—and this means polyester too! Single-use plastic is pretty much everywhere, be mindful of takeout/home delivery and groceries covered in plastics. The movement goes far beyond fashion, and into beauty too. Avoid glitter and sequins if possible. If you can, use bio glitter instead of the commercial kind.
Generally, think of the life cycle of your items/garments and products. Think of ways to give them multiple life cycles!
Céline is wearing a Kowtow dress, an ALICELEE blazer, and Brother Vellies boots. Mascara, brow gel, and bronzer byW3ll People, eyeshadow by PYT Beauty, and finishing powder by ILIA.
How would you define true sustainability in fashion, and what is a sustainable tomorrow?
True sustainability is an ongoing, long-term commitment that brands make with grassroots organizations, scientists, and research and development initiatives. What is sustainable tomorrow is a supply chain that is fair and ethical, creating products made from what we call waste, in a fully implemented circular model: from waste to resource.
What's a more sustainable option: wearing upcycled/recycled clothing or creating new garments that meet the highest sustainable standards?
Be aware of one-size-fits-all solutions: Both of these practices are important—what we need to keep in mind is that we need to diversify our solutions. One thing for sure is that we should aim to avoid polyesters at all costs, and also need to reach a point where we massively reduce our dependence on all virgin materials and, instead, fine-tune recycling/upcycling all the existing materials we already have created.
What's the one myth about sustainable clothing you would like to dispel?
That sustainable means it ought to be expensive.
What is the most urgent environmental issue to you?
Oil and plastic, and our dependence on both.
Céline is wearing a No Frills by Mother Of Pearl jacket, a Kowtow blouse and skirt, Brother Vellies boots, a Slow Factory bracelet, a Baume watch, and a Pearls Before Swine ring.
Amanda Nguyen is a civil rights activist; the founder of Rise, a nonprofit that fights for the rights of sexual violence survivors; a 2019 Nobel Peace Prize nominee; and currently training to become an astronaut. She is the force behind the Sexual Assault Survivor Bill of Rights in New York. In addition to her civil rights activism, earlier this year, she spoke at the Study Hall sustainable fashion conference at the UN, offering her unique perspective on topics such as sustainability in fashion and global warming.
While sustainability and ethical practices within the fashion industry are on the rise, they still aren't part of the norm. How can we, as consumers, help initiate true change? What's the first thing we can do to help?
As consumers, we must work to lift up new and up-and-coming sustainable designers. If we can work to support the new class of fashion and show that we require sustainable and ethical practices, the industry will need to change to stay viable. While "what were you wearing?" is never an appropriate question to ask a survivor, I've worked hard to use fashion as an important symbolic representation of power and progress.
Amanda is wearing a No Frills by Mother Of Pearl dress, Moon + Arrow earrings, and her own shoes. Lip color and highlighter by ILIA, blush by PYT Beauty, and hair lotion by Hairstory.
How does enforcing equal rights play a role in sustainable development?
When a crime like sexual assault is not taken seriously or given equal treatment under the law, this is a signal to women they aren't good enough or worthy enough in the eyes of their government. In addition to the real economic cost of sex crimes, the ripple effect internally on a survivor and the way women are viewed in society prevents us from reaching our full potential.
We know creating a more equitable society will uplift economies across the world, unleash the brainpower of all young women, and open the door for more women leaders across all industries—all vital to a more sustainable future.
During your activism, you have worked to close the gap between civil rights policy and the reality on the ground. How can new laws and policies help implement change?
Our constitution guarantees equality under the law. While we know that's not the reality for many marginalized groups of Americans, what I saw and experienced firsthand was a discrepancy when it came to geography and survivors' rights. Depending on where your rape occurred, you would be faced with a varying set of laws; in one state your rape kit could be destroyed in 30 days, in another it could be six months.
By writing and passing the Sexual Assault Survivors' Bill of Rights federally and in 16 states, Rise is working to unify the rights of the five million survivors across the U.S. Now through Rise Justice Lab, a first-of-its-kind civil rights accelerator, we are helping young people claim their rightful place in our democracy and write laws of their own. We have turned our success into a blueprint to demystify the path, helping new people and new causes make their way through the obstacle courses of bill drafting, committee hearings, and vote whipping that exist in every state.
How do you stay inspired when the scale of civil rights and environmental issues is so vast?
Seeing the impact of Rise's work and hearing from survivors across the globe keeps me inspired. Almost daily, survivors reach out to Rise and me, on social media, over email, and even in person to express their gratitude and newfound hope and visibility. This impact is what fuels my continued passion and work.
Amanda is wearing an Enda jacket, a Grammar blouse, secondhand earrings via Beacon's Closet, and Santa Fe Vintage trousers.
Dominique Chanel Drakeford is the chief curator of MelaninASS (Melanin And Sustainable Style), an interview- and resource-based blog platform connecting with Indigenous/Black/POC vanguards in sustainable fashion, natural beauty, wellness, and environmental justice, and co-creator of Sustainable Brooklyn, a new initiative bridging the gap between sustainability and targeted communities.
While sustainability and ethical practices within the fashion industry are on the rise, they still aren't part of the norm. How can we, as consumers, help initiate true change? What's the first thing we can do to help?
We have to individually think of ourselves as investors—which means we have to invest in the truth before we can really see change happen. We have to invest our time and energy into understanding that the fashion industry is a well-crafted imperialist infrastructure, hardwired as a capitalistic dungeon where power dynamics control the very heartbeat of this circus. Change begins with the real truth, and it's deeper than the propaganda of ethical practices.
Evoking change as a consumer means you have homework to do. Understand these three things: First, the idea of sustainability truly starts with African ancestry as the mother of civilization and the gatekeepers of sustainable supply chains. Second, the need for sustainability today is a result of exploitive Black slave labor and expropriation of native indigenous lands. Three, power dynamics and pure racism happening right now is the engine that drives the fashion industry and is the reason why we are in an ecological crisis today. Understanding the intersectional layers of the race-based systemic manipulation is what really creates a paradigm shift and thus creates collaborative engagement for real systemic sustainability.
Dominique is wearing a Rave Review blouse, No Frills by Mother Of Pearl trousers, Veja sneakers, an Enda hat, and her own rings. Lip stain by NOTO Botanics, lip gloss by PYT Beauty, concealer by ILIA, and leave-in conditioner byHairstory.
What are the current objectives and targets for Sustainable Brooklyn, and how have you seen it initiate change within the community and the fashion industry as a whole? Where do you see it going in the future?
My business partner, Whitney McGuire, and myself want to make sure that stakeholders and industry leaders create space and opportunities for people from targeted communities to contribute to solutions and problem solving; shifting the narrative of sustainability from a white-washed elitist concept to a truth that is accessible to all people. Thus far, we've seen our initiative create conversation in our community, like our friends who never talked about sustainability in this way, or considered it something that is necessary. We see so much excitement around our events because we've been able to create space where BIPOC across all industries feel included in the sustainability movement. We see Sustainable Brooklyn disrupting the status quo, being a bridge to cross-pollinate ideas with other organizations while also inspiring collectives or individuals who are from targeted communities to start their own initiatives. We see it as being a pillar of cultural autonomy—influencing the literary world, TV shows, curriculum, articles, travel, financial literacy, etc., so we can sustain ourselves and keep our dollars in our community.
Dominique is wearing an ALICELEE suit, Brother Vellies boots, a Vanessa Baba necklace, a secondhand belt via Beacon's Closet, and her own headscarf and rings.
Ali Tate Cutler is a model, self-love and body positivity activist, environmental activist, and facilitator of female empowerment. She's the brains behind wellness podcast called The Love You Give and hosts women's circles to facilitate trauma release for women. She helped design the first ever plus-size clothing line in collaboration with sustainable clothing brand Reformation. She also facilitates "plogging" events in NYC, where she takes groups of women jogging while picking up trash in different neighborhoods.
While sustainability and ethical practices within the fashion industry are on the rise, they still aren't part of the norm. How can we, as consumers, help initiate true change? What's the first thing we can do to help?
By its very nature, the fashion industry has to promote materialism and consumerism if it is to continue. These are the very things that have taken us down a dangerous path, where humans are now bringing about their own extinction. To change this pattern of overconsumption, we all need to consciously become aware of our consumption patterns. What brands are we buying from that have bad environmental practices? Can we avoid fast fashion whenever possible? Are any of the items on my wish list found at thrift stores? Do I see any brands that I like actively trying to shift to more sustainable methods of production? These are all questions that we need to ask ourselves when buying anything, and get used to these new habits. Love a brand? Email them, or write to them on social media. Ask them to incorporate more environmentally friendly practices. If brands know their consumers want something, they usually provide!
Ali is wearing a Boyish Jeans jacket, a Reformation top and skirt, and Sylven New York boots. Lip color, blush, and highlighter by Rituel de Fille, eyeshadow and mascara byILIA, and texture spray by Hairstory.
While the sustainable fashion industry is growing, there seems to be a serious lack of brands that are sustainable and inclusive and size diverse. What can brands do to fix this? Consumers? Are there any current brands that are champions of both?
The sustainable fashion industry has come a long way, but it is true, there is a definite lack of sustainable brands that are also diverse. One of my favorite brands is Stella McCartney, and I've never seen them use a larger sized model like myself. I wish they did! But until then, we can be vocal about what we want to see and not buy from brands that aren't listening. The brands I'm currently loving are Awaveawake for gorgeous summer dresses, Reformation for sexy tops and jeans, Patagonia for my hiking outfits, Everlane for basics, Free People Movement and its line made from fishing nets, Stella McCartney for its vegan leather, and Fame and Partners for a statement outfit.
Ali is wearing a Nudie Jeans jacket, a Filippa K dress, and secondhand boots via Beacon's Closet. Beelzebub is wearing an Honor Of scarf via The Better Shop.
Maya Penn is a 19-year-old eco-designer who has been sustainably designing since the age of eight. She's also an artist, animator, filmmaker, author, global activist, CEO of sustainable fashion brand Maya's Ideas, founder of nonprofit Maya's Ideas 4 The Planet, and creator of an animated series about nature conservation.
While sustainability and ethical practices within the fashion industry are on the rise, they still aren't part of the norm. How can we, as consumers, help initiate true change? What's the first thing we can do to help?
I think the best thing we can do as consumers is research, speak up, and speak with our dollars. Support sustainable fashion brands, go to thrift stores, upcycle old clothing DIY style. Industries take notice of consumer habits and evolve to meet their interests—that's how brands stay alive. But what I think is equally as important as advocating for more sustainable and ethical practices in the fashion industry, is also advocating more brand transparency, to minimize green-washing to really affect a more authentic change.
Maya is wearing an Occhii jacket, blouse, and skirt, a Maya's Ideas sash, and Daniel Charkow shoes. Lip gloss and brow pencil by PYT Beauty, bronzer by lilah b., and leave-in conditioner by Hairstory.
You've been involved with and designing sustainable fashion since a very young age. What first sparked your interest in fashion that was also eco-conscious?
It's been 11 years since I started my eco-fashion company Maya's Ideas in 2008 at eight years old. I've always gravitated toward art and design in many forms, including fashion design. I've also always had a love for nature and our ecosystems. My fashion line Maya's Ideas is a combination of those two passions. I didn't start with seed money, loans, or grants, but I had the passion and creativity to make things work. I started by using fabric scraps and old clothes from around my house, and then as my business grew, I started using other materials like organic bamboo, hemp, or cotton, vintage fabrics, pineapple fibers, recycled plastic, and more. I'm also experimenting with biofabrication and creating my own textiles. As my company has grown, I've also started consulting major fashion brands on incorporating sustainability not only in their product but also in their operation and packaging.
How do you inspire those around you to care about sustainable clothing and to treat the environmental issues we face today as a serious matter?
Many people don't realize how much of an environmental impact the fashion industry has alone. It's the second largest polluter of our planet only second to oil. That fact has inspired people to assess the eco-friendliness of their wardrobe. But, it's also important to me to remind people that environmental issues are also human issues. We are all being affected, both indirectly and directly, by what we are doing to the planet in ways many people have never expected. Black and brown communities are disproportionately hit harder by pollution and natural disasters brought on by climate change—for example, Flint, Michigan, and Puerto Rico. Now there are even climate refugees. From flooding in Bangladesh to drought in Guatemala, many people are forced to leave their homes due to climate change. I think making the circular connection between the impact we have on the planet as individuals, and how it impacts not only the planet but also other individuals, puts environmental issues in a different perspective for many.
Maya is wearing a Maya's Ideas top, Rave Review trousers, and stylist's own vintage earrings.
Áine Rose Campbellis a model, activist, and co-founder of the Model Mafia, a collective of over 200 models who, together, work to make the fashion industry a more just, equitable, and sustainable space.
While sustainability and ethical practices within the fashion industry are on the rise, they still aren't part of the norm. How can we, as consumers, help initiate true change? What's the first thing we can do to help?
Buy less. It's really that simple. I appreciate that sustainable and ethical brands are not always as affordable as fast fashion and that a certain amount of privilege makes living more sustainably easier, but, once you decide to buy less, you're already challenging traditional consumer culture, which often exploits marginalized communities, often of color, through aggressive extraction of raw materials and through poor labor conditions for the workers turning these materials into garments. And when you do decide to buy something, you can buy clothes from thrift stores, or if you're buying less, you might be able to afford to spend a bit more and buy something from a sustainable brand.
Áine is wearing a Nudie Jeans jacket and trousers, a Cienne dress (worn as top), Brother Vellies boots, The Better Shop belt, second hand earrings via Beacon's Closet. Lip color, blush, and highlighter by PYT Beauty, hair spray byHairstory.
How does the Model Mafia work to create change and advocate for sustainable clothing and practices by the fashion industry? What kind of progress have you seen?
The Model Mafia is a community of 250 fashion models who take collective action to make the fashion industry and world a more equitable and just place. Because models are uniquely placed to reach a wide audience through social media, when we rally behind a cause, we can reach millions and effect change. We also come together and show up offline; 36 of us took a bus down to D.C. to march in the 2017 People's Climate March, representing the faces of fashion and demanding a cleaner fashion industry, and again, a group of us marched in New York City's 2018 People's Climate March, and at this year's New York City Youth Climate Strike.
We've put our modeling skills to use as well. We have been part of the nonprofit Pure Earth's "Clean Gold"—gold mining is the biggest cause of toxic mercury pollution—photo shoot which promoted sustainable jewelry and helped raise $47,000 to fight global pollution, and we modeled the beautiful jewelry of Hakhu Amazon, made by women protesting on the frontline of the Ecuadorian Amazon, to save the rainforest. We've also modeled in sustainable fashion shows at the United Nations and have been learning from the non-governmental organization BRAC about how we can support the female garment workers who are making the clothes that we end up modeling.
More and more, people are waking up to the fact that the fashion industry is a major polluter and that, as an industry, it affects the livelihoods of so many people–as it employs up to 75 million. This is a huge opportunity for fashion to lead the way in creating a sustainable future for everyone. As fashion insiders with high visibility, we are excited to be a part of the movement to push the fashion industry forward and use our platforms and influence for good.
Áine is wearing a vintage Jil Sander suit and vintage Jean Paul Gaultier top via James Veloria Vintage, Veja sneakers,Pala Eyewear sunglasses, stylist's own socks.
Rhianna Jones is a freelance writer and wardrobe consultant that strives to champion fashion sustainability and cultural inclusivity through her work, highlighting the work of conscious creatives working to redesign the industry and favoring sustainable designers and secondhand pieces within her work. Currently, she's running the Afro Hair Emoji campaign, aiming to make society's fashion and beauty space a more visually inclusive and sustainable one.
While sustainability and ethical practices within the fashion industry are on the rise, they still aren't part of the norm. How can we, as consumers, help initiate true change? What's the first thing we can do to help?
In the capitalist world we live in, consumers have tremendous power in initiating change. The first step is reshaping the mindset we consume through to a less-is-more approach, and researching every purchase we do make. We can't buy our way into feel-good sustainability; overconsumption is the root of the issue.
Buying a recycled cotton tee is not going to save the planet, because cotton is still an overused resource. But, when you do buy, be discerning with your dollars and shop consciously. Eco-activism, inclusivity, and caring about the world are huge marketing trends right now, so educate yourself on which companies actually GAF. And if they package themselves as an "ethical brand," that should go beyond the product. How transparent are they with their labor practices, eco-initiatives, and brand ethos? Is their internal team as inclusive as their advertising campaigns? Are they simply taking sustainable resources from other cultures, or working with those artisans to sustain their own handicrafts? There are countless ways to reduce fashion's colossal carbon footprint, but cutting consumerism, shopping slow vs. fast fashion, and championing the circular economy are actionable steps.
Rhianna is wearing a Maggie Marilyn jacket and T-shirt, a Reformation dress, model's own vintage shoes, socks, earrings, and hairclip, and stylist's own belt. Mascara and lip color by ILIA, bronzer by lilah b., highlighter by PYT Beauty, and leave-in conditioner by Hairstory.
As a stylist and writer working in the fashion industry, you've stated that you no longer contribute to fashion production. How do you do this, and are there any challenges that you face?
I'm a profound advocate that sustainable fashion can be fucking fab, never granola, and very glamorous! My wardrobe is my happy place, but after working in high-end retail and learning how wasteful the fashion system was, I made a conscious decision a few years ago to shop exclusively secondhand and designer vintage. With the exception of undergarments and one leather jacket, everything I own is secondhand. I don't contribute to fashion production because I only purchase what's already been created; it's circular fashion.
More than the environmental benefits, I love how secondhand shopping's like a treasure hunt—there's the history and soulfulness of "saving" clothes, and also the sheer difference in garment quality pre-fast fashion. Most clothes made now last a few wears, and most vintage pieces have survived decades of wear. Clothes were made with such care and on a much smaller scale back in the day. What's challenging is if you're searching for something specific—it takes a lot of patience, scouring the internet, or digging through racks etc., but it inspires more ingenuity in your dressing and shopping your own closet too!
What advice would you give to someone looking to support a more circular fashion cycle?
Creativity is the free, universal renewable resource oft neglected from the sustainability conversation. I encourage you to use your imagination, shop secondhand, and upcycle all those found gems into the wardrobe of your dreams. There's really no need to create more clothes; with all the circular fashion sites out there–from Depop and Poshmark to The RealReal and countless IG stores—it's never been easier. I love walking out the door knowing I'm wearing all of these one-of-a-kind pieces, each with their own story, rather than seeing a bunch of clones on the street.
And if you need motivation, think about the millions of tons of clothes rotting in third world landfills, or ask yourself how a new with tags garment could be sold for the same price as your morning coffee? Try to sell, swap, or donate the clothes you want to get rid of back into the circular system, and for everything else, see if there's a local textile recycling center where you live. Everything produced ends up as food or poison for the Earth, so feed the planet thoughtfully the way you'd feed yourself. We all play a role in the industry's environmental impact, but sustainability doesn't have to compromise your style, it should inspire it! Express your individuality ethically, find a sustainability avenue that works for you and commit to it.
Rhianna is wearing a Filippa K sweater and blouse, an Enda skirt, secondhand shoes via Beacon's Closet, and Pala Eyewear sunglasses.
Karmay Ngai is the upcycling designer and international model behind the Patch Love Universe (plu) collective. She helps organize community clean-ups and works to educate about the environment and sustainability.
While sustainability and ethical practices within the fashion industry are on the rise, they still aren't part of the norm. How can we, as consumers, help initiate true change? What's the first thing we can do to help?
It is inevitable that we consume and produce waste; the key is to minimize and create a sustainable cycle. The solution is simple: consume less. Reject unsustainable items, repair, reuse, recycle, do the research, and, most importantly, do not let your happiness be based on an item's market value—short-term happiness is not sustainable happiness.
Instead of putting energy in finding happiness through new items such as clothing, take time to visit your local sustainable and zero-waste stores. Know that it's possible to cut down one's waste and still have joy, to buy more responsibly, and that neglecting our increasingly horrifying carbon footprint cannot nurture you toward that true satisfaction you deserve.
It is vital that we take our choices into consideration, as the price of the consequences for this is far more than the act of pleasing ourselves through consumerism and convenience. Whether it's switching to reusable cups, buying vintage, or simply spending your money on quality things that last, it'll trigger our instincts to subconsciously give love and show gratitude for this dear planet we cultivate on.
Karmay is wearing a PatchLoveUniverse jacket, Santa Fe Vintage trousers, Veja shoes, and her own jewelry. Lip color by Axiology, eyeliner by W3ll People, brow pencil by PYT Beauty, and hair lotion by Hairstory.
Tell us about Patch Love Universe and how is it working to make a difference within the fashion industry.
Patch Love Universe (plu) is an artistry collective that produces products from already made but forgotten or neglected items, "Patching Love Where Love Is Needed." Our main focus is to remind all that everything holds value and should not be carelessly discarded. It's important to understand that one man's waste can be another's treasure, and waste does not disappear with the act of "throwing away."
Plu practices the idea that nothing gets left behind, creating new objects from dried flower frames to one-of-a-kind custom made clothing and accessories, all remade from excess products. We hope to begin working with more upcyclers, from furniture designers to all kinds of artists.
Karmay is wearing a Rave Review jacket, shirt, and skirt, Sylven New York boots, a PatchLoveUniverse bag, and stylist's own earrings.
Nouri Hassan is a 20-year-old model, creative producer, and activist who has worked with various large organizations including Oxfam, a charity focused on alleviating global poverty and injustice. Currently, she's working on creating a safe space for creatives to connect and communicate, with hopes to facilitate a community within the fashion industry that champions innovation and inclusivity for the underrepresented.
While sustainability and ethical practices within the fashion industry are on the rise, they still aren't part of the norm. How can we, as consumers, help initiate true change? What's the first thing we can do to help?
There are so many different initiatives one can take to become a part of this conversation. A great first step would be to simply educate yourself on what is happening right now in the fashion industry. There is a plethora of resources available, from the Good On You app to Netflix documentaries that will drastically change your mind about buying that strangely affordable leather jacket from H&M. After educating yourself about these issues, you may realize that your shopping habits need to change. Try to opt for thrifting, buying vintage, upcycling, or, better yet, supporting brands that are legitimately sustainable. Do your research, become an educated consumer, and share the wealth of your knowledge with the people around you.
Nouri is wearing a Mara Hoffman jacket, a Filippa K top, a Cienne skirt, and The Better Shop barrette. Lip color by Axiology, eyeshadow and highlighter by Rituel de Fille, eyeliner and brow gel by W3ll People, concealer by ILIA, and texture spray by Hairstory.
How do you work to inspire your peers to care about sustainable clothing and to treat the environmental issues we face today as a serious matter?
While prepping for this project, I had the pleasure of learning about and working with GrowNYC and Upcycle Social Club. GrowNYC's mission is to "improve New York City's quality of life through environmental programs that transform communities block by block and empower all New Yorkers to secure a clean and healthy environment for future generations." It's always looking for volunteers to help at their greenmarkets and recycling events. Upcycle Social club is a newer community of activists who have put together events such as a "Sort-A-Thon" at Fabscrap and a sewing workshop. When looking at these two organizations, and all the activists who were a part of this project, I realize that sustainability is attainable on different levels.
Nouri is wearing a Patrick McDowell tunic,Sylven New York boots, a Vanessa Baba ring, and vintage leggings via James Veloria Vintage. Eyeshadow, highlighter, and lip color by Rituel de Fille, eyeliner and brow gel by W3ll People, concealer byILIA, and texture spray by Hairstory.
Rhianna is wearing a Filippa K sweater and blouse, an Enda skirt. Ali is wearing a Nudie Jeans jacket, a Filippa K dress, and second hand boots via Beacon's Closet.Nouri is wearing a Mara Hoffman jacket, a Filippa K top, a Cienne skirt, and The Better Shop barrette.
Photo: Andrew T. White
Styling: Sam Bates
Hair and Makeup: Clara Rae
Production: Nouri Hassan
Photo Assistant: Owen Benfield
Beauty Assistant: Ashley Lynne
Set sustainably designed using all found and recycled materials by Sam Bates and Andrew T. White.
Interviews have been cut down and edited for brevity and clarity.
NYLON uses affiliate links and may earn a commission if you purchase something through those links, but every product chosen is selected independently.