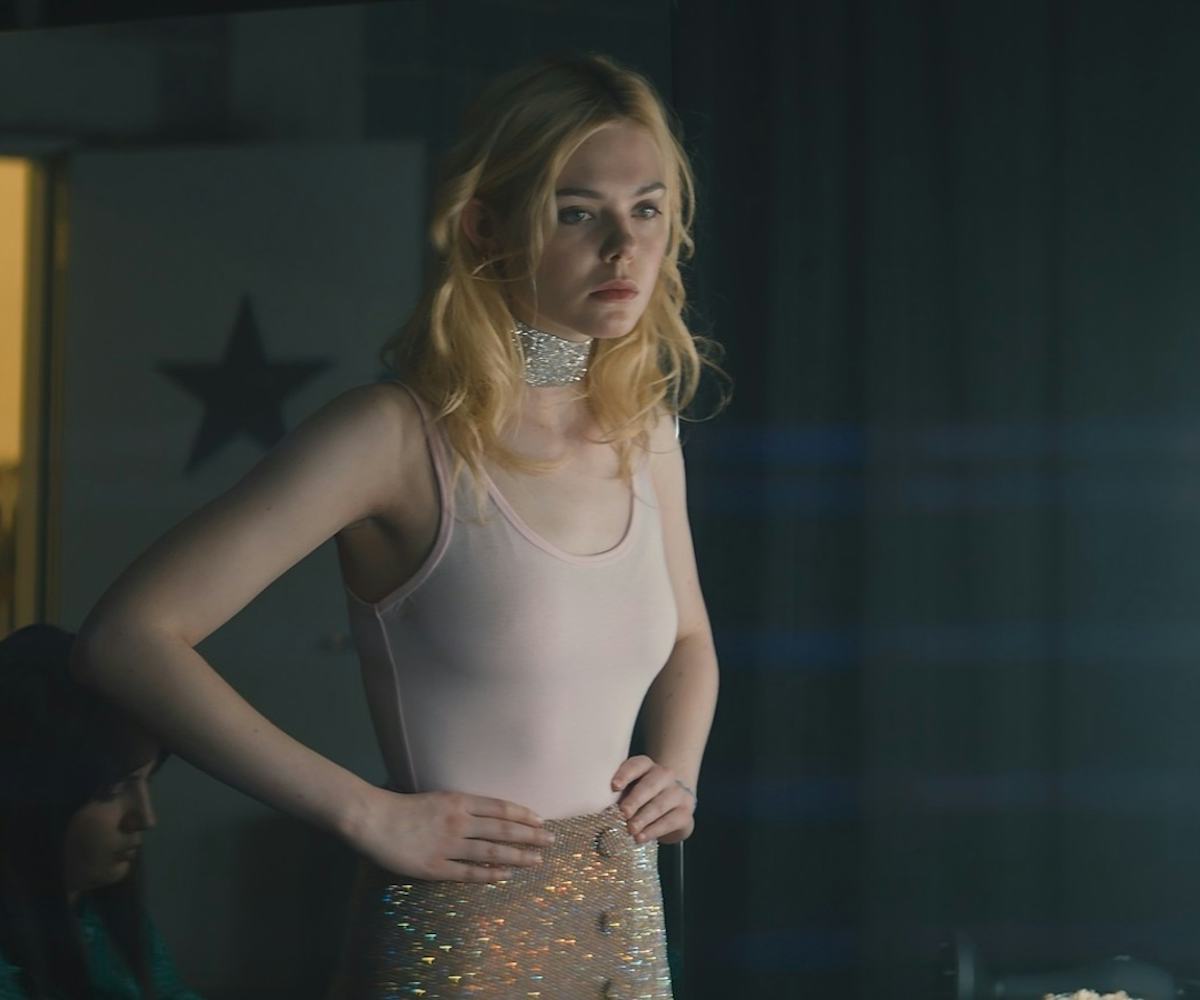 Courtesy of LD Entertainment & Bleecker Street
How Elle Fanning Became A Pop Star For 'Teen Spirit'
She's been waiting for the chance
Elle Fanning always wanted to both sing and act, but she was waiting for the perfect project to introduce her dual talents to the world. With her forthcoming film Teen Spirit, an indie darling which already earned her praise on the festival circuit, she found the perfect opportunity.
We've already gotten a little taste of what Fanning has in store for the film, as she shared her character's take on Robyn's "Dancing On My Own," as well as original song "Wildflowers," written by Jack Antonoff and Carly Rae Jepsen specifically for the movie. Later in the film, she covers everyone from Tegan and Sara to Ellie Goulding, which proves that Fanning, or at least her character Violet, has the perfect taste in music.
Below, NYLON chatted with Fanning about prepping for the movie and if she'd ever pivot to an entirely music-focused career.
You've always loved both acting and singing; what kept you pursuing acting so feverishly?
Acting is my complete passion. I can't think about my life where movies and playing characters are not in it, but I sang in school all the time and definitely dreamed of performing on the stage one day. When I started acting, I was like, Hmmm... musicals are singing… And it was definitely on my bucket list to show off that secret passion that I've always had. I was definitely on the lookout for a part like this. And singing, especially after this film and the journey I went on with practicing and working on all the songs, I wouldn't be opposed to pursuing that a little more.
At what point did you realize you didn't have to choose one or the other?
My favorite movie growing up was Grease. Like, always. I loved that movie so much, and that's a complete musical. I guess I always knew that you could act and sing at the same time. But also, think back to all the old Hollywood starlets—all of them were triple-threats—so to be able to be in films you had to be able to sing and dance. I think it's always been in Hollywood, but at this moment, there's a lot of musical movies coincidentally. I realized it was always a [possibility], but it just had to be the right movie to come along.
What made this one the right movie for you?
I'm a big fan of pop music. I wasn't on the radar for the film for them to pick me for this film. People don't relate me to singing, and also they were looking at girls who were Polish who were singers. So I kind of went after them for this, because there was a press release [that explained] it was about a singing competition. I grew up watching American Idol religiously, and phoning in [to vote], so I watched all those shows and am familiar with those shows. So I loved the concept, and after reading the little release and [seeing] it wasn't cast yet, I asked them to give me a script. I got the script and sort of had to prove to myself that I could sing.
And I had done the Montreux Jazz festival; I sang with my friend Woodkid, so I got that clip and sent it in. I think that was part of the reason I got the part. But also, talking to Max [Minghella, the director], we just had the same vision, how we saw this film and Violet as a character. I really related to her hunger and her drive, because I feel like you have to have that especially in these industries. There is a lot of rejection, and people say no. So there's something really beautiful about finding that courage to keep going and moving forward, and doing that but being your authentic self, which I think is such a great message for young people today. Violet is very uncompromising in who she is. She doesn't change her looks, she doesn't change her sound. She really is about finding the courage within herself to be herself, which I really loved as a young woman character for today.
How did you prepare for the vocals in the movie specifically? Did you have any previous training?
I had training when I was younger, but this was a whole new ballgame. There were so many coaches that I had on this movie—for English accents, and for the Polish, and then for the singing. Bob Garrett was a vocal coach of mine, and we did breathing exercises and all those crazy-sounding vocal warmups that you hear, and we trained for three months before shooting. Every single day, I would go to him and sing all the songs all the way through, and he would record me vocally and also video me doing the songs to make me watch myself back to analyze what I'd done wrong and do better each time.
We were also trying to balance and trying to find out who Violet is and who she's emulating as a performer, because she definitely was such a pop star. So I watched the Katy Perry music documentary, and watched YouTube clips of performers, and tried to find Violet's sound. Because she's still a growing performer, so a lot of her performances, there's potential there but she's also not quite a true pop star yet. Sometimes I would have to hold back and make sure I was in Violet's mindset at the time.
What was your favorite song to put your spin on for the movie?
Ooh! Well, "Dancing on My Own," I love that song. I think that's such a pop anthem for so many people—it's my sister's absolute favorite song. So there was definitely a pressure there to do it right and want to do Robyn proud. "Little Bird," I also really loved singing. I went to a Bjork concert before filming, and they would always tell me to "put a little more Bjork" in it! I got to even sometimes do really silly, fun takes of that song, just really saying the words in an interesting way, so I really had a good time with that one.
Is there a song that you wish would have been included for Violet to take on, but didn't?
I mean, there's so many great pop songs. My karaoke song is "No One" by Alicia Keys. But that's not really the mood—the music is a little more R&B, but I love that song.
Have you ever considered pursuing singing separately of acting? Doing a full music career type of thing?
I don't know if I would ever do a totally separate thing. Maybe? But I also feel like it can be together. Scarlett Johansson, she's done an album, and there are a lot of actresses who are like, "I can sing, and I wanna just do a little album with my friends," I would totally do something like that.
If you were ever—even if it was in another universe—to become a full-fledged pop star, what would your stage name be?Oh my gosh. I mean, Elle is a pretty... it's so concise, maybe I'd be like, ElleMNOP or something?
Teen Spirit hits theaters on April 12.