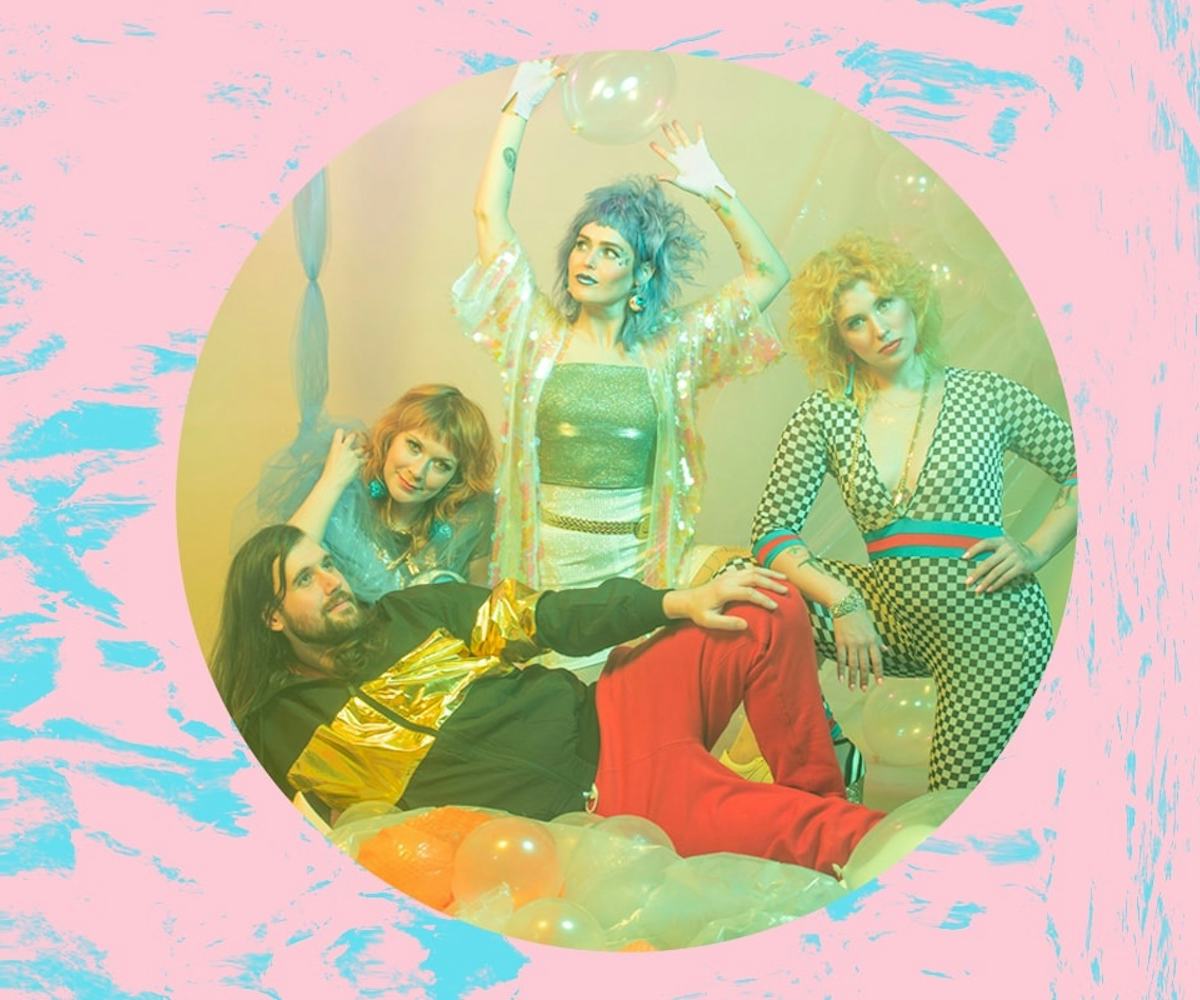 Tacocat Creates A "New World" For Their Punky Poptimism On 'This Mess Is A Place'
Lead singer Emily Nokes talks politics, self-care, and making happy music for sad times
It was a lot easier to be an optimist—and, for that matter, a poptimist—back in early 2016, when Tacocat released their last album, Lost Time. Mere months later, though, following Donald Trump's election, Tacocat lead singer Emily Nokes found herself unable to find the right lyrics for the new music she'd started creating with the rest of the band. "After the election happened, it was just so surprising and weird. It felt like so much had changed so rapidly, that it wasn't quite the same [feeling of,] Okay, just get back in the studio," she explained to me, as we chatted over the phone earlier this week. "The music was coming along, but as far as the lyrics… it took quite a while to even start piecing it together. It was a whole winter of thinking about feelings."
This Mess Is a Place, the newest Tacocat album, is the result of all this rumination—though it isn't sad or angry, but is rather a poptimist approach to the shitstorm all around us. Of course, that's kind of the Tacocat way—to infuse a bubbly energy that's almost impossible to mope to, no matter what the topic. As she worked on the album, Nokes realized she didn't want to be simply reactionary in her musical response: "I remember thinking, Oh my god, we could just scream for 40 minutes, and that could be the album, but I knew I didn't want it to be really angry and really dark, even though those are super-valid emotions."
"I remember thinking, Oh my god, we could just scream for 40 minutes, and that could be the album, but I knew I didn't want it to be really angry and really dark, even though those are super-valid emotions."
Instead, Nokes found herself feeling more contemplative, and leaning heavily into self-care, telling me, "I'm just going to take a bath every single day, I'm going to do some baking projects, and I'm going to learn how to make candles. I'm going to sit with these feelings, and I'm going to see my friends and talk to them, and just avidly write down ideas and things that people were saying and things that felt positive and good, and kind of just keeping track of the good things." And that's exactly what she did, immersing herself in positivity to keep herself going. She told me that she came to a realization at a certain point during this time, thinking to herself, " You know what, we're going to land this backflip. All of us, we can do it. Here we go."
Tacocat's grasp on poptimism feels like a lesson on making the best out of a dark situation. After all, the rock and alt scenes that Tacocat sprung from have never been the most hospitable to anyone even remotely femme; Nokes detailed the derogatory nature of being deemed a "girl band," describing her experience in the scene: "There were people yelling at us, we were first on bill of four dude bands. People treated us like a novelty, no one took us seriously." But, Nokes said, "Our four personalities put together are inherently optimistic. We've always been observant, angry, and aware of all the political aspects of [our existence]. We had a lot of things to be feeling shitty about, but we all just had this sense of humor. It's more fun to make fun of these people than it is to let it get to you."
This means that Tacocat complements their "big, swelling, happy" riffs with catchy snarkiness in the lyrics. Nokes said she's a sucker for adding a musical twist and writing lyrics that exude emotions that are the opposite of the sound beneath them.
Ahead of the release of This Mess Is A Place, Tacocat has shared their music video "New World" exclusively to NYLON, which in itself is another act of tongue-in-cheek hope. The song starts off: "I woke up today, and everything was better," and with that as a jumping-off point, the video takes viewers into a "zany and bizarre" world where they can find some escape from the frankly surreal reality in which we all find ourselves.
Though the timing of the album is just coincidentally arriving as the 2020 election cycle begins to amp up—which inevitably "made it more complicated" to make the record, per Nokes—she can't help but hope that it acts as a little bit of a sunny spot in a dark time. Nokes, and all of Tacocat, really understand the power of music as a communicator and as pseudo-therapy. Whereas many artists have pulled out of concerts in areas where legislation has hurt queer and femme populations, Tacocat has remained, because they feel like the queer and femme spaces that exist in conservative areas need poptimism in their lives. Nokes talks about the group's decision to play in North Carolina after the state passed a transphobic bathroom bill: "We were playing a queer venue that we've played a lot of times before over the years. They don't even have labels on the bathrooms anyway, they never have. Why would I not bring this to the very people that this bill is probably affecting, or is affecting their loved ones or close friends?" Tacocat shows, Nokes emphasizes, "are safe spaces," to which accessibility must remain open in the face of adversity. Positivity of all sorts, even in the form of cheeky alternative rock, should remain accessible too.
This Mess Is A Place comes out this Friday, May 3.