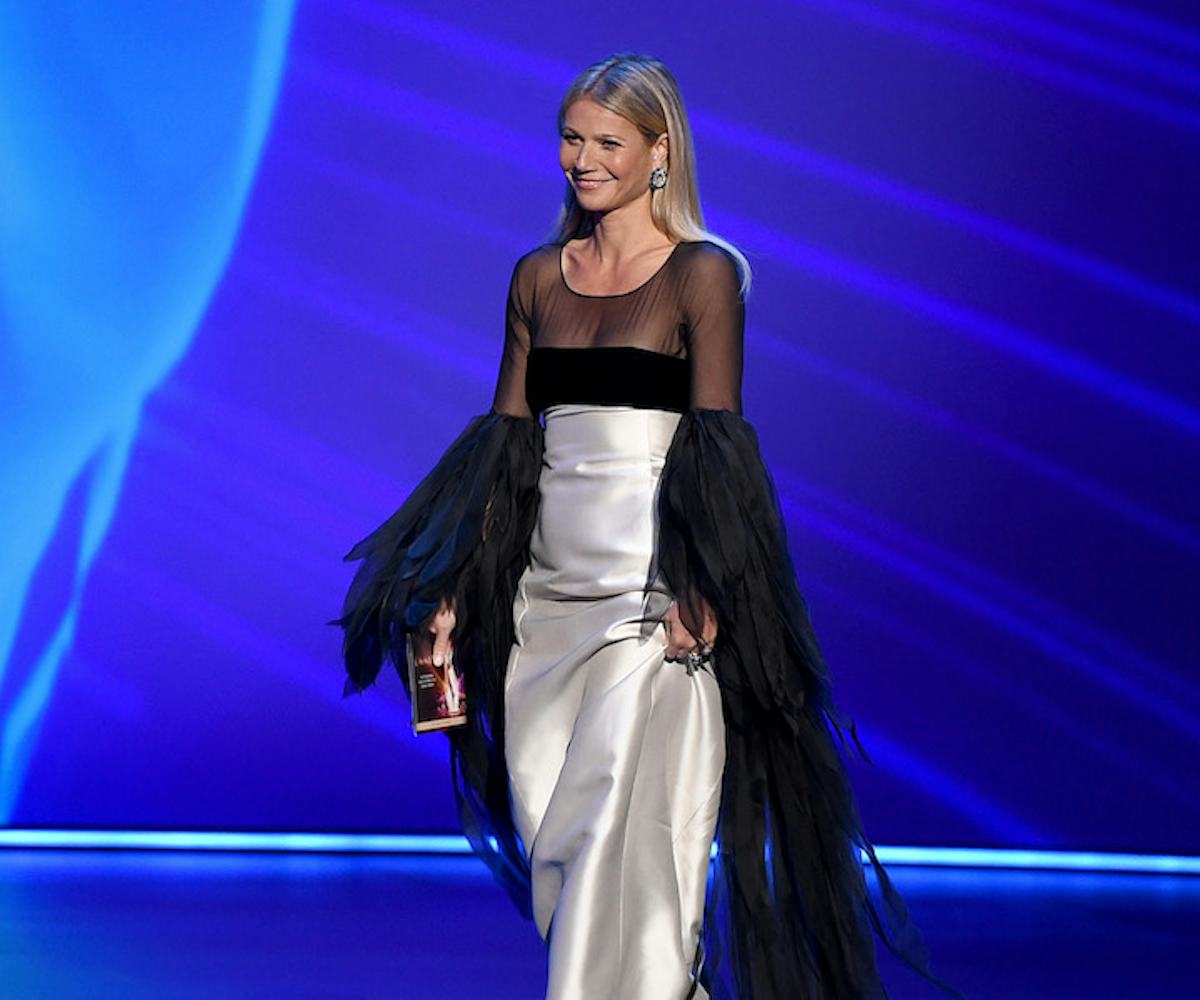 Photo by Frank Micelotta/Fox/Picturegroup/Shutterstock
The Memes Were The Best Part Of Watching The 2019 Emmy Awards
All the best humor was on the internet
The 2019 Emmy Awards have yet again proven that the best part of watching award shows is logging on and finding all the best memes after. From shady interviews on the red carpet to Gwyneth Paltrow's very strange walk, there were plenty of moments to be memed once the broadcast ended. Russian Doll's Natasha Lyonne may have even provided the reaction GIF to put Nicole Kidman's iconic clapping at the Oscars to bed. Below, we've rounded up all our favorite memes from this year's Emmy Awards.
Red and pink were the colors that all the stars chose to wear, and frankly, I had to do a quick search to see if I missed something that would have caused the trend.
Succession actor Jeremy Strong's suit was... a lot. Is Kendall Roy's next hostile takeover aimed at a beloved chocolate factory?
Or, maybe, he was just running late from rehearsing with his barbershop quartet?
Nominee and Dead to Me star Christina Applegate gave the best performance of the evening on the red carpet during interviews with Giuliana Rancic and Jenny McCarthy.
McCarthy has no respect for Applegate's Samantha Who? character, and it shows.
Applegate wasn't the only one who was over the weird interviews. Peep Paltrow's face at the end of this video. "Good luck to your husband tonight" is probably not the best send-off, Jenny.
Billy Porter always serves, and last night's outfit was no exception. As Porter secured his first Emmy, he was giving off strong character vibes that had all of Twitter creating the plot line that would land him the Oscar he needs to achieve EGOT status. "Billy Porter looking like the cocaine drug lord in a Netflix series about gays who run their operation out of AirBnB" is a series I demand to watch.
Or, a film about Porter as a rich murderous spouse widow.
Zendaya didn't need a nomination to give us our lives with her look. The Euphoria actress channelled Little Mermaid with her new red hair and killer green gown.
Paltrow demanded to be memed all night, especially when she came to the stage to present in a dress that didn't allow a full stride whilst walking. Her slow, awkward walk reminded the internet of plenty of real-life situations, like when you burrito yourself in a blanket to dash for a midnight snack.
Or when you walk into places that you shouldn't be proudly strutting into, like a meeting you're late to or a shop for yet another Juul pod.
Gwendoline Christie was the most meme-worthy (and memorable) part of the Game of Thrones appearance at the show's final Emmy Awards season. Ser Brienne of Tarth is actually my lord and savior, thank you.
Was the outfit a nod to her romance with Jaime Lannister, too? I hope so.
The only Game of Thrones characters to take the stage for an appearance were the cast members nominated for awards, which hilariously left plenty of the biggest names sitting in the audience.
Forget Kidman, Lyonne clapping is the only reaction GIF that matters now.
That, and Busy Phillips looking on in awe as BFF Michelle Williams gave an impassioned speech on equal pay while accepting the award for her part in Fosse/Verdon. We all deserve this kind of admiration and support in our lives.
The Amy Adams stans were not as stoked about Williams' taking home the award, not because she didn't deserve it or use her spotlight to inform on a meaningful subject (she did both of those), but because Adams has regularly been snubbed for awards, and her part in Sharper Objects seemed like her moment to shine.
And lastly, even Hollywood seemed to feel the same way about the Kardashians claiming to understand "real people" as the rest of us.