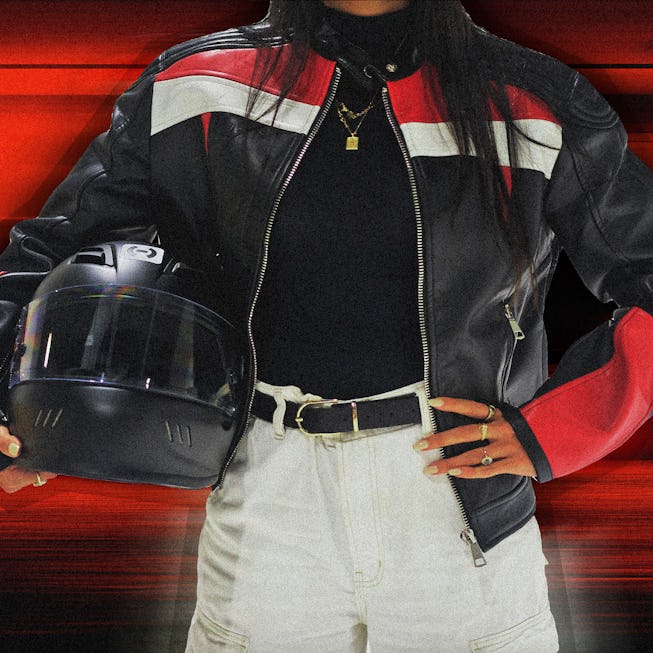 8 Women On Why They Love Motorsports
A celebration of the global sport, and the space female fans are carving out in it
It's no secret that the world of professional sports is still far from diverse and inclusive, and though motorsports are cooler than ever right now, they are no exception to the rule. While there are incredible female racing drivers out there, along with massive brands supporting them — like e.l.f. Cosmetics' collaboration with Katherine Legge, there is an even greater abundance of women who are fans of the sport, and with good reason. As women take part in motorsport fandom, their distinct yet equally beautiful stories of how they found their love for it speak to a greater narrative about how women are carving out spaces in historically male-dominated places.
Though Alexis Apollonio didn't color herself an official fan till 2021, her love for the sport goes way back. Growing up with a dad who restored vintage cars, motorsports were always around her family. As her love for cool, fast cars continued to grow, so did her surprise for the complexity of the sport. "It's much more layered than I had ever considered," she says. "Between the team's principals, sponsors, and pit crew in addition to the drivers themselves and their off-track friendships or riffs, there is so much at play."
A fan since 2018, Carolyn Holce agrees, talking about how much she loves the tension between teams and teammates. "I feel like it's so rare to have multiple layers of drama and tension to watch in a sport," she says, continuing to talk about the many personalities there are to get to know between the drivers, principals, and even romantic partners off the track.
"I feel like it's so rare to have multiple layers of drama and tension to watch in a sport."
Not everyone started as an outsider, however. Kendel Goonis' passion for the sport had a unique beginning that started right on the stage. While working in advertising, she was managing a booth at a race many years ago, and had the great opportunity to float around during free practice times, walking the paddock freely. "It was rad," she says. "I got to see the mechanisms of motorsports and feel the power of the cars up close."
Ever since meeting them in real life, she's found herself glued to the dramatic characters on-screen. However, she goes beyond the tracks and has even found herself following particular commentators who have helped her learn more about aspects of the race like tyre strategy, pit stop records, and the history of the sport.
The more Goonis learns, the more she says she's reminded of how the drivers put their lives on the line with every practice and race. Molly Parry, a fan since early 2020, finds herself intrigued by the danger, too. "The drivers and their stories really piqued my interest when I learned what a grueling elite global sport it is," she says. "One millimeter off on a turn, and the top contender can crash out in a second, making it any driver's race." But it's not all about drama on the course, which is what each one of these women have been alluding to.
"One millimeter off on a turn, and the top contender can crash out in a second, making it any driver's race."
Parry expands on that, talking about the very chic international presence that makes each race different depending on which country the competition is in. She and her husband took that global appeal and turned race days into full-on events, right at home. "We love to cook and host, so on big race weekends, we'll look up recipes for each country and cook a themed meal to eat," she says. "We've learned so many new recipes and cuisines and it makes us feel a little closer to the global community."
A fan since she went to college in Indiana, Elyse Carlucci continues to enjoy playing host to her friends while bonding on race days, too. "It's really exciting to just banter and gossip about the drivers and constructors," she says. And, hey. Who doesn't love an excuse for some celebratory champagne, no matter who wins?
That's another one of the many beauties of the sport that goes beyond the track, stands, or even your television screen. Jasmine Mausner, a newbie to the fandom who started following the sport a year ago, talks about how motorsports forged a bonding moment between her and her brother while on a family vacation.
"I assumed it was just another very long, boring sport in which men drive cars around in circles, but I could not have been more wrong." She goes on to discuss how she used to think motorsports were all about a driver's talent and athleticism, but loves that it's so much more. Mausner marvels at the intricate ways in which hundreds of engineers, strategists, and people in the pit crew contribute behind the scenes.
But the trending drama hasn't just pulled in new fans. Ali Mulry was born and raised in Indianapolis. Though she'd been around motorsports her whole life, her obsession was sealed when she one day realized that motorsports aren't actually too different from reality television. "The personalities of the drivers, drama, and rivalries are delicious," she says, adding that she feels an intimate connection to the drivers as they race now that she follows their stories off-screen. She even takes her involvement in the sport to the next level by listening to driver's radios during races.
"The personalities of the drivers, drama, and rivalries are delicious."
Just watching the sport alone wasn't enough for Camille Bryant, either — it's a universe that seems to suck people in with the many ongoing storylines. A longtime fan since 2012, Bryant says she's one of those fans who loves doing research on the history of it, too. "It's so fun diving into a whole new world that has such a rich history all over the globe."
That seems to be the most beautiful part about motorsports — spanning oceans, continents, and different languages, nearly every one of these women gushes about loving the instant bond that forms between motorsport fans because of the sport's international reach. Whether you're a new fan just following the headlines, or are devoting your weekend plans to following a race, there's beauty in the fearless racers and a shared passion for the countless stories happening on and off the track.