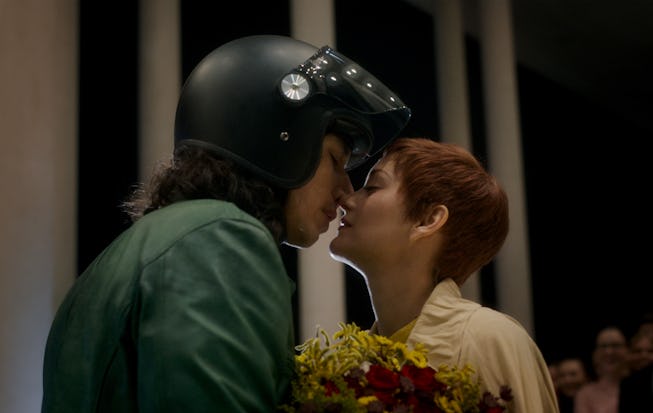 Amazon Studios
Adam Driver & Marion Cotillard Star In Dramatic 'Annette' Trailer
The new musical is set to open the 2021 Cannes Film Festival.
Fresh off his Oscar nomination for playing a self-absorbed theater director in Noah Baumbach's critically acclaimed Marriage Story, Adam Driver is back playing another kind of performing artist — this time, a stand-up comedian — in Annette. Directed by BAFTA nominee Leos Carax (in his English language debut), the upcoming musical finds Driver in a passionate romance with Oscar winner Marion Cotillard. The highly anticipated film just received its first trailer this morning.
Set in contemporary Los Angeles, Annette follows Henry (Driver), "a stand-up comedian with a fierce sense of humor," and Ann (Cotillard), "a world-renowned opera singer," according to a recent press release. After falling in love with one another, the pair take the spotlight by storm, where "they form a passionate and glamorous couple" to the outside world. But when they give birth to their first child, the titular Annette, "a mysterious little girl with an exceptional destiny," their lives are turned upside-down and changed forevermore.
Described as a "journey of love, passion, and fame," Annette was created and scripted by brothers Ron & Russell Mael, who are professionally known as the pop/rock band Sparks. The duo also composed all of the film's music after first writing the songs for an album they intended to record themselves.
Set as the opening night film for the 2021 Cannes Film Festival, Annette will make its world premiere this July 6 on the famous Croisette before premiering on Amazon Prime Video later this summer. After canceling the 2020 edition of the star-studded French film festival due to the COVID-19 pandemic, Cannes is returning to its usual, high-profile in-person festivities this summer. And what better way to kick off this quasi-return to quasi-normalcy than with the premiere for a splashy romantic musical starring Adam Driver and Marion Cotillard?
My only question: Will any of Adam Driver's musical performances in Annette compare to his performance of Company's "Being Alive" in Marriage Story? That, I'll tell you, was gold.
(Also, here's to hoping there's at least one scene of Adam Driver in shorts.)
Check out the trailer below.