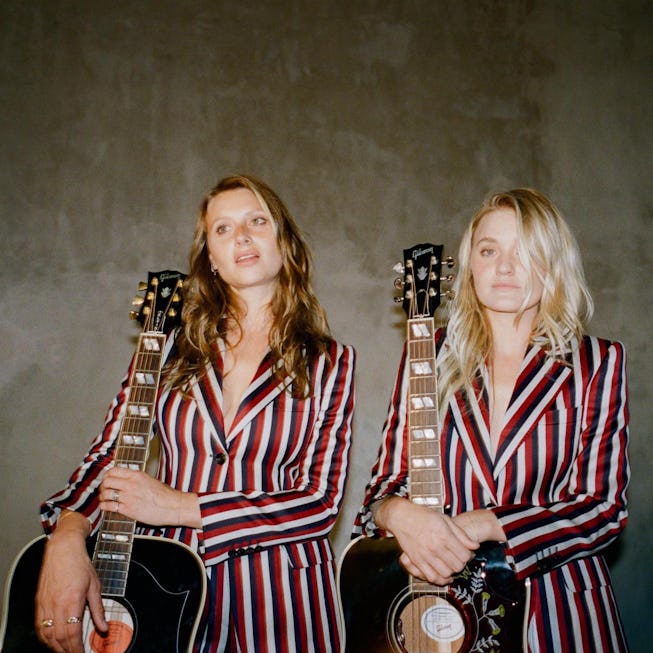 Stephen Ringer
Aly & AJ On 'With Love From' & Their Americana Renaissance
The sisters' singular sound reaches new heights on their new album, With Love From.
It's a Friday in March and it's raining in Los Angeles, but it feels like Christmas morning for Aly & AJ. Aly has wet hair, and AJ is wearing a bathrobe on video calls from their respective homes, and they are celebrating.
"We've had a lot of good news and exciting things pop up this morning," says AJ. "I barely could get dressed."
Among the things? The release of their latest studio album With Love From; a cover shoot with Numero Netherlands; news about some reviews that they're going to get on the album ("Fingers crossed they're positive reviews," says AJ); and they're about to start rehearsals for their tour at the end of the month, and scheduled to perform their new song "Blue Dress" live on Kelly Clarkson this week.
Their joy is viscerally contagious, in only the way it can be when you've been building a parasocial relationship with someone for most of your life. Aly & AJ, from the Disney Channel Original Movie Cow Belles to "Potential Breakup Song" (and it's glorious re-release in 2020), to the jangly guitars of a touch of the beat gets you up on your feet gets you out and then into the sun — have had a bond that can only be forged from the shared joy and heartbreak of growing up in the same house, each of their voices blending to create a third voice, being the only ones that understands what it's like to be a Michalka. It's a bond that transcends a club banger.
It's also a bond that reaches new heights on their newest album With Love From, an album of elated Americana folk music that makes you feel as weightless as though you were held up by a strong gust of wind, preferably on a long highway, hot air through your fingers. It's a genre departure for a band best known for a song they wrote 15 years ago, or even three years ago on '80s synth-soaked We Don't Stop. But while people are still losing their minds at the club to "Potential Breakup Song," Aly & AJ have been enjoying a renaissance, one that comes from growing up and being more in touch with what they want.
"To me, the power behind songwriting is you actually can be genre-less," AJ says. "If you're someone who is strong enough, it can parlay into country, parlay into pop, parlay into folk Americana. Eventually, I feel like you can get a really strong song out and not worry about what genre it sits in. For Aly and I, good songwriting is good songwriting."
The song that best exemplifies this? "Blue Dress," a fuzzy, dreamy ballad with the sleepy drawl of pedal steel and harmonies as delicate as dandelion spores.
Below, NYLON spoke with Aly & AJ ahead of the album's release about the inspiration behind the new record, their Terrence Malick obsession (who gave the album his stamp of approval), and their country and folk influences. (Spoiler alert: They love Dolly Parton.)
Where did this album start for you guys?
AJ: This album initially started with a kind of coming back for Aly and I. A touch of the beat, that record opened up a whole new portal where Aly and I feel comfortable as musicians and as songwriters; With Love From is a pure continuation of that. We had put out 16 songs on that album, so I think we were just on a roll, musically. We decided around the holidays, not this last holiday, but the one before that, we would go back and record another album before we hit the road and work with a lot of the same people. For us, it was about consistency. A touch of the beat felt really good. It translated beautifully live and we had confidence With Love From could do that as well. It was a continuation of creativity and not wanting to bottle it and saying, "Let's put this into another album because our fans deserve it and they've waited so long anyway."
Aly: Part of why the process of making a new record flows very organically for us, is because I think ultimately at the end of the day, we are born to be songwriters. Even in our moments when we walked away from music for a little bit, I think we always knew in our heart that songwriting is what we do best. I am really grateful that that spark has always remained very alive in us.
Songwriting especially is the core of Americana folk music too. This album is very folk Americana, but still has pop sensibilities.
AJ: I think being that Aly and I come from pop songwriting, that will always be an underbelly to our writing. But I do think opening up into an Americana kind of folk fits Aly and I really well. It's something that we wanted to pursue when we were younger. We also grew up listening to a lot of music that fell into that category. But in a way, when you're a strong songwriter and you're really confident in your work and you're open to working with other people and you're open to diverse ideas, when it comes to kind of floating between genres, I think that's when you can shine because you're not boxing yourself into a genre.
Is there a reason why you're pursuing folk music now as opposed to earlier in your careers?
AJ: I think it's a confidence thing.
Aly: I think you're right, AJ. I feel it's a bit of a natural progression from where we started as young artists to where we are now. If I could look at all the decision making that we did in the past and what brought us here, I wouldn't be surprised that we ended up here, sonically. It's still music that is based on our vocal blend. It's always going to have pop sensibilities. But I think that a lot of our music taste has also changed over the years.
Also, what led us here is [realizing] that our live show is a focal point of our creativity and our artistry. We want to serve that and the best way to serve that is to make music that integrates really well into our live show, and this music just works so well. It's like, you don't even have to try to make it work. It shows up in the room when we're in rehearsals with the band. The next thing we know, it sounds like we've been playing the song for 10 years, even though it's only been 10 days.
What is it about that? To me, it feels like this kind of music has an inherently old soul.
AJ: I agree with that. That's a really big compliment. I think things that feel like they have an older soul usually play live like they're an older soul: when you place it into a live setting, it naturally feels like it's been around for a while. When we were on the Ben Platt tour last year, we started experimenting with playing some unreleased songs. It was cool to introduce them live before them really having a moment on streaming or really getting a listen in someone's car or someone's phone. That's when you know a song is really working for you and can work for you for years to come because it feels right off the bat.
"Ultimately at the end of the day, we are born to be songwriters."
I would love to hear more about your influences. I kept thinking about First Aid Kit when I was listening, especially you being two sisters.
Aly: We love them. I think their vocal blend is incredible. We know there's famous sibling bands, but when you really think about it, there's not a plethora. It's like Heart, the Dressner brothers, AJ and I, Haim. I think there's something that is very unique about the blend of family. There is something that's really special when it comes to that third voice that is created between the two of us. As we've gotten older, we've really tried to hone in on perfecting that.
When it comes to inspiration on this record, we were going back to just classic great songs and artists that we really look up to like Gillian Welch, Loretta Lynn, and Dolly Parton: people that have made music that has really just lasted over the years. Their storytelling is very specific in a way that really connects to the listener. As we've come to this new sound of ours, we realize that the more specific we can be with our lyrics and our storytelling, the better it is for the listener and the more insight they have into where our head space is as artists. But a lot of bands have influenced us over the years from My Morning Jacket to The Beach Boys to Feist.
On another note, I read that Terrence Malick listened to your song?
AJ: Originally, I was like, "I'm just going to keep this completely private." And then there was one interview where I think I slipped and I got excited and I talked about it, and now it's out. And I'm like, "Oh, AJ, that's so not the Terrence Malick thing to do, to talk about this." But you know what? It's the Aly and AJ thing to do and we're really proud of it.
The fact that he even listened and we kind of got the stamp of approval, and also the knowledge that there are no rights issues, which was really important for Aly and I that we could intertwine some of his dialogue with our lyrics. To get that kind of stamp of approval was huge for us because we were like, "Who the hell is going to get a hold of this guy who is literally the hermit of Hollywood?" Aly and I had wanted to write a song about him for so long and we finally found a clever way to do it.