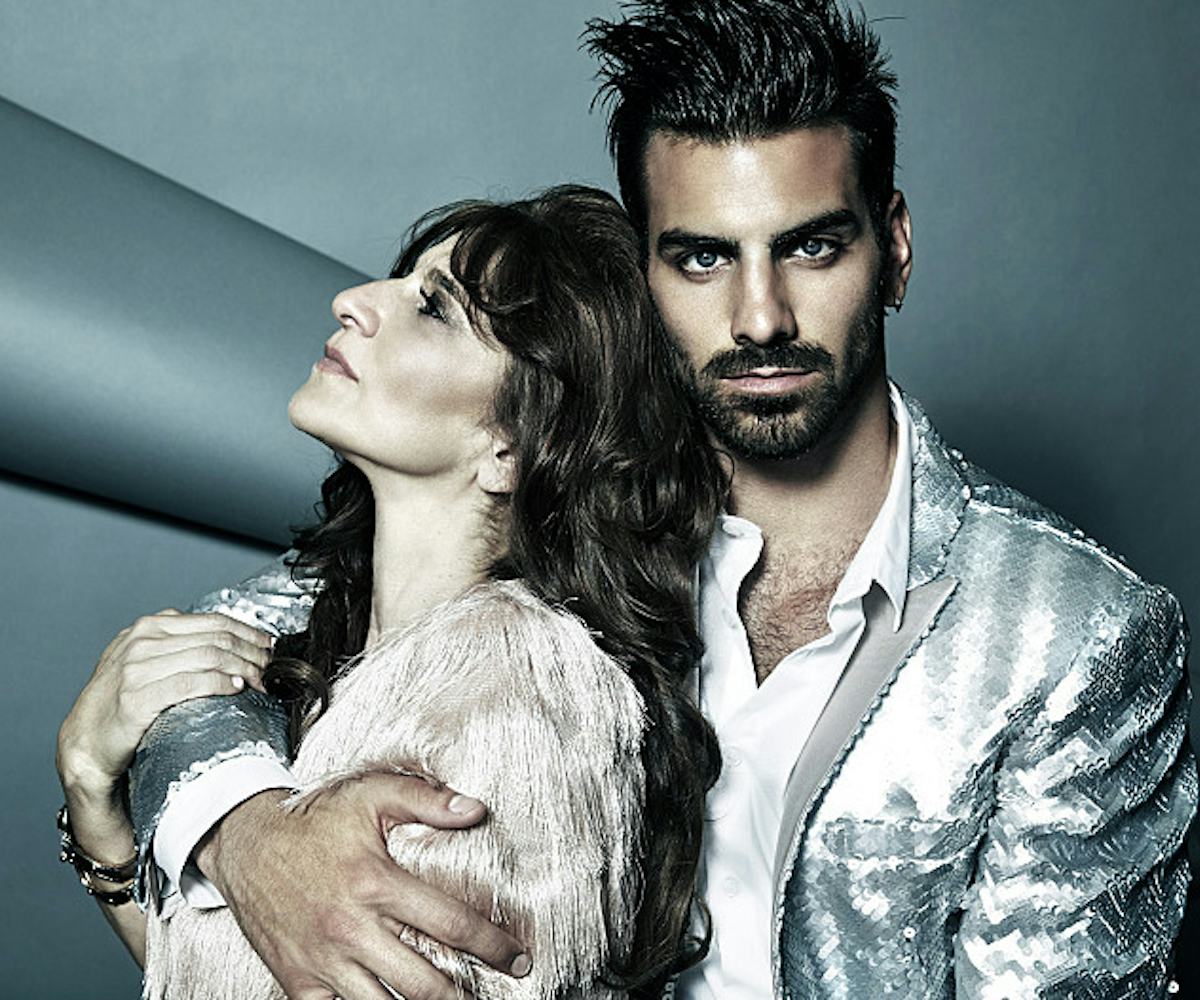 Photo: Carolyn London/Pottle Productions Inc.
'ANTM' Recap: The Guy Who Was A Momma's Boy
+ watch nyle's exclusive nylon video!
A question I get asked a lot is: "What's been your favorite moment of the show?" Well guys, you just watched it. ANTM flew all of our mothers to L.A.—paid for their flight, hotel, and spending money—for a full week. My mother basically got a week of paid vacation. I'm really happy and thankful for that. Thanks, ANTM! Seriously.
(And, for the record, a piece of dust actually flew in my eye a lot during this episode!)
So, at this point in the show, I'm feeling great. There's four of us left, I'm killing my shoots, and I'm really starting to show what I've learned on camera. I believe that's the biggest thing the judges are looking for.
Now, about Chrissy Teigen. Chrissy, Chrissy, Chrissy.
She is such a cool woman. She's beautiful, smart, and an excellent chef. The food that night was unbelievable. We got a chance to sit back for a few hours and just enjoy each other's company and take our minds off of the competition. Chrissy also shared with us her journey as a model and gave us some really useful advice. Thanks, Chrissy!
Aside from the challenge where I pitched my clothing brand, TOCKS (which will be available soon!), this NYLON Magazine challenge was very fun and definitely one my favorite challenges we've done on the show because of how real it was. We were watching Yu Tsai literally grab complete strangers off the street and ask them which magazine they would buy.
Nyle's beautiful, big, blue eyes got the most attention and he ended up taking the challenge win. And at this point, all of us models realized that challenges are key in this competition. If you win a challenge, you're not guaranteed to be safe, but your odds of staying another week are really good.
The sh*t hit the fan the next day, when my momma walked through the front door alongside the other models' mothers. Tyra's big announcement was our next photo shoot set with our moms! This was a really magical moment. My mom is just as wild and crazy as I am, so I wasn't worried about her performance. I knew she was going to be able to help me deliver a great photo.
As you saw, it was a pretty emotional week for everyone. All four of us have different stories and different struggles. We've all been fighting and fighting our whole lives to get to this point.
This week's panel was an interesting one; I don't believe any of us thought we were safe. The photos were all amazing, but someone has to go home, right? Wrong.
Photo: Carolyn London/Pottle Productions Inc.
Lacey and I wound up in the bottom two. Although I've been doing well lately, you can't take away anything from Lacey because she's a great model and she's proven that to the judges several times already. So after we realized there was a tie and Tyra said we have to choose, she says, "Congratulations, Lacey. You're still in the running to become America's next top model." 
...But something didn't feel right. I couldn't believe it was over like that. That's it? Mikey's going home?
After toying with my emotions for about 20 seconds, Tyra said I wasn't going anywhere! I was at a loss for words; I thought my journey was over, and my dream of winning and getting this money to start my life and help my family was over. Then it was all given back to me. What an emotional roller coaster. It's like calling someone up saying, "Hey, your dog died. Nah​,​ I'm playing. He's in the backyard!"
So yeah, I lied, there wasn't any dust in my eye! I broke down. I couldn't hold it in. This is my life, my passion, and my dream. It's real. I put my life and heart into this every day. As long as I'm here, I'm going to compete and fight every second. So, what's up? I'm ready. What's next?
Stay tuned for next week's new episode on Friday, November 20 at 9/8c on The CW.