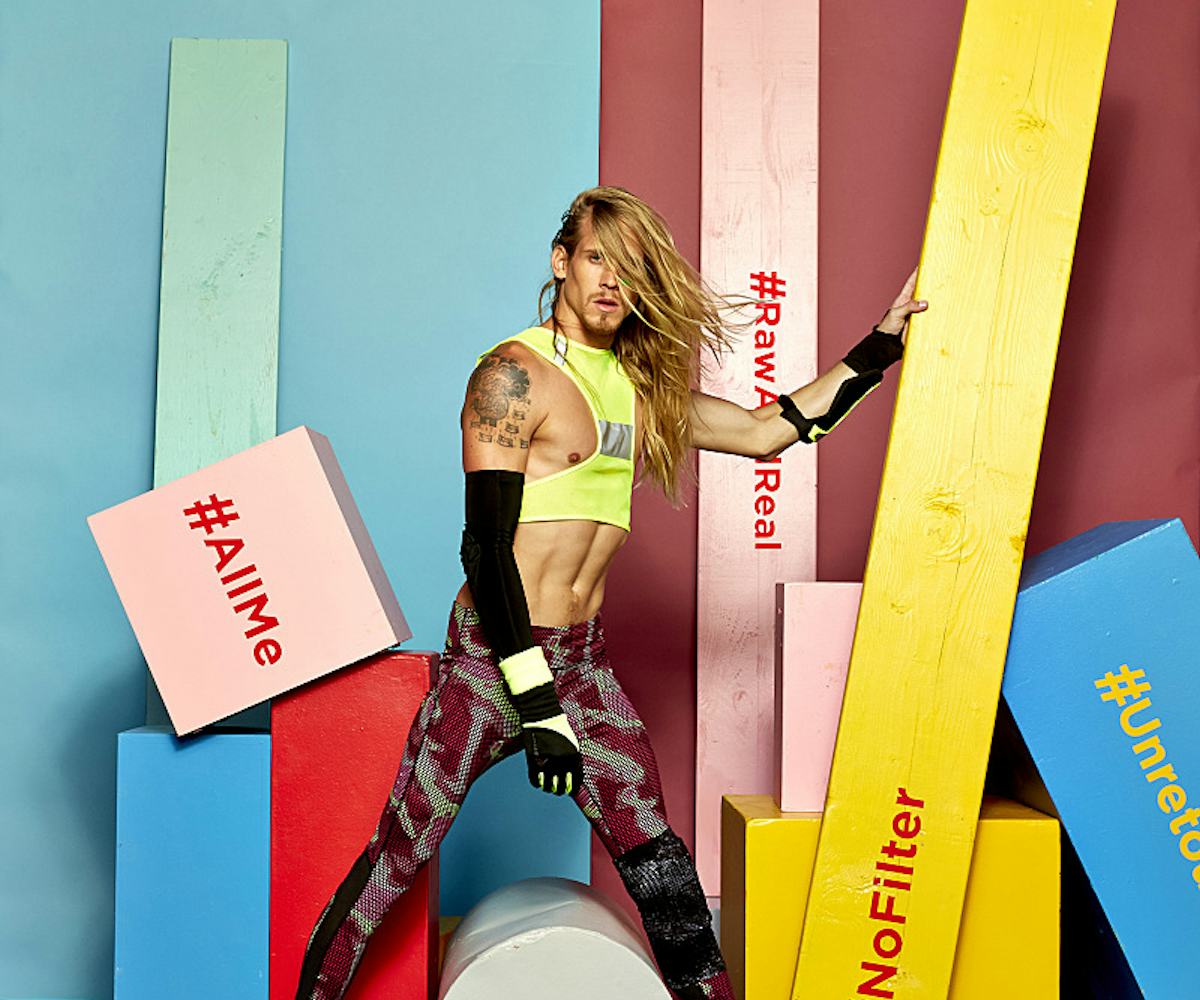 Photo via the CW
'ANTM' Recap: The Guy Who Gets A Hickey
secret lovers, photo retouching feelings, and more!
#IWokeUpLikeThis…but did you really? Everyone knows that models must have their full eight hours of "beauty sleep," right? Well, Bello does.
In this episode, relationships grow stronger between some of the models: Mikey and Ashley, and Justin and Mame get quite cozy together. Bello had to be the bearer of bad news as he told Mikey and Ashley that they can't get "cozy together," as he is trying to get his full eight hours of beauty rest. Not six, not seven, but eight hours. This causes a tremendous uproar in the middle of the night, and everyone thought Mikey was going to meet Bello's face with his fist. It was a close call, but no punches were thrown. 
This week, the cast also learned all about Photoshopping and retouching. In the modeling industry, photo editing is not uncommon—in fact, it's a popular tool. But who said popularity doesn't come with a price? Yes, retouching photos is on the expensive side, so anything a model can do to lessen the photoshopping, the more the model is favored, and as a result, hired. In this week's challenge, we met Anthony Del La Rosa, the director of New Faces at Next Model Management. Meeting Anthony is a huge deal, so it's necessary, in my opinion, to leave a great impression.
For the challenge, each of us had to take digital photos with the OPPO phone in Ultra HD for our "comp cards." A comp card is comparable to a model's business card. On it, you have a headshot, full-body shot, and your information. Comp cards need to be eye-grabbing because they are the first (and sometimes the only) thing a booker will look at.
During the shoot, our wardrobe was nothing but gray underwear. For digital pictures, you want to wear basic, non-distracting clothing. The point of a digital picture is you. Meaning, be as simple and natural as possible. But in the modeling industry, "natural" always has a loop hole. Each of us had to select the photos ourselves, retouch, recolor, and resize them. Let me just say, I never knew how much work actually went into retouching to get the "perfect shot." From editing tattoos, contouring, lightening the eyes, erasing dark circles, making pimples vanish, slimming down, stretching out, filling in hair…my mind is blown! For my headshot, I lightened my eyes, decreased my dark circles, smoothed out my skin, and adjusted the lighting of the photo. For my full-body shot, I adjusted the lighting, shaped my waist, and added some length to my legs. During this challenge, we all had to play with photoshop, but it was critical to not over-edit your photos, because comp cards need to look "natural."
Anthony was a fan of Mikey's comp card and said there was just something about it that made the audience want to know him. Anthony liked my comp card, as well, which sent me over the moon! He loved my headshot, and told me it looked editorial, commercial, and very versatile. On the other hand, Anthony and Yu Tsai weren't too pleased with Dustin's shot due to his little smirk, which they said made the shot too commercial for their liking. The two also disagreed with Courtney's photo choices. She had great film, but her choices were called a "flop." We also learned some things are harder to photoshop than others...
Justin and Mame must be getting steamy together after the lights go out; the proof resulting in a hickey on Justin's neck.
Unfortunately for me, Mikey took the win on this challenge, giving him a score of 10! For his challenge prize, he was given the opportunity to go out with someone for a nice dinner. Mikey chose Devin, which gave Ashley a pinch of pain considering they are "secret lovers," as Mikey claims. Back at the Top Model house, arguments broke loose when Courtney stirred the pot between "DMA" (Devin, Mikey, Ashley) and Ava. The results leave Courtney in tears and feeling outcasted. Leave it to the sweetheart, Nyle, to come in and give her a comforting bear hug.
Stepping out into our backyard, we find Yu Tsai prepared to hit us with our next photoshoot. For this shoot, he lets us know that we will be working with 3D objects and will be dressed in a sporty style. He also bombards us with somewhat terrifying news: This photoshoot will have absolutely zero retouching and editing done. What? That's right, 100 percent #allnatural #nofilter #rawandreal.
To most models, hearing "no retouch" is frightening, but for me, it's more of a chance to get noticed for being even more #onfleek. On set, about half of us are really getting the concept of the shoot down, making Yu Tsai's job easy. But as always, there has to be some models slacking, causing Yu Tsai to stress. Nyle struggled with showing tension, Hadassah came across as sleepy, Courtney was shaky, and Dustin was still having a difficult time losing that quirky grin and becoming a high-fashion male model.
Yet another panel comes, and the nerves have not ceased. Going into the panel knowing our photos would be the raw image had me shaking in my heels. I know Mikey had a 10 on his challenge score, and I was right below him with a nine. I just knew I had to deliver a breathtaking photo to take the lead for the week. Because the photos would be untouched, our goal was to "cheat the camera" and hide our flaws. For example, my flaw would be my legs appearing short and only standing at 5'8", Devin's flaw was to relax his eyebrows, and Ashley's flaw was to widen her eyes up.
I was stunned by the way the untouched photos turned out. I loved not only mine, but everyone's. I guess you don't need retouching when you have Erik Asla as a photographer, Yu Tsai as your mentor and the judges critiquing your every move. Mame's photo was amaze-balls. She had tons of movement with her hair, and a relaxed face making it a perfect balance. As for my #rawandreal photo, I got the judges' stamp of approval. Tyra jokingly compared me to Karlie Kloss, telling me I looked as if I was 6'2". Kelly said she loved the photo, my sass, and I was so "pop-tart." And Devin's photo was epic as he jumped athletically. Tyra told him she had the hardest time choosing his best photo because there was so many to choose from.