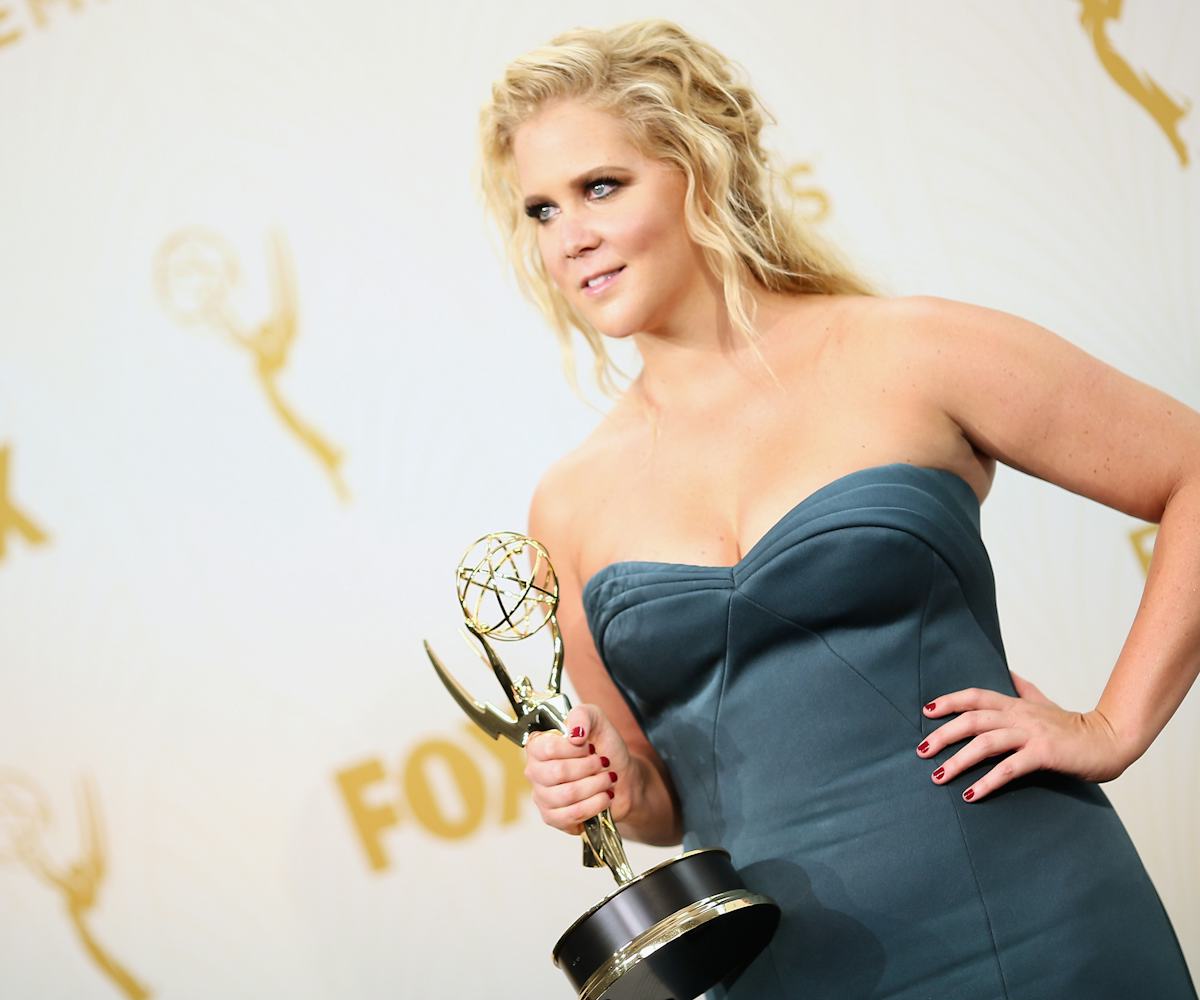 Photo Mark Davis/Getty Images Entertainment
amy schumer after her big emmy win: "i'm going to black out"
…and make out with anyone
Last night capped a legendary year for Amy Schumer that more or less began when she dropped down in front of Kimye's feet and ended with her standing tall while accepting the Emmy for Best Sketch Comedy Series for Inside Amy Schumer. At the press call backstage, Schumer was highly Schumeresque as she gleefully talked about the important women in her life, getting blackout drunk in celebration, and, of course, lube. 
How much of your career do you attribute to the support of other women?
Not just my career, my whole life—like, how do I get out of bed in the morning? My best friends are mostly female comics, I'm still friends with all my friends from high school, my sister. I'm lucky to be around a strong, supportive group of women. Yes, they've encouraged me in work, and every woman I walk past on the Upper West Side from 13-years-old to 73 says, "Keep going, Amy!" I feel very supported by women. I would attribute my whole life to that.
Talk about posing on the red carpet.
I usually disassociate which is only available to you if you had a poor childhood. So, I disassociate. 
How will you be celebrating tonight?
I think you know how I'll be celebrating tonight. When I won, I just thought, "I can't wait to hug my sister," which is exactly the first thing I did. I was sitting in a separate part from the writers because I'm newly famous, so it was so exiting to see them all on stage. We we're all such a group of dirtbags. It's really fun that we're here and I'm so proud of everybody. And I'm going to black out.
What was your favorite moment of the night?
Presenting with Amy Poehler. She's the best. That I could stand there and talk shit with her and Tina at a commercial break—my life's a dream right now.
Do you have any plans to make out with Tina Fey or anyone else tonight? 
Anyone who's willing. I brought my own lube. I don't know if that interests anyone, but yeah, anyone.
What was it like rollerskating past Hillary Clinton on Ellen?
It was very hot out and I was dressed like a plus-size Elsa from Frozen. And I'm such a Hillary fan, it was amazing to be that close to someone I'm hoping is our future president  And also humiliating because I was wearing giant, red roller skates fearing I would lose my life at Rockefeller Center.
It's such a big year for sketch comedy.
We were very grateful they gave sketch its own category. As someone who is a huge Last Week Tonight and Colbert and Stewart fan—all the late shows—we sort of didn't feel like we should be competing with them, and still don't for the other categories. But we're just really focusing on our win. And it's exciting. I love sketch. I think of what we do as writing scenes, which everyone silently laughs about behind my back. But I don't know how to write sketch. I've never taken a sketch-writing class or anything. I think the person who would be most interested in this answer would be Madonna, who I just opened with for three nights at Madison Square Garden and Barclays, and that was the shit. That was the shit.