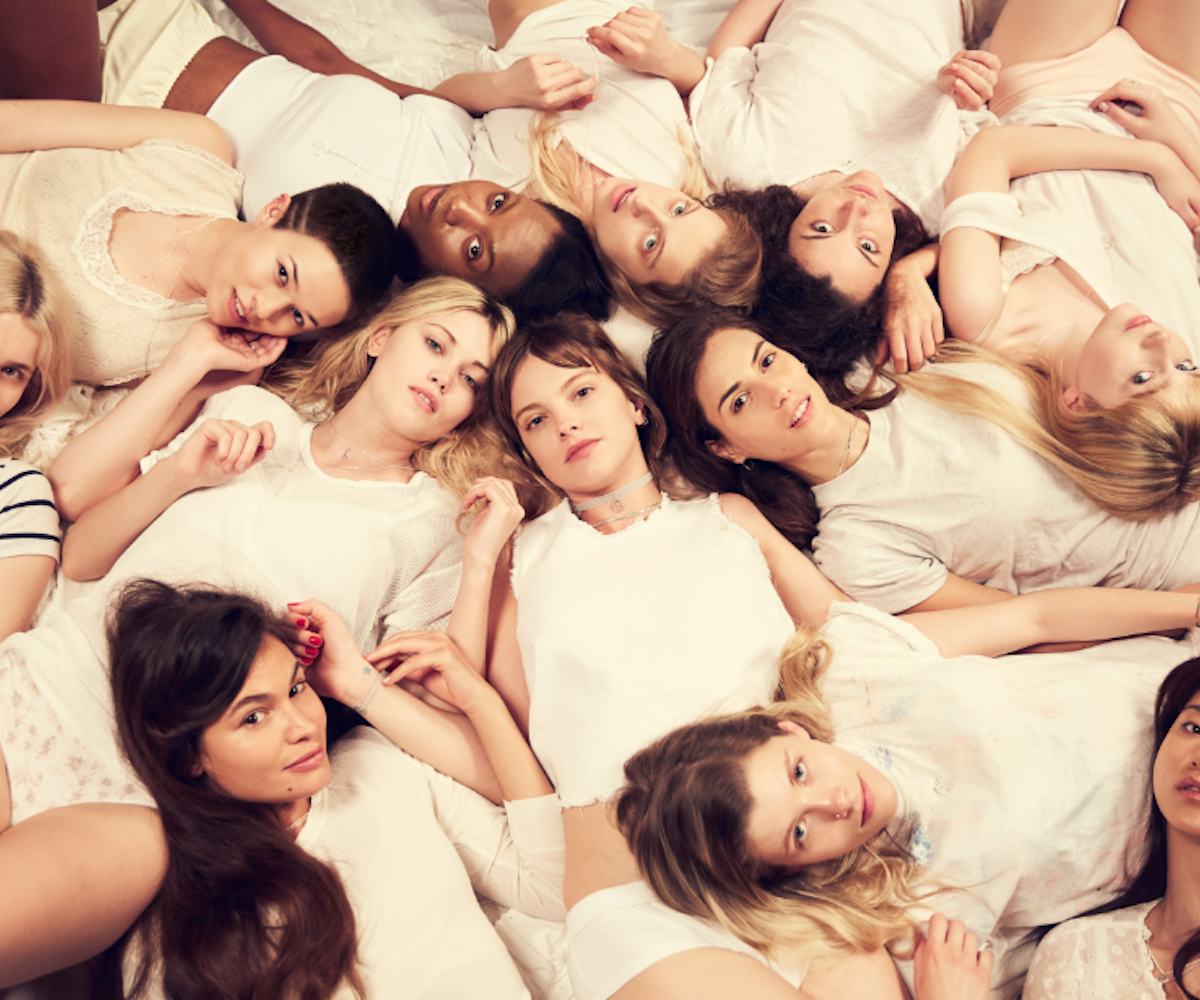 Photographed by Lee Kirby
Anteros Throw A Girl Power Party In This 'Virgin Suicides'-Inspired Video
"An explosion of glitter and girls"
In Greek mythology, Anteros was the God of requited love. It's a fitting band name for this London four-piece, which we can't help but adore. Anteros makes pop with a punch, contrasting sugar-sweet melodies with wry, smart lyrics in a style frontwoman, Laura Hayden, describes as "bitter dream pop." Today, we're thrilled to premiere Anteros' latest project—the female-centric video for "The Beat" off of their upcoming EP Breakfast.
The clip draws inspiration from the decadence of '70s New York nightclub Studio 54 and the young women of Sofia Coppola's The Virgin Suicides, based on the Jeffrey Eugenides novel. The visuals combine for a glimmering party scene that celebrates two sides of femininity—or, as Hayden puts it, "an explosion of glitter and girls." Think Farrah Fawcett, glitter-encrusted champagne bottles, and white nightgowns. 
Keeping with the theme, the all-girl video stars a host of influential women, like photographer Phoebe Fox, jewelry designer Yasmin Everley, and model Kara Rose Marshall. 
The empowering video is the perfect accompaniment to "The Beat," a fiery anthem about moving on that Hayden wrote with band mate Joshua Rumble after a text breakup. Watch the visual below, and scroll on to read what Hayden had to say about the track, feminism, and their forthcoming EP, out September 19.
How did the idea for the new video come about?
We were watching The 1975 in London when I came up with the Studio 54 inspiration. I'd recently watched a documentary on it and found it fascinating. Everything was happening at that moment—a celebration of women, ethnicity, the gay movement, and, most importantly, personal freedom. In my head, that's where I would go and shake my blues off. It felt like the right direction for "The Beat." 
The video is also inspired by The Virgin Suicides. What was the purpose behind these contrasting setups? 
Both setups stand for two sides of femininity. On the one hand, you've got the more exposed, natural, vulnerable side—which at times could be considered to be a little naive—versus the hardened, worldly, glamorized, and more empowered side.  
The video could be thought of as a feminist work. Did you intend it to be, and do you think that artists today have an obligation to use their voices to make social commentary?
I believe that art is always a commentary or evidence of the world we live in. The beauty of music is that everyone perceives it differently, and I find the same principle applies to the accompanying videos. To us, it is a celebration piece where freedom, acceptance, and capability comes from within. 
The video is about celebration, but you've described "The Beat" as a breakup song. How do you reconcile the two themes in one?
Who said breakups can't be celebrated? "The Beat goes on without you" is a proclamation that your life isn't determined by someone else and that life goes on even when they're gone. In my experience, heartbreak has made me stronger every time. To show this as a celebration in the video, positive and colorful, affirms that hope and desire for something new and exciting. The end is just the start of a new beginning.
One of the most compelling lyrics on the track is "my bloodthirsty lover, is this the game you want to play?" Tell us about that line.
It is calling someone out for being hungry for drama. An occasion where someone wants to over-complicate a situation with games, instead of being straight. 
You've described your sound as "bitter dream pop." How would you break down that label for us?
I reckon that describing your own sound is always going to be a bit weird. The first time we answered it, we were all like, "Okay, that's what we're going to use to describe it from now on." "Pop" for obvious reasons, "dream" because it sounds kinda dreamy, and "bitter" because the lyrics are always the darker side to our music. 
What's your songwriting process like?
We don't have a set process. Sometimes we sit down and Josh has a bass line or drum beat or I have a riff idea or a melody and we work from there. We work from what comes out naturally; we don't like the thought of getting too attached to the same writing process. 
What can you tell us about your forthcoming Breakfast EP?
It's a taster, a snapshot of where we are as a band at this moment in time.