Antonia Gentry Feels It All
With Ginny & Georgia's "really dark" Season 2, the actor delves deep into her emotions — while having a good time IRL.
Photographs by Tyler Twins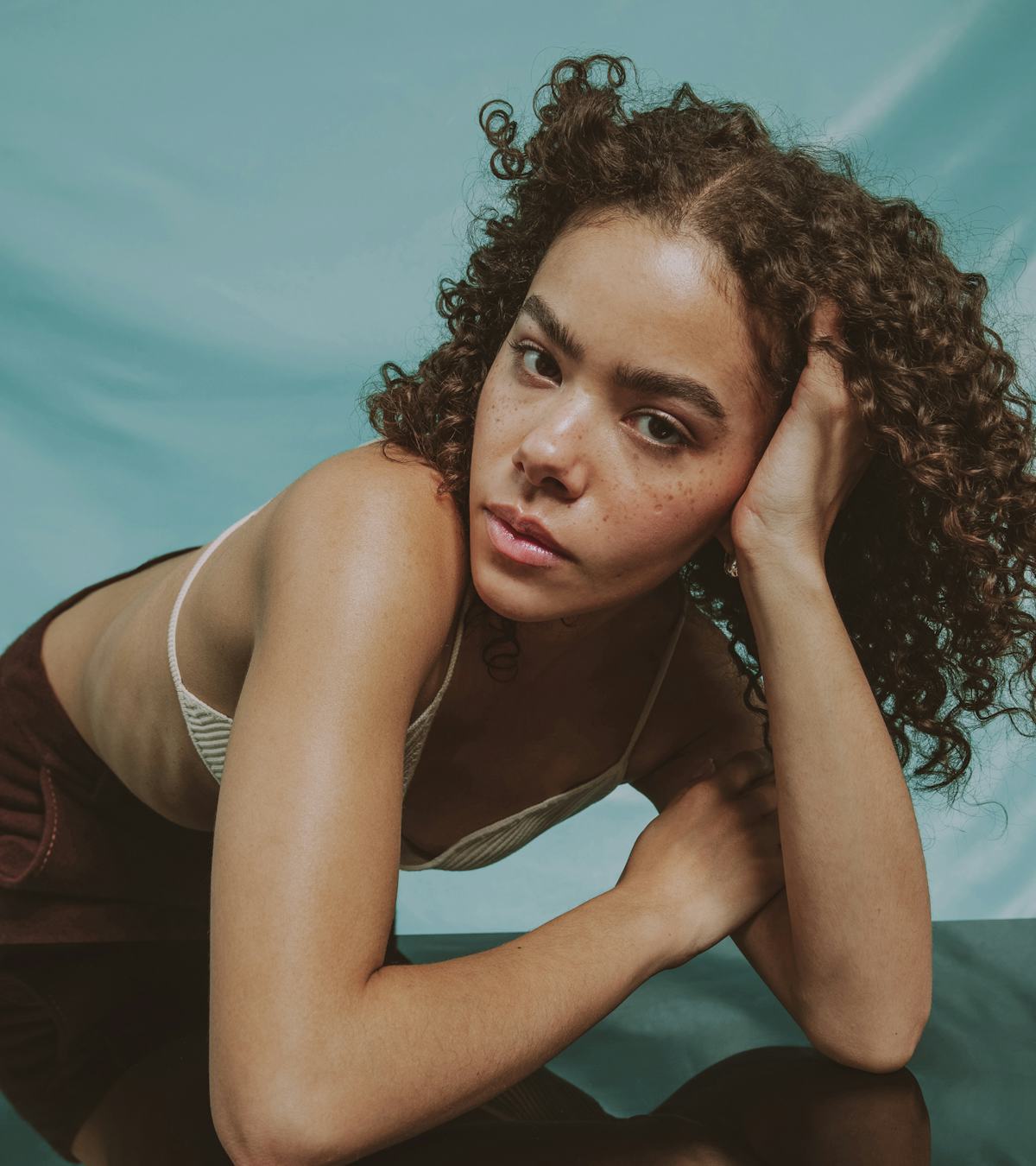 2022 was a banner year for female angst on TV. There was Grace Van Patten, yearning and stewing over a toxic past love on Tell Me Lies. The White Lotus' Aubrey Plaza deserves an Emmy for her rage-filled scowls alone. And, of course, the patron saint of teen angst Wednesday Addams, courtesy of the pitch-perfect Jenna Ortega in Netflix's reimagined series. However, within the span of just a few episodes, Antonia Gentry is giving them all a run for their money with Season 2 of Ginny & Georgia. "Ginny's sad a lot," Gentry says from her Brooklyn apartment. "Season 2 starts really dark. Even before [Season 1] came out, I would have a hard time explaining it, because I'd be like, 'I think it's funny but my character doesn't have a lot of fun.' I'm pretty sure it has fun moments, but I didn't really have a lot of fun moments [as Ginny]."
Rest assured: Gentry herself is having plenty of fun. A few weeks ago, for example, she attended her first-ever fashion show: Celine's indie sleaze-inspired Los Angeles runway extravaganza, featuring performances by Iggy Pop, The Strokes, Interpol, and The Kills. Her plus-one dropped out last minute, and she'd been in heels for press all day, but she pushed through, figuring she could always leave early. "I ended up staying for pretty much the whole thing," she recalls. "I was like, 'Why am I here?' I look to my left and there was Brie Larson, there's Doja Cat, there's all these people. I'm sitting there like, 'Are you kidding me?' When I left, I was standing outside waiting for my car and Cindy Crawford's standing there. I was freaking out so much that, as soon as the first car pulled up, I thought it was [mine]. I'm about to get into the car and it was Cindy Crawford's car that I was trying to get into. I was like, 'Oh my God. I'm so sorry.'"
It's the surreal but increasingly frequent type of thing that happens when your show becomes the Netflix series with the longest first-place streak on the Top 10 rankings of all time, even surpassing the lockdown phenomenon that was Tiger King. Gentry, 25, booked the lead role of Ginny shortly after graduating from Emory College in 2019; prior to the show, she'd only spent three days on a set. The show filmed that fall in Canada, wrapping in December 2019. Then came 2020. "I didn't work for a whole year and I was like, 'I don't know if I'm ever going to work again. The world is ending.'"
A month before Ginny & Georgia finally dropped in February 2021, she moved back in with her parents, doing virtual press from her childhood bedroom. Within a few weeks of the show's premiere, she noticed a shift. "Suddenly, I leave my house and I'm going to a coffee shop I've gone to since I was 11 and people are like, 'Oh my God, it's Ginny!' I'm like, 'Hello.'" Critics and viewers alike flocked to the show, drawn to its realistic depiction of teenage life and mental health, mixed with the thrill of an uncovered murder plot and pop culture references — one of which drew criticism from the world's biggest pop star, invariably putting the show on an even larger stage. "That was wild," Gentry says in retrospect. "Now I'm like, 'Listen, if I could survive that, I'm pretty sure I could survive anything.'"
Gauchere clothing, Pamela Love earrings, Jimmy Choo shoes
As one of the titular stars, Gentry was at the center of the this new fandom — and it was growing by the day. "I love my parents. They're my biggest cheerleaders. But sometimes, I had to tell them to stop because they would track my following. I think before the show came out, I had 4,000 followers on Instagram, then within two weeks, that shot up to half a mil," she says. "My parents were just like, 'Oh my gosh, you'd reached this benchmark.' And then I'm freaking out because there's so much going on. I'm like, 'Can we not talk about the show?''" Suddenly, Gentry had people approaching her on the street — everywhere from her newfound home in New York to the streets of Paris during a birthday trip. Then came the fan accounts, particularly those shipping her character's romance with the brooding boy-next-door Marcus, played by Felix Mallard. "That was also something that was so weird to me at first because I would open up TikTok and it would just be flooded with fan edits of Marcus and Ginny. With our interviews, people would be like, 'Oh, Felix and Antonia are endgame,' or all my comments would be like, 'You better choose Marcus.' Sometimes it's pictures of the characters and then sometimes it's pictures of me. I had to scrub some embarrassing images from middle school off the internet."
Nearly two years later, Gentry feels more prepared as she heads into Season 2, which hits Netflix on Thursday. "I feel a lot more prepared mentally than I was in Season 1, just because so much happened [then] that I had never experienced before," she says. If anything, the nerves came back in late 2021, when the cast returned to set for the first time in two years as a bonafide hit — and a lot of fans to please. Luckily, that faded quickly, too. "I was like, 'It's been so long. So much has happened in the world. We are not the same people.' But it was actually a lot easier than I thought it would be to jump right back into the characters." Picking up right where we left off in Season 1, the new episodes take a darker turn, further exploring Ginny's mental health and its deterioration following the loss of her friendships and the perceived betrayal of her mother.
Filming such emotional scenes during the pandemic in the height of a freezing Toronto winter proved to be a challenge for Gentry's own mental health. "I will say I did underestimate this season. Your body doesn't know the difference [when acting]; I'm going to work every single day, 12 hours a day, and for 90% of that, I'm playing a character that's going through a lot. My body is so tired at the end of every day, crying my eyes out every episode. I didn't see the sun for five and a half months. I was stressed out. It was not easy, not at all." To cope, Gentry did her best to take it easy in the off hours. In addition to hanging out with her cast and crew when safe, she'd spend her nights by her rented apartment's fireplace drinking wine and watching movies. "I'd put on a happy movie, or a comedy," she says. "I did watch Euphoria randomly, but was like, 'Why am I doing this to myself?'"
Gentry hopes that viewers will embrace the new season as much as they did the first; despite its darker tone, there is still all the charm of what made it a hit in the first place: the teenage friendships, the cringe of high school, first loves, and plenty of jokes. "I think that there are so many facets to our show, and so many storylines that each character now has a chance to have developed for Season 2," she says. "I think audiences are going to expect one thing, but really get another. And I think it's going to be a good change." It may be a sad girl winter for Ginny, but for Gentry, it's a different story. "There are a few coals in the fire right now," she teases, hinting at new projects. "We just have to see how some of these things pan out. I definitely think 2023 will be a really fun year."
Top Image Credits: Aeron bra, Guest In Residence pants, Pamela Love earrings
Photographer: The Tyler Twins
Stylist: Stephanie Sanchez