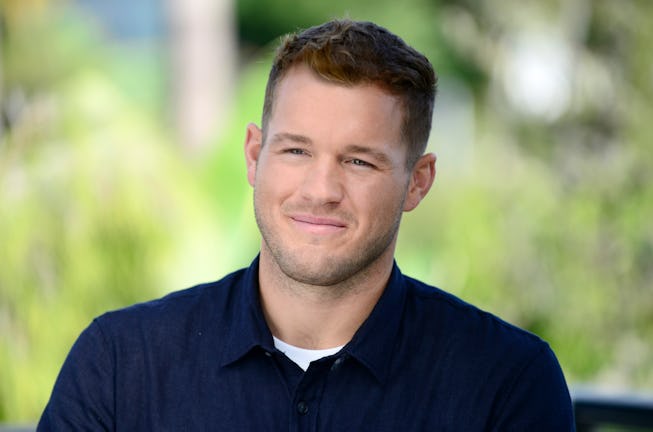 Photo by Jerod Harris/Getty Images for Tubi
'Bachelor' Star Colton Underwood Is Making a Netflix Show About Coming Out
Olympian Gus Kenworthy will appear as a "guide, of sorts."
Earlier this morning, Colton Underwood came out as gay in a revealing personal interview with Good Morning America's Robin Roberts. The former Bachelor (season 23), Bachelorette contestant (season 14), and Bachelor in Paradise alumni (season 5) opened up about his sexuality and shared details about his experience on those popular ABC shows — even admitting that his claim-to-fame (being the franchise's first virgin lead) was "because [he] was gay and didn't know how to handle it." Predictably, the interview immediately made headlines, and already, the former football player has nabbed a deal with Netflix for a reality show that has already begun filming.
Though little is known about the upcoming series, several sources close to the project informed Variety that the reality show would focus on Underwood's new life as an out-and-proud gay man. The unscripted series, which will span "multiple episodes," will also feature Olympic silver medalist Gus Kenworthy, who also had a very public coming-out in 2015, "acting as a guide, of sorts." Or as I like to call him, Gus Kenworthy: Gay Guide to the Stars.
In his Good Morning America interview, Underwood explained to Roberts that the pandemic helped him in his decision to come out. "Obviously this year's been a lot for a lot of people, and it's probably made a lot of people look themselves in the mirror and figure out who they are and what they've been running from or what they've been putting off in their lives," he said. "For me, I've ran from myself for a long time and I've hated myself for a long time, and I'm gay. I came to terms with that that earlier this year and have been processing it."
As for why now felt like the right time to finally open up publicly about his sexuality, Underwood says it was because he had gotten "into a place in my personal life that was dark and bad." Expanding, the former Bachelor continued, "I think overall the reason why now is because I got to a place where I didn't think I was ever going to share this. I would rather have died than say 'I'm gay,' and I think that was sort of my wake up call."
With a reality show on the way, we can expect more deep conversations about this "wake up call," the "dark and bad" place he reached in his personal life right before coming out, and his experience on The Bachelor — as both a virgin and a closeted gay man.
Until then, check out a part of Colton Underwood's Good Morning America interview below.