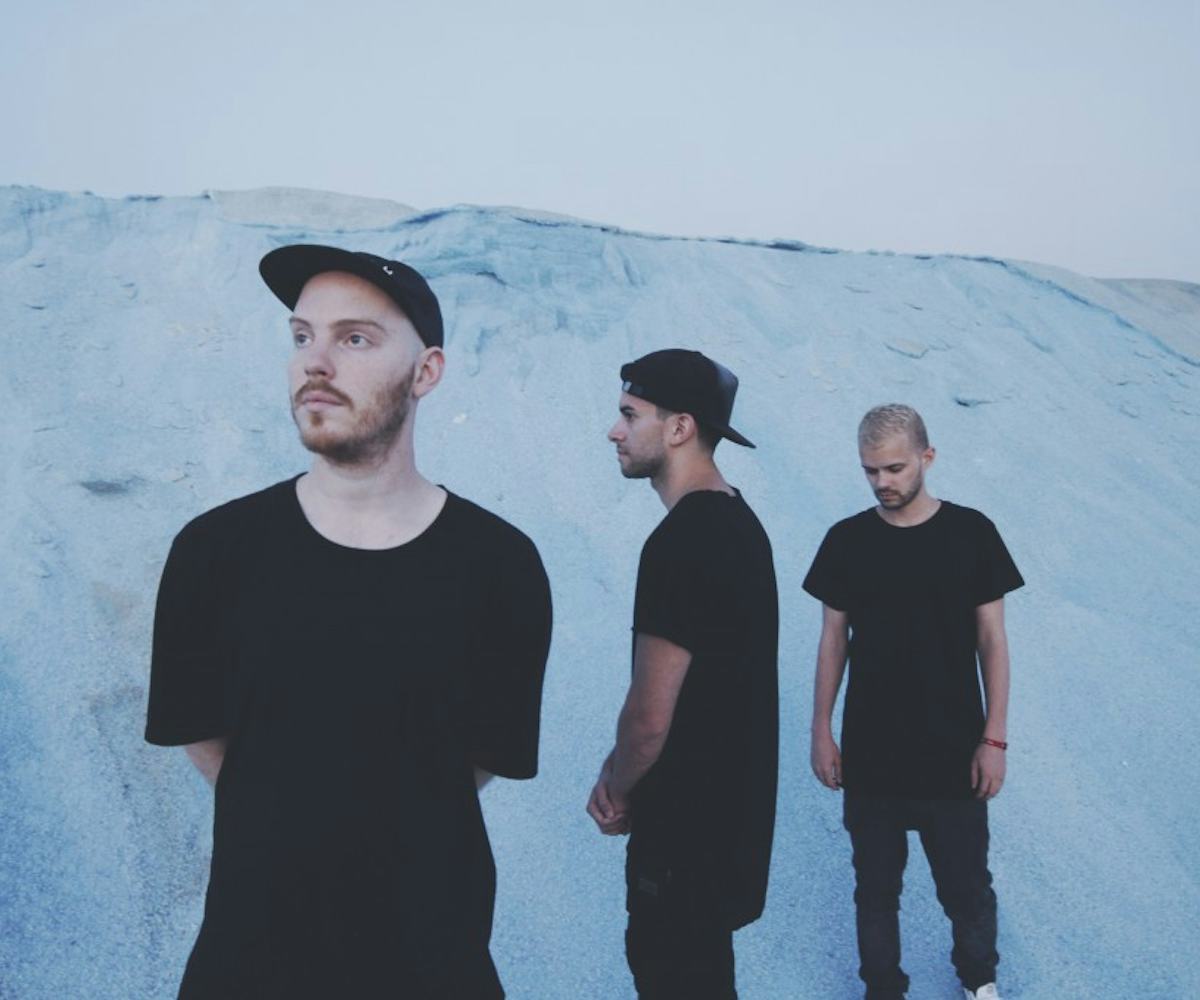 Photo courtesy of OWSLA
Band Crush: BASECAMP Is Making Moody, Skrillex-Approved Electro Out Of Nashville
listen to their ep 'greater than'
Nashville, Tennessee has always been known for country music, but bands like BASECAMP are bringing fresh, hip sounds to the growing music scene with their beautiful electronic sounds. The idea for BASECAMP was quickly born when the trio met and started writing in their hometown. While their music is multi-faceted, they work to deconstruct typical genre boundaries. With haunting melodies, intense basslines, and heavy percussion, BASECAMP creates vibrant musical layers. Their break-out track "Emmanuel"—a combination of rich vocals and R&B—quickly earned them the attention of audiences and fellow artists. They've already toured with CHVRCHES, Phantogram, and Chromeo, and the production trio recently signed with Skrillex's label, OWSLA. 
Their latest EP Greater Than is filled with introspective and luminous electro music. Born out of experimentation and "just hanging out in the studio," the six-track project started with almost no direction or concept, but allowed them to create a unique identity for each track during the spontaneous writing process. The lead single, "Watch My Back," is a minimal song about being uncertain of what a significant other wants in a relationship. They've essentially created an album of R&B-infused dance music, but it's a record layered with dark, moody sounds, pulsating synth, heartfelt melodies, and lyrics about personal experiences. We chatted with singer Aaron Miller about Nashville's growing electronic scene, what it's like collaborating with their new label OWSLA, and the band's undeniable feelings for Ilovemakonnen. 
What's it like being a part of the growing electronic and indie scenes in Nashville?
It's great! We've been performing in Nashville for a long time, and it's been cool to watch the scene expand, show by show. There was a time when it would have been normal to expect less than 20 people come see an act like us, so it's awesome to now have the kind of support that electronic artists receive here.
How did the three of you get together and first start making music?
We met through a mutual friend and artist that we were all working with at the time. We got to talking about the records we'd been listening to, and thought it might be fun to make some music. We had no intention of actually starting a band, because we'd all been down that road enough times. But after we had a few songs finished, we were really happy with what we were on to. We decided to give it a proper go.
Where does the name BASECAMP come from?
There wasn't anything too specific behind it. It really just felt right and conjured this image of a safe place in harsh wilderness. Seemed to fit us aesthetically. 
What's your musical background? 
We all started at a pretty young age. Harmon and Reyes grew up together and have been in bands since they were in middle school. I've been singing for as long as I can remember and started playing guitar when I was 13. I didn't really get into writing until after high school.
How does the music-production process work for you guys? How do the three of you collaborate?
We typically start with the music first. The three of us will build out a track until it starts to feel like a song, at which point I take it home and start writing to it. But the process varies, song to song. We just go with what feels right.
What's the story behind your new EP?
Greater Than was a song I wrote when I was younger. In a broad scope, it's about the weight of a decision (or sometimes, lack thereof). That kind of set the tone for the whole record. Every song follows that theme in its own way. It's admittedly retrospective, for sure. Musically, it was born out of experimentation…lots of late nights turning knobs!
Everyone's always trying to pinpoint music into a specific genre, but your sound is really multi-faceted. How would you describe it?
We honestly always end up fumbling around for an adequate description. We just don't really think in that way. We don't set out to make a certain type of music that fits a specific genre. We just make what we like with the tools we have, but if we had to stick it in a broad category, we'd call it electronic. 
What musicians do you draw influence from?
That's a huge question, and this interview would end up a novel if we tried to answer it fully! But to throw out a few of our first influences, it started with a lot of Mount Kimbie, James Blake, SBTRKT, Koreless, etc. A lot of stuff from the U.K. really, but then a lot of random stuff most people wouldn't expect, ranging from Kanye to João Gilberto. It's all over the place.
You've played with bands like CHVRCHES, Phantogram, and Chromeo. What's that been like? Who do you want to play with next?
It's been awesome! Everyone we've performed or toured with has been really kind and fun to hang with. There are a lot of people we'd love to play with. Maybe Little Dragon or Majid Jordan? 
We love your remix for Swedish singer Erik Hassel's song "Talk About It." How did that come up? Are there any new remixes in the works soon?
His label approached us about it. Erik's a great dude, and we've worked together since then. He's good hangs! No remixes from us on the horizon at the moment. We've done quite a few remixes over the last year, so we're devoting our attention to original material. But we are getting ready to drop a few remixes of songs on the new EP that we're very excited about.
Tell us about Skrillex's label, OWSLA, that you recently signed with. 
They're great! It's been really easy working with them. Sonny and the whole team have been awesome with us. We feel very at home there.
Your live shows have featured synchronized ballet dancers in the past, which is so cool. How did you come up with that, and how do you coordinate everything?
That was actually a part of a special production we did called "Gradient" with Stacie Flood-Popp and Found Movement Group in Nashville. We spent several months putting it together, and it was by far the biggest creative undertaking for us to date. It was an incredible experience. We're hoping to eventually tour with it! 
What new bands are you into lately?
There's a ton of great stuff out right now. Billie Black, I'lls, Hiatus Kaiyote, Hoodlem, Mick Jenkins, Kllo. Jamie Lidell's new stuff is sick af. The list goes on…
It seems like your musical influences extend much farther than your hometown of Nashville. If you could choose anywhere to tour with your music, what would be your ideal place? Where do you think you'd best fit in?
Probably Europe. We've been eager to get over there for a while now, and I feel like we'd fit in over there for sure. We would also love to get to Australia, Japan, Korea, South America. We'd love to go everywhere, honestly.
What can you tell us about your love for ilovemakonnen?
It's pretty deep! But really, he's awesome. We had a lot of fun working and hanging with him.
What's next for BASECAMP?
We have a few more shows before the end of the year, namely Red Bull's 30 days in L.A., where we'll be performing with ilovemakonnen and Jazz Cartier. Besides that, we're just finishing the next record and continuing to collab with a few people!