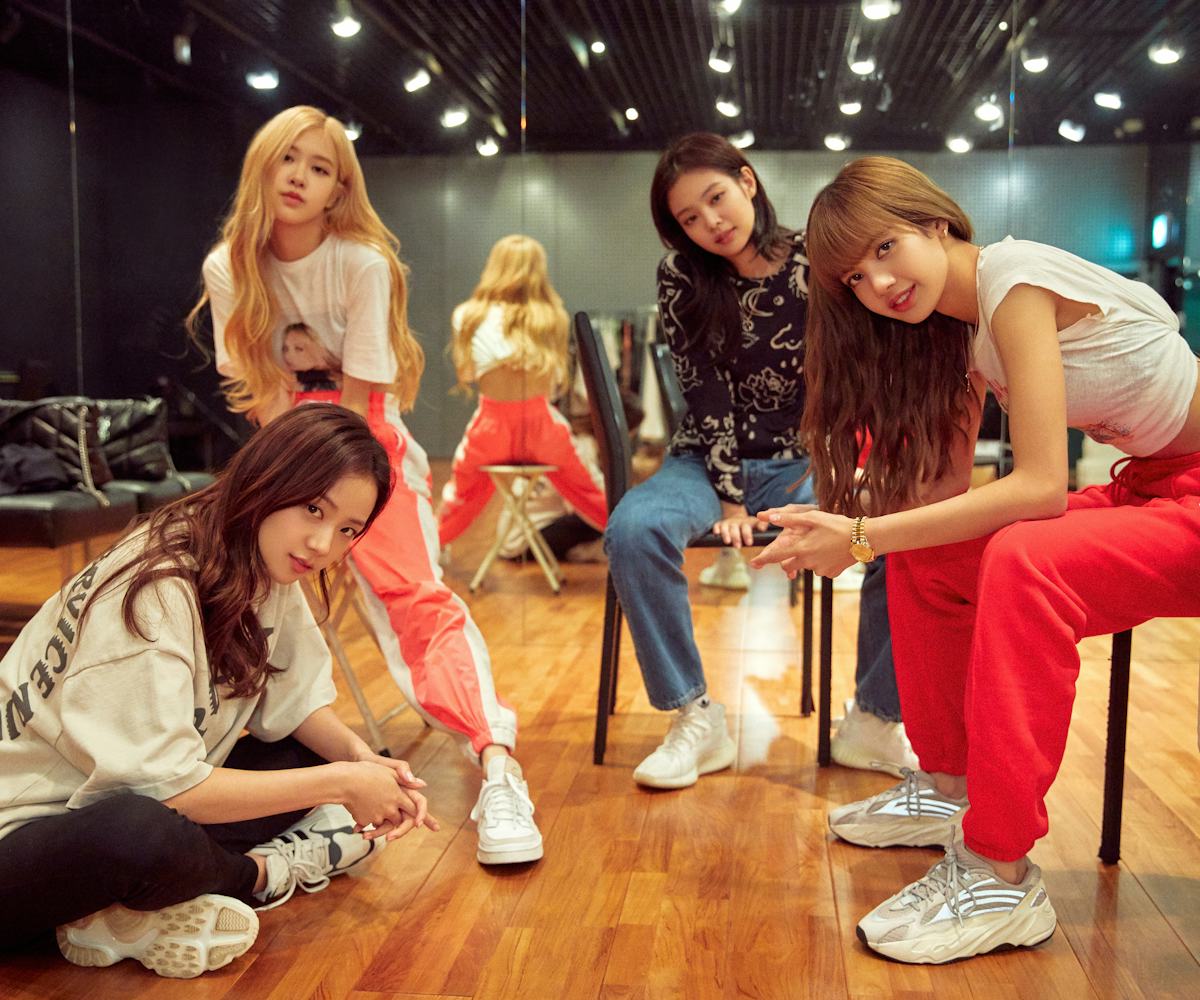 Director Caroline Suh On Filming BLACKPINK & Capturing Their Vulnerable Moments
Ahead of the release of BLACKPINK: Light Up the Sky, the director opens up on filming the world's biggest girl group.
There's a moment early on in Netflix's BLACKPINK: Light Up the Sky when member Jennie turns shyly away from the camera and says, "I always avoid interviews or any questions about me because I would rather not talk about myself." It's not exactly what a filmmaker wants to hear when tasked with the job of getting someone, especially a famous someone, to open up. But Jennie's soft-spoken confession is real enough to be revealing. It's this frankness — delicate in its delivery, direct in its message — that makes BLACKPINK's Jennie, Jisoo, Rosé, and Lisa such compelling muses for Korean-American director Caroline Suh as she focuses her lens on the biggest girl group in the world.
BLACKPINK: Light Up the Sky, the gargantuan K-pop girl group's new documentary out Oct. 14, paints a more prismatic portrait of the group than the "pretty savage" personas they project through their music and on stage. Over its 79 minutes, it reveals four young women who yearn to show more: their talents, vulnerabilities, and ambitions. They do so through intimate moments where they get to be themselves — Rosé pouring her soul into a song she doesn't want anyone to hear, Jennie advocating for a girly concept, Jisoo joking around in the studio, and Lisa snapping photos of her bandmates as if committing them to memory.
As documentaries become an increasingly popular medium for celebrities to tell their stories, Suh had access to an "amazing amount of archival material" from the group's Korean management company YG Entertainment, she tells NYLON on a recent phone call. There's footage from their trainee days, and the doc even opens with a scene from the group's 2016 debut news conference as they stand nervously on stage ready to introduce themselves as BLACKPINK for the first time. Putting it all into context, Suh makes a point to show not only who they are as individuals and how they came to be part of the BLACKPINK revolution but also to capture what that feels like. The singular sensation of going from sleepless nights spent in practice rooms and giggling on dorm room floors to becoming chic global superstars making history.
How long did you film with BLACKPINK?
We shot for two weeks in total. One block of time in the fall [of 2019], and then in February of this year we went again. It was great. The members devoted all of their time to us when we were in Korea, so we got to film them in the studio working and then also doing what they like to do in their downtime.
What was your perception of the K-pop industry before you started working on this project?
I knew a little bit. My nephew knows everything about K-pop. He's in high school, and he's a huge fan. So I knew a little bit just from talking with him. And I knew about the Korean wave, the culture wave. But I didn't know anything beyond that. So I did a deep dive when I found out that I'd be working on the project to get the context for their story. I read all sorts of articles and listened to podcasts, and we had great researchers who passed along a bunch of clips to me.
It's funny because that's what a lot of fans do as well when they get into a new group. One video turns into five videos turns into 13 videos, and suddenly you're staying up all night watching variety show clips and performance stages.
The first time I went to Korea to meet with Teddy and the BLACKPINK members, I got to go backstage at one of the shows. I actually went to the cafeteria where all of the performers go after their tapings. It was incredible. It was like a scene from a movie. All of these boy groups were eating ramen while perfectly made up and in their costumes.
This film really highlights the contrast of who BLACKPINK are onstage versus offstage. Was that what you wanted to convey?
I really wanted to give them space to talk and talk about their experiences in a candid way. So it was less that I was trying to prove a point and more that I wanted to understand and explore how they were feeling, where they came from, and how they came to be in this crazy moment. I just wanted to understand their personal stories of how they came to be part of this phenomenon and what that felt like. For people who aren't huge BLACKPINK fans, we wanted to introduce them and where they came from.
I love that Jennie starts her interview by saying she doesn't like talking about herself. It's almost like she's indirectly challenging you. Was it difficult getting her to open up?
We did the interviews toward the end of filming, so they knew us. They hadn't been part of a project like this before, so they came to understand what we were trying to do and that we really wanted to show them as they really are. Those were our only intentions. So by the time we interviewed her, she felt comfortable with us. She's shy, but she is also very unguarded in a lot of ways. She tells it like it is. If she is going to talk, she's going to be honest. That's what you see in the interview is her being totally straightforward, which is how she is.
You were able to talk to Jennie and Rosé primarily in English. Did that help foster a connection with them during these interviews?
The language barrier is a bit of a barrier, but you overcome it with other kinds of expressions and body language. I do feel like I got to know Lisa and Jisoo as well. You just have to get over that initial hurdle of trying to figure out what the other person is saying.
You have to place a lot of trust in your translator.
That is very true. She was great, and she was very involved. I trusted her completely.
You also go inside of the studio with Rosé as she works on some solo material. She talks about how the studio is a vulnerable place for her and that she doesn't feel comfortable letting a lot of people listen to her unfinished work. Did it take any convincing to get that access?
No, she wanted to do it. I think she wanted to show that side of herself. At the same time, when we were inside [of the studio] filming with her, she forgot we were there. She was really concentrating on the song. I love that scene because you can see on her face, without any words, all of the emotions she's going through, the fear but also the determination. I love seeing her push herself and do something she was terrified of because she really was.
There's a lot of honesty in this doc, but some of her interviews were especially revealing. There's that candid moment where she says she misses her trainee days because when she was a trainee she was surrounded by music all of the time and now her days are spent doing a lot of things that aren't music. When we think of the industry-standard trainee process, it sounds grueling, but here's Rosé yearning for that time again.
I love when she says that. Also, when I asked Jennie about being nervous about the future because after the big hit the follow-up can be nerve-racking, she said, "We have so much left to show you guys." I think that's so interesting. They have so much deep training that they can draw on a lot of creative influences, so there's many more styles of music that they can make.
Lisa's answer to that question was also really illuminating. She says, "It doesn't matter if we grow old or get replaced by a new generation as long as there are still people who remember that we shone so bright." As women in the music industry, there's this idea that they have to fight for relevance as they grow older. But Lisa has such a positive mindset.
It's very Lisa. I love that about her. She's very happy. She makes the most of things, and you can tell that she's really enjoying this moment.
She speaks in Thai, her native language, throughout the film. That was a nice personal touch.
What we said to all of them is to speak in whatever language or languages you feel most comfortable in. Lisa is incredible. She just drifts in and out of three languages during the interview, and that's fun to see. It's very natural for her.
Jisoo is someone who is often misunderstood by people who don't know a lot about BLACKPINK. She is a bit quiet and can come off as reserved, but this film really highlights her humor. What was it like getting to know her?
I love Jisoo. She's really funny. She is very mature. I just like her a lot as a person. Her instinct is to take care of everyone else, to step back and help everyone else be successful. I love when Teddy says that she's street smart because that shows a different side of her. You really shouldn't take her powers for granted. She's a force. She's very subtle, and there are small moments in the film where she shows who she really is. At the beginning when they're in the recording studio, she sings one note, and it's really funny. When she's cooking with Jennie and says it's not bad but not good. She has these subtle, very funny moments.
These kinds of celebrity documentaries can be challenging, especially when there's access and oversight involved. Did you at any point feel like YG Entertainment was trying to control the message at all?
You know, it was surprisingly really not an issue. When we were planning the shoots and trying to figure out what to film with the girls, YG just said, "Ask the girls. Don't ask us." They have to approve it and be happy with the filming. So they really had very little to do with our production plan and what we were going to film and what we weren't. They had no real presence in the interviews. It was a nice surprise that they were respectful of the process and didn't try to control it at all. And we had final cut, so they saw the film at the end. Luckily, they were very happy with it. I was pleasantly surprised. Because whenever you're dealing with any celebrity or talent you always feel like there might be layers to get through. But there really weren't.
The film attempts to contextualize their success. As someone who has spent time getting to know them, hearing their stories, looking at countless hours of footage, what do you think is the secret to BLACKPINK's meteoric rise?
I don't know for sure, but what is true about them is that they are these very determined, hard-working women who come together and are part of a group that's become bigger than each of its members. They're stronger together. They take care of each other. That's a very appealing idea to people, and it comes through in their performances and their music.
You saw BLACKPINK perform live at the Prudential Center stop of their In Your Area tour in 2019. What was it like seeing the BLACKPINK revolution in full force for the first time?
It's pretty overwhelming to be in a huge arena with all of these lightsticks. I imagined that it would be a lot of teenage girls, but there were all sorts of different kinds of people. There were guys in their 30s there. There were parents of children. I was shocked by how diverse it was. And I also thought that most of the people would be Asian, probably naively. That wasn't the case.
Did it bring more clarity to the project once you saw the scope of their impact?
I think I became a fan that night. Their songs are very catchy. And I was excited to see what a huge production it was.
Can you officially call yourself a Blink?
I can. Should I?
BLACKPINK: Light Up the Sky will be available to stream on Netflix on Oct. 14, 2020.