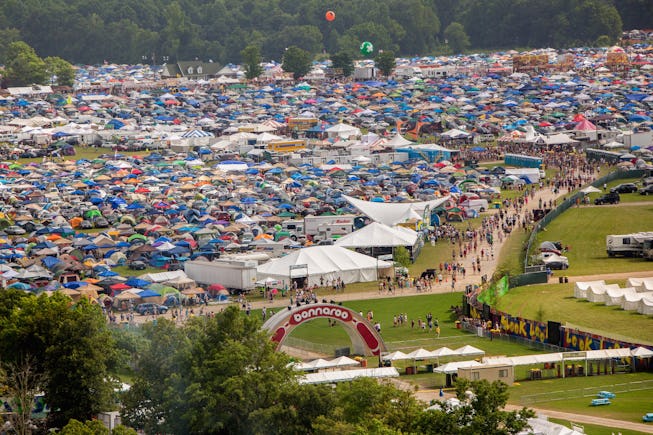 Douglas Mason/Getty Images Entertainment/Getty Images
Bonnaroo Cancels Its 2021 Festival Days Before The Event
Due to unfortunate errant weather.
Bonnaroo 2021 has officially been cancelled, not due to Covid-19 but rather unfortunate, errant weather.
In a statement posted on Tuesday the festival organizers announced the cancellation, saying they were "heartbroken" to do it, but the festival's main grounds were "waterlogged in many areas, the ground is incredibly saturated on our tollbooth paths, and the campgrounds are flooded to the point that we are unable to drive in or park vehicles safely." Over the past 24 hours, Tennessee has been under heavy rain and flooding due to Hurricane Ida making landfall.
"Mother Nature has dealt us a tremendous amount of rain over the past 24 hours, and we have run out of options to try to make the event happen safely and in a way that lives up to the Bonnaroo experience," they continued. "Please find ways to safely gather with your Bonnaroo community and continue to radiate positivity during this disappointing time."
Per Bonnaroo, all ticket purchased via Front Gate Tickets will be refunded within 30 days to the original method of payment.
Bonnaroo 2021 was expected to kick off this weekend on September 2-5, and many of the festival-goers were already on their way to the farm when the cancellation was announced, including one who said on Twitter that they drove 18 hours overnight to attend.
Were it not for the rain, they would've enjoyed performances from a stacked lineup, including LIzzo, Tyler, the Creator, Foo Fighters, Megan Thee Stallion, Tame Impala and more. Incidentally, this years festival was also slated to be their 20th anniversary edition, a celebration that would've happened in 2020 were it not for Covid-19. Well, what's one more year?
Editors Note: This article was updated on August 31, 2021 with news of Bonnaroo's cancellation.
This article was originally published on