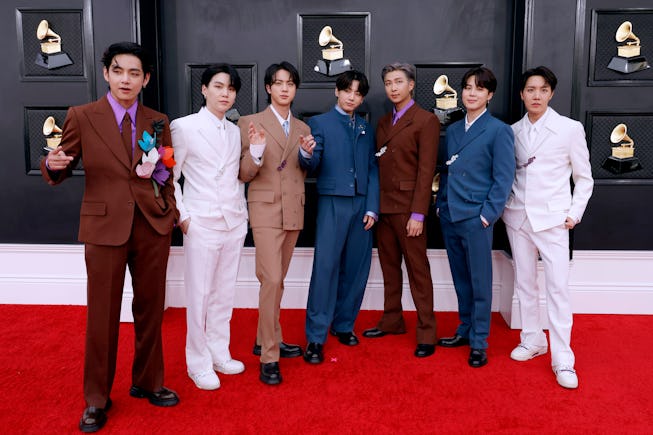 Frazer Harrison/Getty Images Entertainment/Getty Images
BTS Wrote An Oral History About Their Career — And It's Out This Summer
Over the last decade, many versions of BTS' story have unfolded. There's the version told by journalists; the version told by fans; later this year will arrive a documentary version on Disney+. But now, there will be a version told by the members themselves. On Thursday, the K-pop juggernauts announced that they will be publishing a book, Beyond The Story: 10-Year Record of BTS, that will tell the definitive oral history of boy group's lore in their own words.
Beyond The Story: 10-Year Record of BTS arrives July 9 and is written by South Korean journalist Myeongseok Kang alongside the members themselves. Fans will be glad to know it'll be a hefty product — clocking in at 544 pages for the U.S. edition with exclusive, never-before-seen photographs, according to The New York Times. There will only be one million copies printed for its first run, so you'll want to mark your calendars, or better yet, try and snag a pre-order. Flatiron Books will be its publisher in the U.S., and the boy group's own label, Big Hit Music, in South Korea. (And yes, there will be an English translation by Anton Hur, Clare Richards, and Slin Jung.)
This announcement finally puts to bed a frenzy of speculation about the book which many fans at first thought was going to be about Taylor Swift. The rumor was that Flatiron was going to publish a nonfiction title about a global pop phenomenon this summer, and given its release date, July 9 (an important date in Swiftie history), many Swifties assumed it would be penned by the "Love Story" singer. Without knowing the actual title or author, Swifites then sent the mystery book to the top of the pre-order charts on Amazon and Barnes & Noble.
But, alas, July 9 is an important date in BTS history, too: it's the date when BTS officially named its fanbase "ARMY," also known by fans as "ARMY Day." The group deciding to make that the official release date for the book feels especially symbolic as its members get ready to embark on their military enlistment this year — yet another acknowledgement to fans that BTS wouldn't be where it is without them.
The book is just one part of a flurry of content the boy group is expected to release this year. There's still that aforementioned upcoming Disney+ documentary on the way — and just today, Friday, May 12, BTS dropped a new song called "The Planet" for the animated series Bastion.