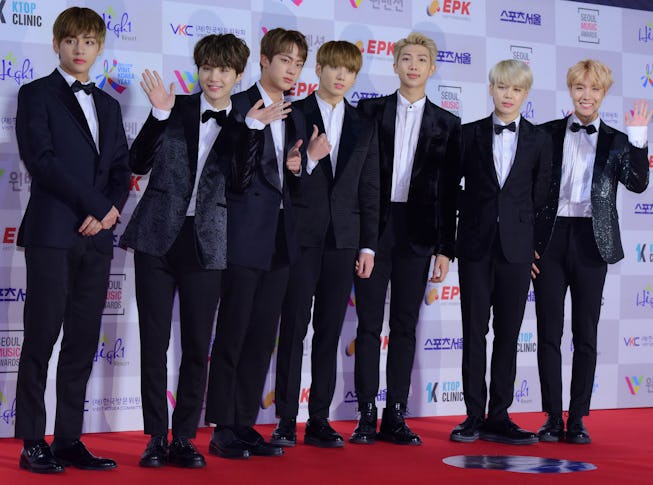 The Chosunilbo JNS/ImaZinS/Getty Images
BTS and McDonald's Are Dropping A New Meal
BTS and chicken nugget stans, rejoice!
When McDonald's began its meal collaborations with the most hype names in music back in 2020, it was only a matter of time before they went in for the big boys — BTS.
The widely adored, chart-topping K-Pop boyband is offering up their "signature order" for fans worldwide to enjoy, and fast food employees will begin slinging the "BTS Meal" to the masses starting on May 26. The robust order comes with a 10-piece Chicken McNuggets, medium fries, and Coke, and also includes the US debut of two new dipping sauces — sweet chili and cajun — inspired by the burger chain's South Korean offerings.
BTS fans in the United States, Canada, and Brazil will be the first to cop the coveted "BTS Meal" on May 26, followed by those in BTS' native South Korea on May 27, and before long, the meal will be available for purchase in 50 countries spanning the six continents. The boyband's move with McDonald's follows that of rapper Travis Scott and reggaeton star J Balvin, whose successful meals will absolutely get a run for their money once the "BTS Meal" hits menus across the globe. BTS stans: it's your time to dine.