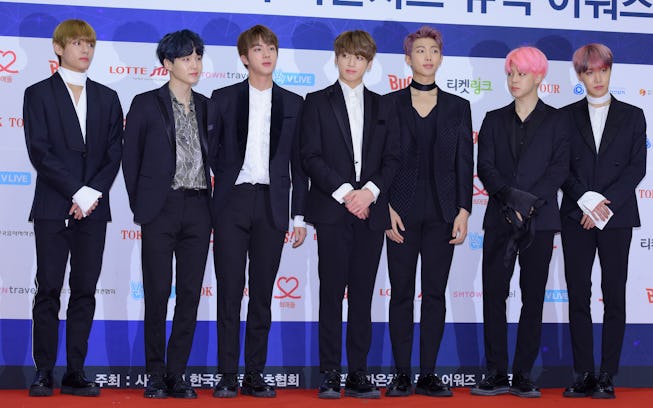 The Chosunilbo JNS/ImaZinS/Getty Images
BTS Condemn Anti-Asian Racism In Emotional Note: "We Feel Grief And Anger"
They also shared the discrimination they've faced as a group.
Following the fatal mass shooting of eight people — six of whom were Asian women — at three spas in Atlanta, Georgia, and in the wake of increasing violence and harassment towards Asian Americans and Pacific Islanders everywhere — the world's biggest boy band has spoken out against AAPI hate. BTS shared a powerful note on Monday evening condemning the recent horrific events, while also offering a glimpse into the discrimination they've faced as K-Pop's most Western-facing music group.
In their note, which they posted in both Korean and English to their Twitter, they write that they feel "grief and anger" surrounding the recent events, and explain that they took considerable time as a group to "discuss carefully" how they should speak up and voice their message. In a rare move, their note also opens up about the mocking they've endured throughout their career.
"We recall moments when we faced discrimination as Asians," they write. "We have endured expletives without reason and were mocked for the way we look. We were even asked why Asians spoke in English."
While they say their experiences are inconsequential compared to the horror that's transpired against Asian Americans in recent weeks, they say that the comments "were enough to make us feel powerless and chip away our self-esteem."
At the end of their message they state firmly: "We stand against racial discrimination. We condemn violence. You, I and we all have the right to be respected. We will stand together."
While the seven-member boy band rarely speaks out about current event happenings, they did also release a statement last summer in the wake of George Floyd's murder and the worldwide protests that erupted in response to it. Their statement at the time was the same as the last few lines from their AAPI note: "We stand against racial discrimination. We condemn violence. You, I and we all have the right to be respected. We will stand together."
The group and its record label Big Hit Entertainment also donated $1 million to Black Lives Matter. When asked about the donation by Variety, member Suga responded, "I don't consider ourselves as political. I don't want to speak in political terms. Ours are initiatives that any person who wishes to live in a just world would want to pursue. We aren't trying to send out some grandiose message."
Many K-Pop stars, including veteran musican CL, Jay Park, and more, have spoken out against the Atlanta shooting in recent weeks with the hashtag #StopAsianHate. Other AAPI figures like Lana Candor and Sandra Oh have called their followers to action as well. "Your Asian friends and family are deeply scared, horrified, sick to their stomachs and wildly angry," Candor wrote on Twitter. Megan Thee Stallion recently pledged $50,000 to Advancing Justice Atlanta to assist in their efforts supporting AAPI communities in Atlanta.