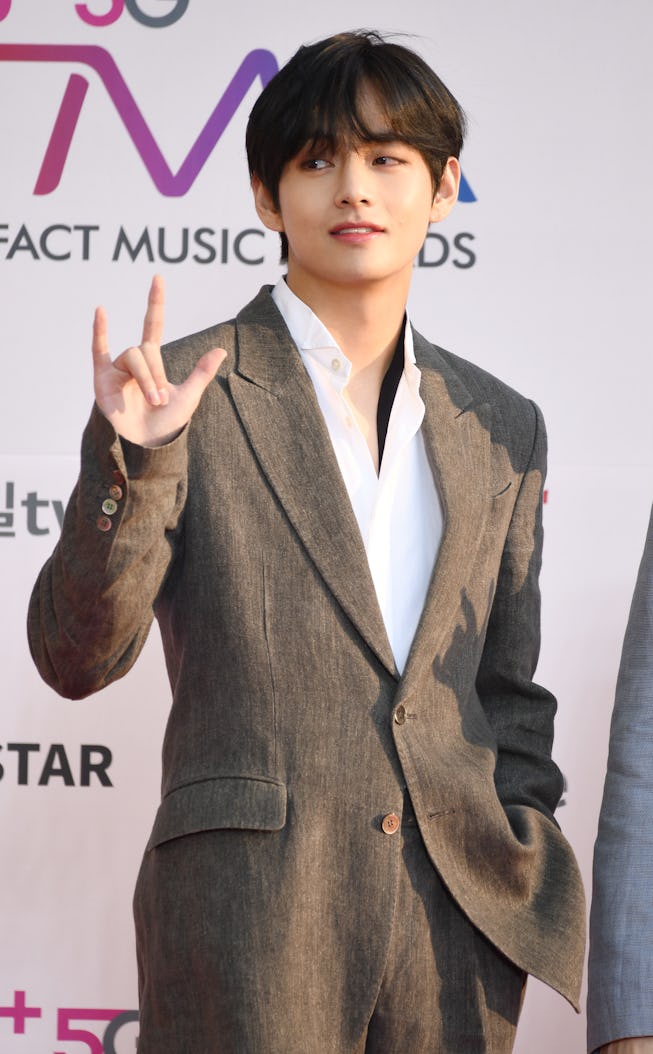 The Chosunilbo JNS/ImaZinS/Getty Images
BTS Member V Might Have New Music Coming
"Sleep" could turn out to be his new single.
If BTS knows how to do one thing, it's how to throw their stans on Twitter into a state of delirium. The culprit this time around is V, real name is Kim Taehyung, and a snippet of new music that in all likelihood could be from his highly-anticipated, forthcoming mixtape.
V shared the clip on Twitter on Tuesday with only the word "sleep" and a matching emoji. Could we have a song title on our hands? The track is a mellow offering, with only stripped down piano instrumentals accompanying V's dulcet tones. Thankfully @btstranslation7 was quick to the cause and translated V's lyrics to English: "The silent night approaches me / and when I look towards the window with an empty gaze / I see the clouds outside are still walking [in the sky] / and the ruffling of my bed covers / slowly, slowly fades away / slowly, slowly the night fades away." Sounds like we have a ballad on the horizon!
"Sleep" is likely a single from V's mixtape, and could mean that new work will be coming sooner than later. V's fans have been patient, considering he's been teasing his mixtape for nearly one calendar year. His initial mention of dropping the mixtape in 2020 came and went, but thankfully he still has eight full months left in 2021 to get things moving.
Listen to V's vocals below.