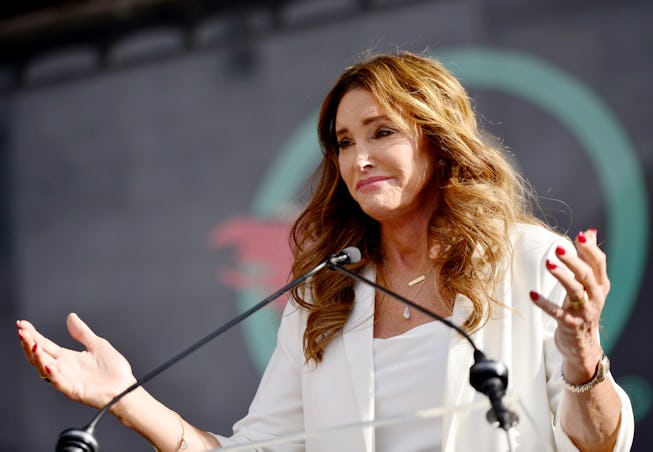 Chelsea Guglielmino/Getty Images Entertainment/Getty Images
It's Official, Caitlyn Jenner is Running For California Governor
She's challenging California Governor Gavin Newsom in the state's recall election.
Every so often, something peculiar happens in a celebrity's brain chemistry that tells them to run for political office and represent millions of ordinary, working people. The United States was famously led for four years under business mogul and reality television star, former President Donald Trump, who was also running against fellow celebrity and music giant Kanye West. Before that, action movie star Arnold Schwarzenegger became the governor of California, and before that, another former actor turned California governor became President Ronald Reagan. This legacy is robust to say the least, and the latest celebrity to take up the cause for political leadership is former Olympic athlete and reality television maven Caitlin Jenner.
Jenner has officially filed the paperwork to run for governor of California, actively seeking to replace current Democrat governor Gavin Newsom. Jenner criticized the state and Newsom for its "over-restrictive lockdown" in response to the COVID-19 pandemic. As a longtime Republican, Jenner will likely seek to be the party's nominee in the forthcoming recall election.
"Sacramento needs an honest leader with a clear vision," said Jenner in a statement. "For the past decade, we have seen the glimmer of the Golden State reduced by one-party rule that places politics over progress and special interests over people."
Jenner also denounced California's taxes as "too high," and took a direct shot at Governor Newsom's lockdown double standards: "This is Gavin Newsom's California, where he orders us to stay home but goes out to dinner with his lobbyist friends."
Per Axios, Jenner has hired GOP strongholds including Tony Fabrizio, the top pollster on Donald Trump's 2016 and 2020 campaigns, and Steven Cheung, a former Trump White House and campaign communications. Jenner was previously a vocal advocate of President Trump until late 2018, when she realized the president was "relentlessly attacking" the trans community.