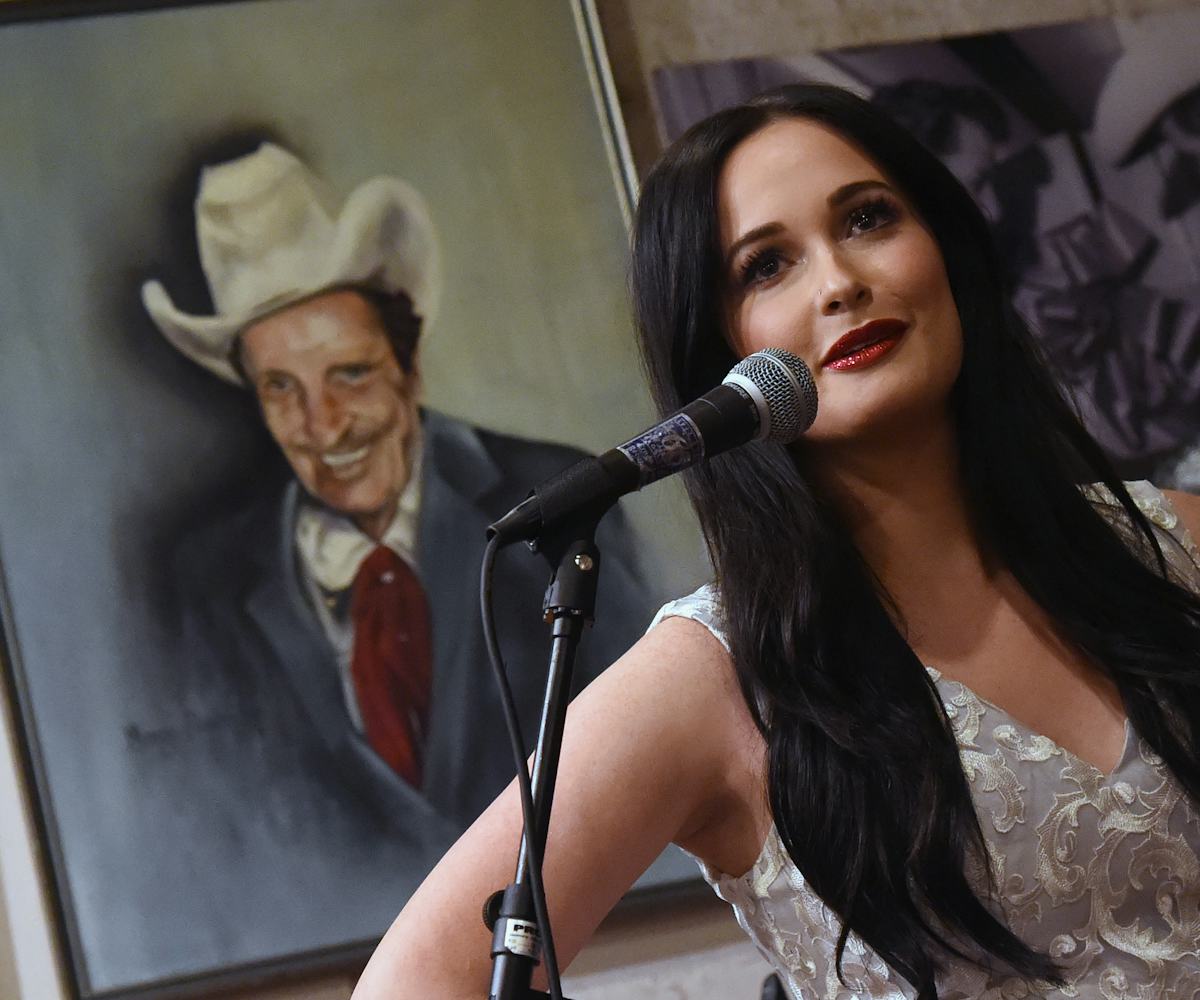 Kacey Musgraves, Photo by Rick Diamond / Getty Images
What Will It Take For Us To Consider Country Music Seriously?
A new crop of country music stars are taking the genre in a more progressive direction
On January 19, Toby Keith played Donald Trump's inauguration concert and delivered songs like "Made In America" after announcing he wouldn't "apologize for performing for [his] country or military." Add to that the fact he was joined by country brethren Tim Rushlow, Marty Roe, and Lee Greenwood, and the genre's stereotypical red, white, and Republican ethos began to seem like an ideal counterpart to Trump's "all-American" ideals. Country music, after all, has a reputation steeped in celebrating a very Christian, white, and gender-specific brand of Americana. And because of that, it's also begun to feel largely obsolete.
But the thing about country—even the genre's name evokes nationalistic pride—is that it's represented by more than outspoken Trump supporters. The current generation of country music stars—specifically young women like Maren Morris, Kacey Musgraves, and Mickey Guyton—have picked up the torches carried by artists like Shania Twain, the Dixie Chicks, and even Dolly Parton, and are using their music as avenues to celebrate different perspectives that live eons away from tributes to the American flag.
And those perspectives have always existed within the genre. When Shania Twain released The Woman In Me in 1995, she sang about traditional heteronormative values ("No One Needs To Know"), but used tracks like "Any Man Of Mine" to lay the groundwork for independent power numbers like "That Don't Impress Me Much." Meanwhile, The Dixie Chicks strayed from their "Cowboy Take Me Away" roots to call out President Bush in 2003, saying they were embarrassed he was from their home state of Texas in the wake of the war in Iraq. As a result, they were essentially blacklisted by the genre's right-leaning fanbase and radio stations. But from death threats and CD burnings, they rose from the ashes and used the experience to fuel their punk rock personas, going on to release "Not Ready To Make Nice" and the documentary Shut Up and Sing which drew light to the realities of making political statements as country artists. Furthermore, Parton has spoken out on the importance of transgender equality and reveled in her status as an LGBTQ ally. (On top of releasing music that celebrates and revels in the complications of being a woman.)
But it's country's legacy as a platform for right-wing rallying cries that eclipses what it could be. Older, louder voices (like Ted Nugent's or Loretta Lynn's—both Trump supporters) fit the mold they helped create back when musical genres targeted specific demographics. Similarly, when country artists do weigh in on politics, it's not typically in response to protesting conservatism. When Garth Brooks was asked to participate in Trump's inauguration, he blamed his hectic tour schedule on his inability to show up. And when Carrie Underwood and Brad Paisley co-hosted the CMT awards in November, they made as many jokes about "baskets of deplorables" as they did about Trump himself. In fact, Rolling Stone writer Joseph Hudak put it perfectly: Country stars don't tend to stand up, lest there be a Dixie Chicks-like backlash. But they need to. Especially if they want non-country fans to take country seriously.
But there is hope. Musgraves, Brothers Osborne, and Morgan Price all tweeted in solidarity with the Women's March back in January, and so did Jennifer Nettles and Kristian Bush. Last July, Musgraves, Aubrie Sellers, Mickey Guyton, and Maren Morris participated in a Billboard roundtable that saw them briefly touch on the election (and sexism and many other things), and they offered their thoughts on the election, including a shout-out to Bernie Sanders. Even Kenny Chesney—a staunch Republican whose music defines the hyper-masculinity of traditional country—released his version of a protest video back in May. (It was a mess, but still a far cry from "She Thinks My Tractor's Sexy.") And while none are necessarily groundbreaking revelations in any other genre, they add up when talking about one that was designed to fit into and promote an idealized and largely non-existent brand of America.
And each step matters. Morris' Grammys performance with Alicia Keys and Beyonce's "Daddy Lessons" not just saw country paired with another genre, but saw non-country artists (and, most importantly, women of color) helping to blow up the limitations country has clung to. And those limitations apply to gender and sexuality as well: the first major country star to come out was Chely Wright back in 2010, and since, the genre's been slowly inching away from heteronormative narratives that delivered the likes of "Save A Horse, Ride A Cowboy." Four years later, Musgraves picked up the 2014 CMT Song of the Year award for "Follow Your Arrow," a song that champions same-sex relationships. And last spring, several artists called out discriminatory laws in the wake of proposed LGBTQ legislation in Tennessee and South Carolina. 
But for country to undergo a full shift—or for us to consider it a legitimate, relevant, ground-breaking genre—there's still work to do. While younger artists may be challenging some of the preconceived notions of what country music should be, it's also up to them to call out problem areas as they come up. It's up to white artists to stand back and make space for artists of color. It's also up to those artists to follow Musgraves' lead and use music and the platforms on which they perform it to champion LGBTQ inclusion. Finally, it's also up to young country artists to reject the hierarchy through which country seems to exist; to stop sitting quietly while older musicians talk and perform or, in the case of Keith, desperately try and uphold the values making country music so easy to write off.
All signs are pointing to progress in the genre. And, like the rest of the world, it's up to the up-and-comers to keep it going.