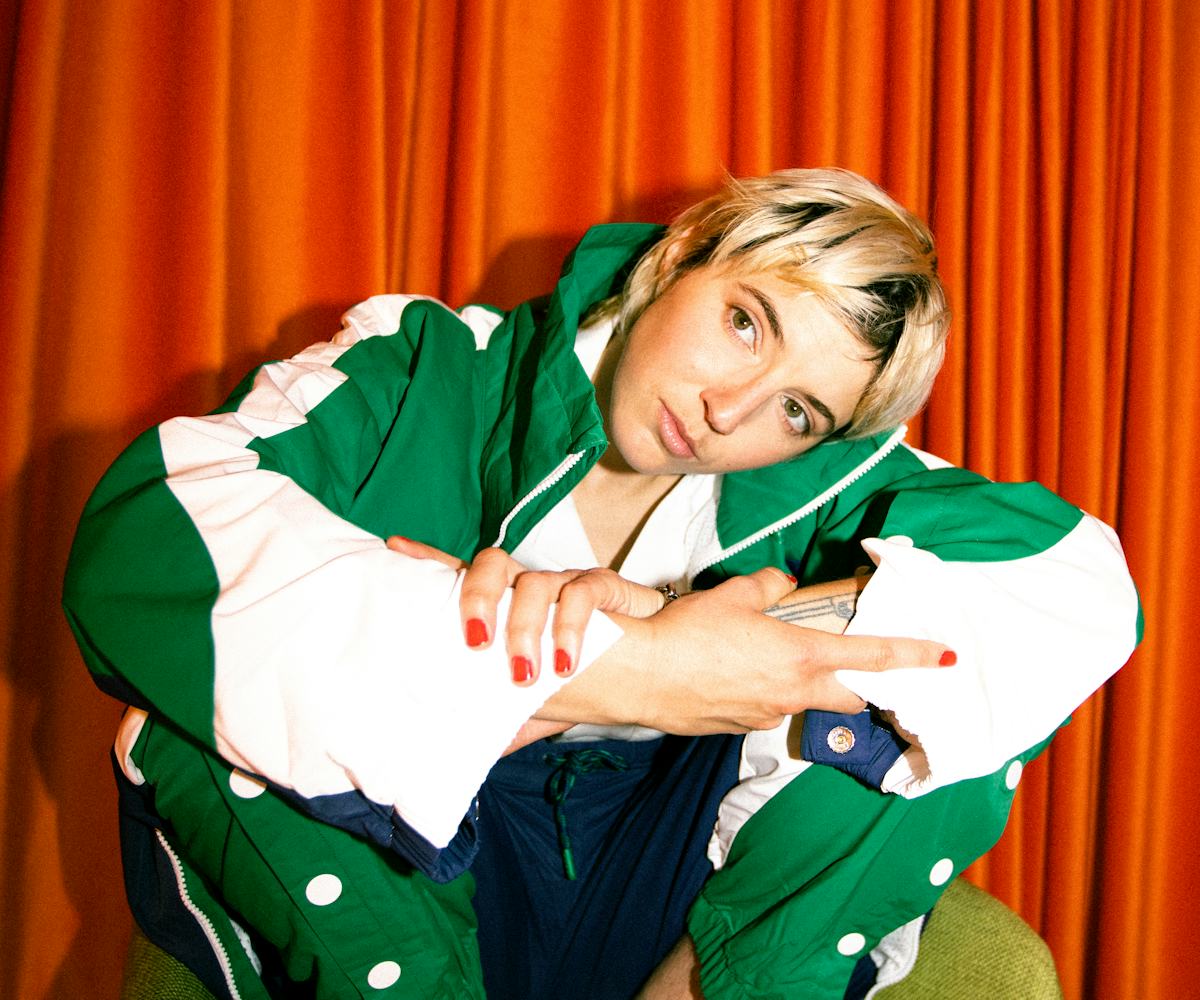 CJ Harvey
Caroline Rose On 'The Art Of Forgetting' & Their Vibrant Tour Wardrobe
The indie singer-songwriter takes NYLON inside their tour fitting.
Caroline Rose's newest live show explodes in color. Angry reds, deep blues, vibrant yellows, and every shade in-between flex and melt onstage in a dazzling light show dance that only grows in intensity as the set goes on.
The bright display might appear at odds with the heavy and weighty guitar rock and pop (about the aftermath of a break-up) that soundtracks the New York-based indie singer and songwriter new outing, but rest-assured Rose intentionally designed it to be this way: "There's a heavy use of color that's emblematic of a feeling," they tell NYLON. "I was really thoughtful about it."
Rose has just kicked off the tour for their album The Art of Forgetting, a project that's marked new heights in the 33-year-old's career and the occasion of their most "pro-level DIY" show ever. Their show includes the self-designed light show, projections, blueprints and sketches — and, for the first time, an official tour wardrobe put together by a stylist. "Playing dress up has always been my favorite thing ever, so I've always wanted to do it," says Rose about working with stylist Jazmine Bowen for the first time.
Like the show, their on-stage pieces also burst of color and texture, with a Showroom Seven top with neon stripes, a dark teal Mifland camo set, a sleek Bobblehaus raspberry magenta suit set, and more. For Rose, the clothes are more than an extension and exhibition of their personality; they're an essential part to the narrative of the album and show.
"[The album arrived after] this sort of darker time in my life, when the colors of my wardrobe started reappearing. And I feel like it's a reflection of how I felt at that time," they say. "I feel like a different person in a lot of ways and I'm hoping that all these different forms of expression exemplify that."
On a Thursday in March, Rose took NYLON inside their tour fitting, and hopped on the phone the next morning to chat about being inspired by Pedro Almodóvar films, thrifting during tour, and using their wardrobe to express their gender identity.
Showroom Seven top, KSUBI pants
Puma x June Ambrose tracksuit, Puma sneakers, Bobblehaus shirt
Mifland set, Steve Madden shoes
What is the aesthetic you were looking for in your tour costuming?
Well, I thought about it a lot because this album is at times pretty dense material, but in my personal life, I don't really dress that way. I like being vibrant and colorful; not all the time, sometimes I like to be a shadow person and hide in the back, furthest back corner. But I've always been attracted to this play between having heavy and darker material and it being presented in a way that's bright and extravagant or flamboyant and whimsical. I think presented in a certain way, it can make something feel different.
I've always been really inspired by Pedro Almodóvar films because he does that really well. I have other designers or other stylists [that I love like] Shirley Kurata. She collaborated with Tierra Whack, and I just love what they created together. It was really catered to her personality and her music.
What are some of your favorite tour pieces?
A lot of the stuff that Jazmine sources is from the agency that she works for called Chapter Two, and I really love this designer, Mr. Saturday. The patterns are usually really interesting to me, and there's a lot of cool textures. I love anything that combines different textures. Working with somebody who's constantly sourcing new clothes is so much fun because I don't have time to do this.
"I just felt like it would be wrong to go out and be dressed in a black wardrobe."
Where do you usually source your wardrobe? Are you a big thrifter?
Yeah, I'm constantly looking for stuff. If we're on tour in London or something, it's going to a thrift store and getting a silk scarf. And I have so many things like that from tour, this collection of really amazing pieces and there are all these different patterns and designs and textures. I feel like my personal style is kind of a combination of having really nice things mixed with dumpster trash. I love both.
Caroline's own sweatshirt and pants
MR. SATURDAY top, pants
BOBBLEHAUS suit, T-shirt, and jewelry
Is there a current trend, fashion trend that you are really into right now? And how have you been interpreting it?
I think right now as I get older, I feel like I'm caring less and less about things that don't really matter all that much. And so I almost feel more like my toddler self before society pressed its anvil of weight on my shoulders. When you're a kid, you dress yourself however you want and you really are whoever you want to be. And I love that because I've always never quite felt like I fit directly into any neat box.
I think there are more conversations around gender identity and different ways people express themselves. The more I feel very playful with the idea of gender, the less I care about how it presents and more about how it makes me feel. I think I want to continue being playful with the idea of taking different pieces that kind of express my own gender identity, I guess, which is somewhere in the middling sorts.
You're going on tour and you just released your new album, The Art of Forgetting. What are you most excited about hitting the road and getting to perform these new songs in your new wardrobe?
Well, I like the idea of being able to build a little world. I kind of used my architecture degree for the first time in a long time designing this light show, because you have to get really crafty about how everything is staged. [The show] is based on a lot of musical theater or theater techniques and there's a heavy use of color that's emblematic of a feeling. So I was really thoughtful about it.
When I wrote a lot of this material, I was so sad, and I was really in a dark place, and my friends called me Shadow Carol for probably two years straight. What I'm trying to get across — and this is a conscious decision, not because the material is very dark, I just felt like it would be wrong to go out and be dressed in a black wardrobe — is supposed to feel triumphant. As you listen through the album, I want to get across the idea that I'm healing, and if you imagine what it looks like in color, it starts out really dark and then sprinkles of color shine through. If I'm telling this story, I don't want to be Shadow Carol. I want to go out there and be triumphant. So when the last song comes on, it's like you've gotten through some sort of long, dark tunnel and come out the other side.
Photos by CJ Harvey
Creative Direction by BOBBLEHAUS
Styled by Jazmine Bowen