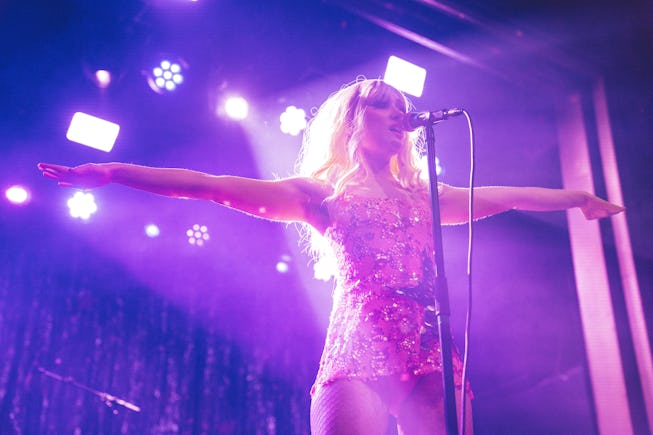 Nagina "Nae" Lane
Getting Ready With Chappell Roan For Her Sold-Out NYC Show
The emerging star takes NYLON behind her rhinestoned-covered live show that's the hottest ticket in town.
There is a dress code to follow if you attend Chappell Roan's latest tour. If you're going to the singer-songwriter's Seattle show, you're instructed to dress in "goth grunge and glitter." If you went to the Atlanta show, you probably wore a glittery pink cowboy hat to fit the theme of "Pink Pony Club." At her New York City show on Feb. 28 at Webster Hall, the prompt of the night was "So you wanna be a pop star." So, at 9:15 p.m. on the dot, as different versions of Britney and Lana and Avril mingled on the floor, Roan bounded out in a bleach-blonde wig, sequined star mini dress, and bedazzled go-go boots. If the blonde hair didn't immediately give it away, a broadcasted soundbite spelled it out for you: "I'm Hannah Montana. Me. Miley."
"I'm big on crowd participation," says Roan the afternoon before. She's perched on a couch in a light-drenched conference room at the UMG offices in Manhattan, minutes away from Central Park, her legs tucked snugly beneath her. Dressed in a plain black leotard, arm warmers and leg warmers with her lush mass of maroon curls loose over her shoulders, she looks like a Broadway dancer off-duty. "My whole thing is world building and throwing a party," she continues of her live show philosophy. "And everyone loves a themed party!"
Since mid-February, Roan's show has been the hottest ticket around. Her roving, rhinestone-covered party summons fervent devotees decked out in feathers, lingerie, pajamas, and cowboy hats to jam-packed venues each night to scream every lyric of her hit "Pink Pony Club." Every night of the tour sold out, and attending her show, there's a buzzy sense of witnessing a star being born. She commands a room with just the string of loose singles she's released since 2020. And buttressed by her recent viral TikTok hit, "Casual," Roan seems primed to meteorically take off.
Behind the scenes, Roan, 25, is frank about the work, DIY creativity, and sheer willpower that goes into making the effortless glamor and fantasy come alive each night. At her label offices, she calls tour life "so hard," as she's working without a huge team. The Missouri-born singer and her band are traveling in a van lugging a U-Haul trailer. They all got sick when they first kicked off the tour, "which is classic," she says.
When it comes to nearly everything you see on stage, Roan likely did it herself. Since she doesn't have a stylist, she curated all of the outfits for each night of the show, for herself and for her band members, sourcing outfits and bedazzling her own pieces. Her Hannah Montana dress, for example, was custom and handmade by designer Julie Luther, and was the only custom piece of the tour. "I went out to the fabric district in LA, searched for hours for the fabric I wanted," Roan recalls. "I specifically wanted to copy a Hannah Montana look that I saw when I saw the Jonas Brothers open for her in Kansas City in 2008."
She and a friend, Nisha, bedazzled her shoes and embellished her outfits with new rhinestones, sequins, and jewels. "It's so hard," she admits, but — "It's so fun. I love crafting."
Roan is also her own makeup artist and hair stylist, a decision that partially has to do with budget, but also because, "It's really hard to find people who can deal with hair like this," she says, tugging at her curls. "People just want to brush it. And I'm like, 'Don't brush it!'"
Her go-to stage makeup brand is MAC — with her technique perfected from years of following beauty YouTubers — and the one drugstore product that she will forever stand behind: Maybelline SuperStay. ("This shit does not move, dude.")
Then, before each show, Roan goes through an extensive process to make sure her vocal cords are in tip-top shape, involving a nebulizer, lozenges, and special straws. After that, "I just do my warmups and eat a banana."
For Roan, doing all of this is worth it to temporarily create a magical, anything-can-happen sanctuary for her fans — who are largely young and queer — while honoring the local community; each show opens with performances from local drag stars. "That's the whole point of the tour: to give people a safe space to come and dress up," she explains. "No one's going to say anything mean to you. And you can dance and be queer."
While the language of providing a "safe space" has become severely diluted in this day and age, Roan takes it seriously. She played Nashville, Tennessee the same night the state passed its controversial bill prohibiting and restricting drag shows. While she was emotional, she also had to think about how she was going to protect her fans.
"My show's all ages," she says. "Of course, I want to be like, 'F*ck you, I'm going to have a drag show.' [But], I can't put queer people in danger. I'm not putting those drag queens in f*cking jail. Obviously in New York and LA and Seattle on the coasts, that doesn't cross your mind as much, but I'm from southern Missouri. I'm traveling through a lot of conservative states. It's so real there. For that show specifically, and in the South, I hired extra security. I wanted to make sure that no one was going to fuck with anyone. Because if I'm going to promote that it's a safe space for queer people, it's got to be a safe space for queer people."
Her community-oriented philosophy bleeds into the other small business decisions she makes. A portion of the tour's ticket sales is going to For The Gworls, a Brooklyn-based mutual aid fund that helps Black trans people pay for rent, gender-affirming surgery, and more. Roan also doesn't have a rider, because: "Just give me the budget that you would [use for it] and I give it to my band, and they can go get whatever."
On Tuesday night, when Roan's show finally closed with her anthem of liberation, "Pink Pony Club," the crowd screamed its lyrics word-for-word back to her, the room vibrating with an overwhelming feeling of release and relief. Confetti showered from the ceiling. For Roan, it was just another show in the books.
"Headlining is hard. Doing a van tour — we're not in a bus, that's luxurious — this is the nitty gritty of touring. This is freaking hard," she says. "[But] it makes it all worth it seeing people sing to my songs and feel like it's a safe space."
Catch Chappell Roan on her Naked In North America Tour now.
Photos by Hope Alexander.