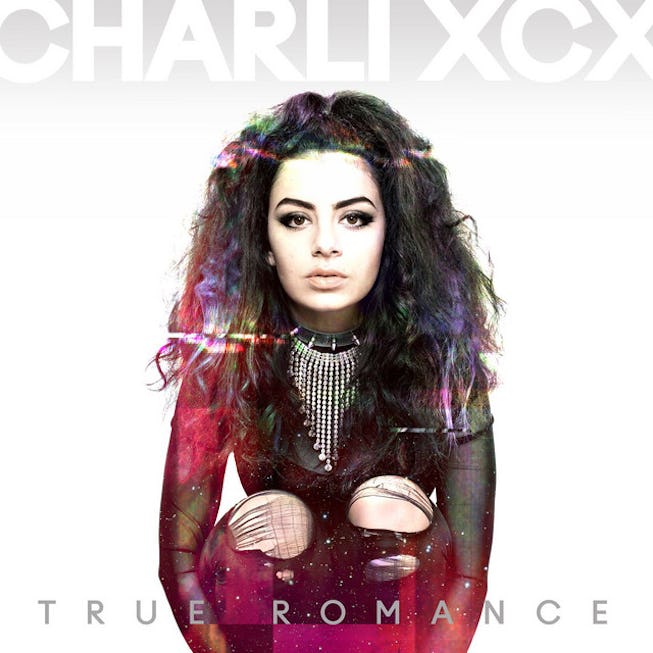 Charli XCX Changed The Pop Game With 'True Romance'
With her 2013 debut, Charli XCX was ready to flip the industry upside down.
In 2013, Charli XCX admitted to being a bad pop star.
Not in the Rihanna Good Girl Gone Bad kind of way, and definitely not because she makes bad music. In an interview with The Guardian at the time, she just said she wasn't interested in maintaining the music industry's perfect artist-turned-product façade: the popstar mirage the industry used to abuse artists like her idol Britney Spears. "I guess in that sense I'm a bad pop star because everything's meant to be fantastic all the time," she said while munching on a salad. "It's not—and that's shit [when people pretend it is]. But I also love that feeling of not knowing what's going to happen. That's why I do this."
The reasons for why she understood herself to be a "bad pop star" by industry standards — unmoldable, indispensable, and steadfast in listening to her instinct — are exactly what have made her one of the greatest of all time, 10 years later. She's a popstar that's never wanted to sugarcoat, and her debut album, True Romance, celebrating its 10th anniversary this month, is a color-inverted goth-pop testament that.
True Romance arrived during the peak of poptimism, the era of the early 2010s that saw a waterfall of timeless hits solidify today's heavy-hitter pop stars over the course of three years. 2011 brought Adele's 21 and Beyoncé's 4; in 2012, Lana Del Rey released Born to Die, Grimes took us to Oblivion, and Taylor Swift changed the game with Red; 2013 wowed the world with debuts from Ariana Grande, CHVRCHES, Sky Ferreira, Miley Cyrus, Lorde, and Charli herself.
That year in particular also marked a shift in the conversation around sexual autonomy and creative authority related to both age and gender. Rumors that Ferreira and Charli were industry plants circled; Lorde's age was constantly scrutinized, people in disbelief that a teenager could produce brilliant and dark, chart-topping pop. Despite all the women running the show, misogyny ran wild with everyone doubting that any of these women could think for themselves, let alone outline their own creative vision and write their own songs. Enter Charli XCX (née Charlotte Aitchison), who was ready to flip the industry upside down.
"I can see pop music changing into something I can really run," she said a few months after the release of True Romance. "There's only a few more years left of the whole plastic, overproduced, bad-lyric throwaway pop. It's dying out because audiences are clever. Artists are running their own careers now, and that means it has to come from them. It has to come from their brain."
True Romance, her self-described coming-of-age album, is just that: straight from her brain. It's an album that begins with surviving nuclear fallout and ends with a love that needs to be trapped inside (her heart) in fear it will melt in the sun. She worked with L.A. producer Ariel Rechtshaid on the album's majority, along with Patrik Berger, Blood Diamonds, and Justin Raisen, to double down on her "purple sound," the luxurious haze she envisioned via her synesthesia. Across its 13 songs, Charli doesn't give us Hallmark's plush, pastel pink toy version of her heart. Instead it's the anatomical truth, bloodied, pulsing, and full of splintered arrow shards.
"Pop music, as she would come to realize, doesn't have to be cool, or even make sense, to be good."
On True Romance, Charli XCX's definition of love is as thrilling and combustible as two lovers holding hands with a grenade between their palms. ("I think true romance is torture, actually," she admitted to Consequence of Sound.) A bouquet of roses is a deadly weapon on "Grins"; her body is a cage on the Twilight-inspired "Set Me Free (Feel My Pain)," where her blood crawls and her skin drips; for most of the album, she's either locked away or chained up and love is torture. She celebrates all the extremes — ecstacy and misery — because life wouldn't mean anything without them. "Nothing says tomorrow is a guarantee," she sings on the holographic closer "Lock You Up," her voice balancing transcendence and melancholy.
The album's riskiest choices proved that Charli had a unique vision that could transform pop music, if only she could trust her gut instinct. Pop music, as she would come to realize, doesn't have to be cool, or even make sense, to be good. It can be groundbreaking by simply being fun. True Romance has a lot of these silly moments, like the humorous lyric on "Take Me Away": "I swallowed something stupid, it's making me stay awake/ And now I'm on the cloud." (Once Charli began letting her guard down on 2014's Sucker, she'd shed some light on how the best pop music doesn't have to be profound, or, rather, its simplicity is its own kind of profundity: "I think that all the best pop records have dumb hooks. Look at Bow Wow Wow's 'I Want Candy,' or The Flying Lizards' 'I Want Money.' It's very blunt and dumb, and I really like that because I think it's clever.")
The moments that hold up the most on True Romance foreshadow the unhinged latex pop Charli would pivot to later. For instance, "Take My Hand" falls into the coked-out Polly Pocket-pop category of her 2018 hit "1999" and her 2019 collaboration with Diplo and Herve Pagez, "Spicy." The song's effervescent bell taps and glitchy synths that harness Pop Rock energy encapsulate the clubby euphoria Charli would go on to revolutionize alongside producer SOPHIE. Breakout single "You - Ha Ha Ha" and fan-favorite "Grins" showcase her ability to walk the line between rap's straightforward emphasis and pop's melodramatic delivery — a line she would later eradicate completely on 2016's Vroom Vroom EP. Across the album, she embraces her early inspirations of indie electro (now known as bloghaus) prophets like Uffie and Ed Banger, lending to the eventual rise of the industry-shifting genre hyperpop.
A year after True Romance came out, and a month before the arrival of Sucker, Charli admitted she was apprehensive about the debut. "I'm still so proud of True Romance, but I definitely felt like I was afraid when I wrote that record—and you can hear it," she told Pitchfork. "I felt nervous and was definitely worried about what people would think about me. I wanted to make a pop record, but I wanted to make it 'cool.' Now I couldn't give a fuck if people don't think I made a 'cool' album."
Even at her most self-scrutinizing, True Romance holds up because it doesn't solely prize coolness over extreme emotion and unadulterated fun. It's an album that would validate her bizarre, innovative instincts and launch her as a genre game-changer. True Romance showcased that Charli wasn't afraid to make complicated goth-pop with bedazzled choruses and steadfast rapping. It's timeless in its modern Romeo and Juliet or Hamlet-type melodrama, and it awakened the pop star — and the world — to the notion that progressive pop music needs to be fun, and it's okay if it's more stupid, more uncool.