Chase Sui Wonders Is Living Life In The "Riff Zone"
The actress has two projects dropping in May: a crime drama from the brains behind The O.C., and a comedy created by her real-life boyfriend, Pete Davidson.
Photographs by Lea Winkler
Styled by Stephanie Sanchez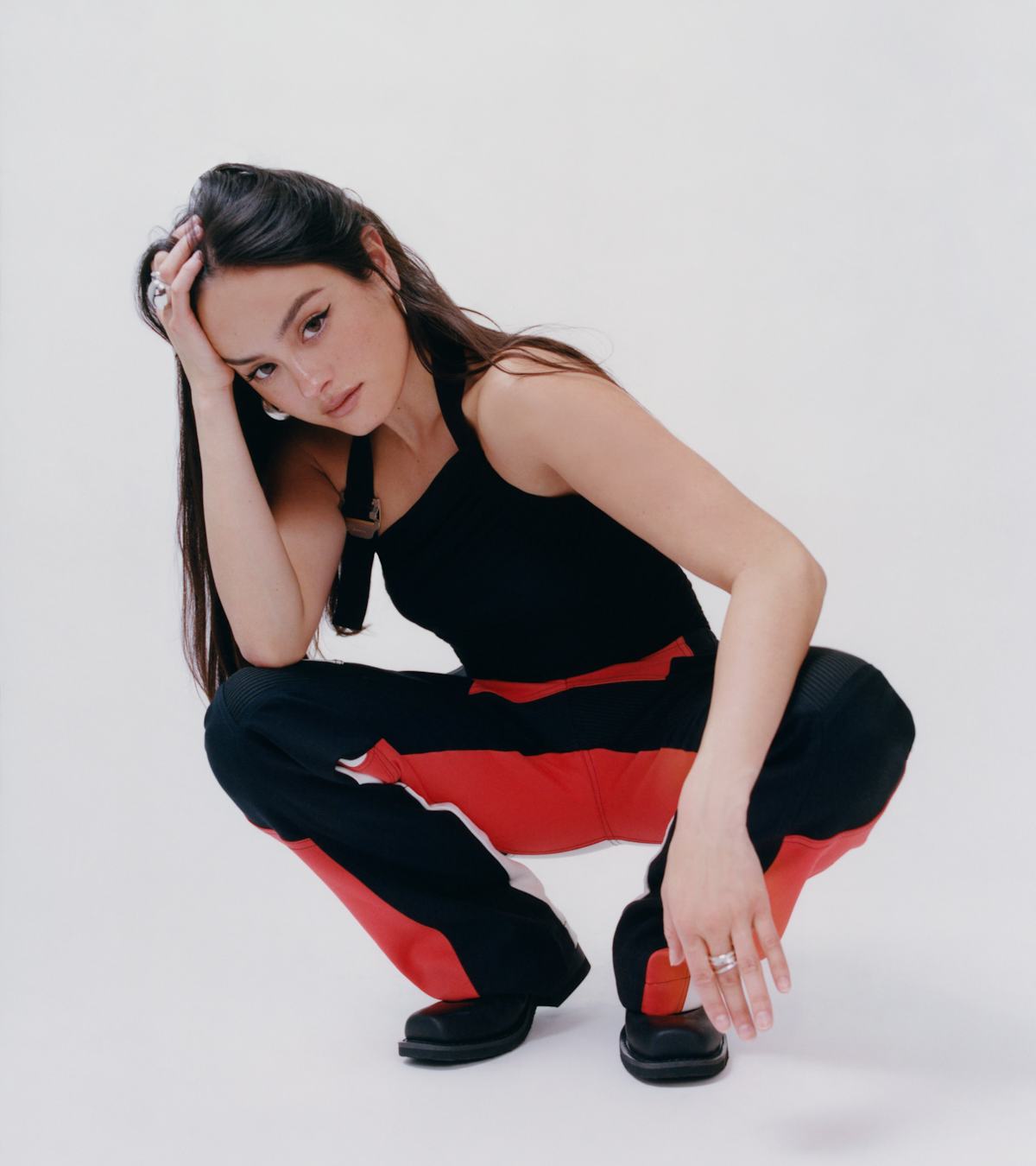 As soon as you meet Chase Sui Wonders, her skills as an actor are on display — though not exactly on purpose. The 26-year-old exudes an air of cool, thanks to a tomboyish charm (something she credits to hanging out in boys' hockey locker rooms growing up in Detroit), her waist-length hair worn in messy waves, and a low-key sense of style that has her mixing Chanel and Converse. She comes across as the chillest, most confident girl in the room, but according to her, it's all an act.
"I was cripplingly shy [as a kid]; I didn't really speak outside of my house, for undiscovered reasons," Wonders says, drinking a cup of black coffee (an objectively cool order) at Soho Diner. "My mom was like, 'We've got to do something about this. This is getting concerning. You're 10, and you don't speak to anyone but your siblings and myself.' So she took me to community theater and made me audition for The Wizard of Oz." Things didn't go great for Wonders that day; dripping in sweat, she completely fumbled the monologue she'd practiced in her mirror. "I couldn't speak; I couldn't say anything."
Neither Wonders nor her mother would give up. She continued auditioning, landing her first spot in the chorus at 14, then a single-line part the year after that. Despite a scathing review of her one role in a college play, she kept at it, and her first gig post-graduation was a cameo in Sofia Coppola's 2020 film On the Rocks. (This wasn't the first time they worked together: Coppola, a close friend of Wonders' aunt, fashion designer Anna Sui, cast her in a Calvin Klein campaign she directed in 2017.) "It was crazy. I had to be a b*tch to Rashida Jones," she says. "I was like, 'This is so scary. I can't do this. I'll never work in this town again!' But now we're buddies."
Since, Wonders' career has steadily gained steam, with an undercurrent of "cool" running through each of her roles. Most notably, she portrayed a rebellious teenage photographer named Riley on HBO Max's short-lived LGBTQ high school drama Generation, as well as Emma, an actor and resident goody-goody of a toxic, self-involved friend group in the 2021 dark comedy Bodies Bodies Bodies. This month, she has two major streaming projects dropping within days of each other: Apple TV+'s City on Fire from Josh Schwartz and Stephanie Savage, which premieres on May 12, and Bupkis, the semi-autobiographical comedy from Pete Davidson, which hit Peacock on May 4.
City on Fire is a mysterious crime drama that takes place in early aughts New York City against the backdrop of a fictionalized post-9/11 downtown scene that recalls the Meet Me in the Bathroom-era of New York rock. Wonders' character, Samantha, a student at NYU, isn't only a fan of the music but a historian — making zines and capturing film photographs of the band du jour, Ex Post Facto, and their illicit adventures, all in an attempt to cement their legacy for future generations. When Sam is shot in Central Park on the Fourth of July, without any witnesses or evidence left behind, the series' remaining episodes unravel the complicated circumstances of the crime against her.
"I've played a lot of very insulated, very cocooned individuals, like Riley in Generation and Emma in Bodies. They're very repressed — just kind of masking emotions behind a lot of things, which is so fun to play," Wonders says. "But Sam is so confident, and she's so aspirational for me. Getting to inhabit that kind of confidence ... I was like, 'This is a win. I get to just be cool and confident for six months while shooting this thing? Heck yeah!'"
The series, based on Garth Risk Hallberg's best-selling novel of the same name, is the latest project from Schwartz and Savage, the brains behind The O.C. and Gossip Girl. With the former among Wonders' youth television staples (and the most iconic teen soaps in TV history), this added an extra element of pressure to her first lead role. "The O.C. played on loop every weekend; I was in the booth at the diner with Marissa and Ryan and Seth and Summer. I would have recurring dreams about being friends with them," Wonders says. "I would quote The O.C. to Josh all the time on set, and he'd be like, 'I don't remember where that's from.' I'd be like, 'Season 2, come on!' It did feel like pressure, but it felt like the safest way to explore [City on Fire's] characters is through these titans of television who absolutely know their stuff."
City on Fire is hitting at the peak of pop culture's Y2K nostalgia cycle, but Wonders' coming-of-age experience was very far removed from the period she portrays on the show. "I was deep in the sheltered suburbs of Detroit; the Jonas Brothers were coming to town, and that was the event of the decade," she says of her contrast to her character, who's hitting late-night club gigs, loitering in record stores, and running with a rough crowd. But Schwartz and Savage's airtight writing hooked her immediately, and she was up for the challenge of the serious role before diving back into the more familiar comedy with Bupkis. "The beginning always feels scary, and then the end always feels like the carpet's been ripped out from underneath you and suddenly you're in a different time and space," she says. "You want to give [the script] your own spin, but you want to just do it certain justice and stick to the pace. It's such a specific pace and rhythm."
In Bupkis, the new comedy loosely based on Davidson's own highly publicized life, Wonders plays his on-again, off-again girlfriend, Nikki. "Bupkis is super personal and close to the heart," she says. In real life, the pair are in a relationship, having first met while working on Bodies (where they also played a couple). "[Pete and I] became fast friends on Bodies, and it was just clear that we could work together super well. He's such a pro, and acting with him is my favorite thing," she says. "As soon as I got onto Bupkis, it felt like we were flowing again. The relationship's a lot less toxic in Bupkis than it is in Bodies, which is a lot more fun to play. But even in Bodies, we would do all those dark scenes and then we'd be like, 'This sh*t's crazy! This is so dark.'"
Bupkis' eight episodes are largely spent grappling with Davidson's public persona and features cameos from dozens of his real-life friends, but the scenes he shares with Wonders are among those that cast him in the softest, most sympathetic light. In the penultimate episode, audiences witness a private moment between Pete and Nikki where they confront the reality that, despite the care they have for each other, a healthy relationship isn't currently in the cards for them. It's simultaneously hopeful and heartbreaking, an intensely vulnerable scenario that will give viewers a peek at a very different Davidson than the one they consistently read about in tabloids. "That was really difficult to film but also so fun," Wonders recalls. "We're playing complicated people who have a deep, deep love for one another, just trying to figure themselves out along the way and be delicate with each other. That's where the beauty comes in."
Calle Del Mar top, Mugler pants c/o Albright Fashion Library, Harley-Davidson jacket, Pamela Love earrings, Stuart Weitzman shoes
Calle Del Mar top, Mugler pants c/o Albright Fashion Library, Martine Ali necklace
Despite her relationship becoming news at the same time that her career is taking off, Wonders is not caught up in the headlines, which she credits to a very supportive partnership. "We talk about everything, and we are very open with each other about everything, and it feels like what's happening in our relationship is very sacred," she says. "The first initial shock was super disorienting, but after that it just becomes ... it's like a video game. It feels like another weird player came into the video game. I feel like I'm still on my own path. My life hasn't changed that much."
She's much more welcoming to letting people in on the two worlds she's inhabited for the past year in both Sam and Nikki. "I feel like they're two really personal projects, and obviously I'm playing characters, but I like to bring a rawness and a naturalism to my performances," she says. "I feel like they're very heart-on-the-sleeve. They're not your typical 'manic pixie dream girl' or 'quirky girl.' I think they don't easily fit into a stereotype, which I'm proud of."
In the future, she is looking forward to taking the "cool girl" trope she's explored and turning it on its head. "I want to continue crafting these roles where women are one degree off, or they're a little off-kilter, or they're not perfectly charming. I love a flawed girl," she adds. But as we established upon meeting, that label of cool hasn't always come naturally to her. So, how would she describe herself instead? "I'm very present. I'm funny. I'm always doing bits. I'm always in the 'riff zone,' which can be frustrating to some who don't want to enter the riff zone at certain times. I like to put on a show. I like to bring the fun," she says. She's obsessed with figure skating; in fact, our interview was initially meant to take place at an ice rink, and though that didn't work out, Wonders got her recent skating fix at the American Dream Mall in New Jersey. She's always watching movies, writing, or hanging out with her family; conveniently, her sister lives right across the street from her in the East Village. Going on runs puts her in a meditative state; before we part, she suggests I invest in a pair of rollerblades. "I'm always moving," she notes. "I'm an antsy girl."
Top Image Credits: Dion Lee top and pants, Alexander McQueen earrings, On right hand: Jennifer Fisher ring, Third Crown ring, On left hand: Third Crown ring, AdTec boots c/o Boot Barn
Photographs by Lea Winkler
Styling by Stephanie Sanchez
Hair: Blake Erik
Makeup: Misha Shahzada
Photo Director: Alex Pollack
SVP Fashion: Tiffany Reid
SVP Creative: Karen Hibbert