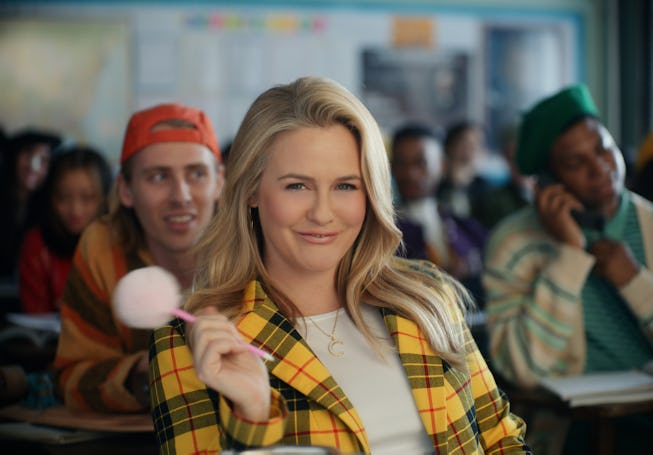 Christian Siriano Recreated The 'Clueless' Suit For The Super Bowl
A Clueless commercial and a Rihanna halftime show? We're totally bugging!
Out of all the iconic outfits in Clueless — Dionne's top hat, Cher's Calvin Klein, the Alaïa — there is none more recognizable than Cher's yellow plaid suit, which she famously pulled from her revolving closet and that's been reimagined by the likes of Iggy Azaela and Harry Styles.
Now, the outfit is the star of shopping platform Rakuten's 2023 Super Bowl campaign — this time reimagined by Christian Siriano and worn by the one and only Alicia Silverstone. The "Not So Clueless" campaign finds Silverstone back in debate class, the setting of the outfit's most famous scene. ("It does not say RSVP on the Statue of Liberty!")
"I'm such a big fan of Clueless, and Alicia is one of my dear friends, so imagining the 2023 version of her most iconic look in Clueless for Rakuten's ad was a dream come true," Siriano said in a release ahead of Sunday's airing. "I hope the joy I felt going back in time with Alicia on set shines through in my picks for 'The Not-So-Clueless Edit', and that everyone feels inspired to live out their wildest Clueless closet dreams."
The superfan got to live out his Clueless dreams — making a cameo in the Super Bowl spot as one of the students in Cher's debate classroom. But it's not the first time the designer has flexed his fandom. He and BFF Silverstone, who met seven years ago after the designer invited her to his fashion show, acted out the infamous scene where Cher and Christian watch Spartacus, which she posted to her Instagram.
"Any young fashion designer watching Clueless, you kind of fall in love with the fashion," Siriano told The New York Times. "Now, Alicia is one of my best friends."
Siriano told The New York Times he wanted to "modernize" the outfit, altering the plaid pattern and designing a cropped jacket instead of a cardigan, along with black platforms and a more adult version of the pleated mini.
In addition to the commercial, Siriano also reimagined three Clueless-inspired looks that debuted during New York Fashion Week.
Four lucky Rakuten users will also get to take home the runway looks — and for the rest of us, Siriano created a shoppable "Not So Clueless" edit on the site, featuring garments inspired by the film — which means plenty of platforms, plaid, and chokers.
You can watch the full Super Bowl spot ahead of the game (also known as the Rihanna concert), when a 30-second version will air, below.